| | |
| --- | --- |
| Daily Blog • October 31st | |
By Phil Steele
My QB's of the Week
PJ Walker, Temple • Tommy Rees, Notre Dame • Terrance Broadway, Louisiana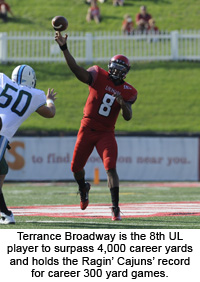 QB PJ Walker (Temple) – The Rutgers secondary has been extremely vulnerable to the passing game this season allowing 361 ypg. A huge outing from PJ Walker last week has us liking his chances against the Knights as he not only passed for 293 yds and 4 TD's, but rushed for an additional 92 yds and 1 more endzone visit. We suggest you pick up Walker as soon as possible before he puts together another nice outing.
QB Tommy Rees (Notre Dame) – Tommy Rees not only shook off the injury bug last week to start against Air Force, but he performed admirably against the Falcons throwing for 284 yds and 5 TD's. The Irish now face their 2nd consecutive service academy (Navy allowing 440 ypg on the road TY) and Rees looks closer to 100% and should flourish.
QB Terrance Broadway (Louisiana) – The Cajuns journey out of conference play for a week and there is no better way to do it then by scheduling a matchup with the struggling New Mexico St Aggies who have allowed 672 ypg away from home in 2013. Terrance Broadway has surpassed the 300 yard mark twice in the air this season while also adding 5 rushing TD's thru 7 games. Big statistical opportunity for the UL QB in this one!
My RB's of the Week
Trey Watts, Tulsa • Kapri Bibbs, Colorado St • Aaron Jones, UTEP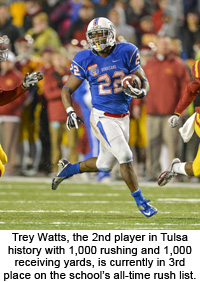 RB Trey Watts (Tulsa) – The Tulsa offense saw their share of struggles a week ago against Tulane which included the running of Trey Watts who carried the ball 20 times for just 63 yards. This week's opponent (UTSA) has allowed 170 ypg rushing on the season so we expect Watts to return to similar form of the 2 games prior to Tulane when he rushed for 165 and 142 yards.
RB Kapri Bibbs (Colorado St) – Kapri Bibbs has been a TD machine for the Rams over the past 4 games with a total of 9 to go along with rushing performances of 147, 201 and 137. CSU now entertains a Boise St defense that allowed 568 ttl yds (229 rush) in last week's contest vs BYU. We really like Bibbs' chances again this weekend!
RB Aaron Jones (UTEP) – While he hasn't reached the endzone since their 2nd game of the season, Aaron Jones continues to be the workhorse on the ground for the Miners averaging 106 ypg on the year. Now you throw in the fact that UTEP will be without their starting QB vs a Texas A&M squad that has had it's share of stopping the run (225 ypg allowed at home) and you get a solid fantasy choice here.
My WR's of the Week
Michael Campanaro, Wake Forest • Rashad Greene, Florida St • Justin Hardy, East Carolina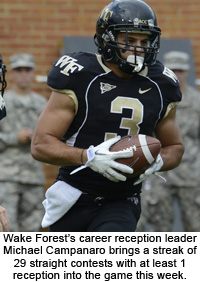 WR Michael Campanaro (Wake Forest) – 33 receptions in a season is a solid accomplishment for many WR's in the FBS but recording that many in just 3 games is amazing! Michael Campanaro has done just that over Wake's L/3 contests that included 363 yards and 4 TD's in that span. Up next for the Demon Deacons is a trip to Syracuse where the Orange allowed a whopping 468 yards passing in their last home game a few weeks back against Clemson. Judging by his hot hands, you could very well see another double digit reception performance this week.
WR Rashad Greene (Florida St) – A big reason for Jameis Winston being considered as one of the frontrunners for the Heisman has been the steady play of WR Rashad Greene who has surpassed the 90 yd receiving plateau in each of his last 4 games while also pulling in 5 TD's over that span. Surprisingly the only game that Greene did catch a TD was the Seminoles 63-0 win over Maryland. We expect Greene to reach the 90+ yard mark for the 5th consecutive time this weekend.
WR Justin Hardy (East Carolina) – 27 catches over the past 2 games!!! That's what Justin Hardy has been able to accomplish. For the season he's been able to catch 8 or more passes on 4 occasions including a 16 catch outing in the opener vs ODU and 17 in their OT loss to Tulane a few weeks back. We expect Hardy to get his fair share of touches this weekend making him an easy selection here.
My DEFENSES of the Week
OHIO ST • Texas • East Carolina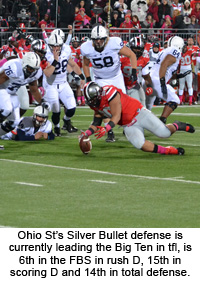 Ohio St Defense – The Buckeyes are still undefeated, but trust us, the defense hasn't been much help as they have given up 414 ypg over their L/5 FBS matchups including 3 games of allowing 295+ yards passing. Look for the defense to settle down and play to their potential this weekend vs a Purdue squad that is scraping the bottom of the barrel on offense to say the least (10 ppg, 228 ypg vs BCS foes in '13).
Texas Defense – The Longhorn defense appears to be back allowing just 263 and 246 yds the past 2 weeks against Oklahoma (192 ypg under season avg) and TCU (84 ypg under season avg) which is an intricate part to their 4-game win streak. Next up is a date with a Kansas offense that has averaged just 234 ypg on the road this year. Texas should roll here behind their vastly improved defense of the last 2 games.
East Carolina Defense – In a conference known for plenty of offense and no defense East Carolina has proven there can be some defense played in CUSA as they have held 3 of their 4 conference opponents to 17 or fewer points while allowing just 290 ypg in those contests. FIU's offense has certainly had their fair share of issues in '13 being held to under 200 yds in 4 of their 6 contests. Look for the ECU defense to show up again this week as one of our Surprise Units of Week 10.
---
A very interesting Week Nine is in the books and it is now time to look ahead to the seventh week of the college football season and the "sneaky" plays it has in store for fantasy owners. Here is a look at some guys who might fill in nicely for owners in need of a potential diamond in the rough.

QUARTERBACKS
Kolton Browning, La Monroe (vs. Troy):
Browning returned from injury last week and promptly threw four touchdown passes against Georgia State. He could post a huge stat line this week versus Troy. The Trojans have the second worst pass defense in all of college football, allowing over 332 passing yards per game. Look for a ton of points in this game, with Browning passing the ball up and down the field. It would not be a big surprise to see Browning drop 350 yards and three or four scores on Troy in Week Ten. He could be a great plug in for owners in need at the QB position.
PJ Walker, Temple (vs. Rutgers):
This freshman signal caller is getting better by the week and is coming off a career best performance against SMU that saw him rack up 385 total yards and five total scores. He is an excellent runner and could give a struggling Rutgers defense fits this week. The Scarlet Knights have the 3rd worst pass defense in the nation and have yielded a ton of big plays this season. This could be a high scoring contest with Walker having a hand in plenty of points and yards. Walker looks to be a very nice option this week, especially in BCS only leagues.
RUNNING BACKS
RB Bill Belton, Penn State (vs. Illinois):
Belton is a versatile back that appears to have garnered control of the Penn State backfield. He is averaging 24 carries per game over the last two contests and could do some real damage with those carries against Illinois. The Illinois rush defense has little fight left in it and comes in ranked 111th in the country. Look for Belton and the Nittany Lions to take out some frustration on Saturday. Belton could easily pile up 100 total yards and a score or two against the Illini this week.
RB David Cobb, Minnesota (vs. Indiana):
Cobb carried the load last week and churned out 138 yards on the ground in the Gophers upset of Nebraska. He has gone over 100 yards rushing in consecutive games and could extend that streak against Indiana in Week Ten. He could have a big day against a terrible Hoosiers defense that ranks 112th in the nation and gives up plenty of big plays. Cobb could see a ton of carries this week as Minnesota tries to play ball control and keep the potent Hoosiers offense on the sidelines. This junior could post big numbers and could be an excellent fill in option in BCS only leagues this week.
RB Shadrach Thornton, NC State (vs. North Carolina):
Thornton racked up 205 total yards and two scores last week against Florida State and appears to have regained control of the NC State backfield. His early season struggles off the field appear to be behind Thornton and he could post solid numbers this week against North Carolina. The Tar Heels rush defense is simply not very good and could yield some big plays to Thornton in Week Ten. Look for Thornton to compile at least 100 total yards and a score against UNC this Saturday.
RB Alonzo Harris, La Lafayette (vs. New Mexico State):
Harris has scored two rushing touchdowns in last two games and also topped 100 yards rushing in each of those contests. He has really turned it on since conference play has begun and could continue that trend this week versus New Mexico State. The Aggies defense could have a very difficult time stopping Harris and the Cajuns offense. Look for Harris to continue his hot streak and score a couple of touchdowns against the Aggies. Pick up Harris immediately if he is still available in your league.
WIDE RECEIVERS
WR Tyler Lockett, Kansas State (vs. Iowa State):
Lockett torched West Virginia last week for 111 yards and three scores. He has been a complete boom or bust fantasy play this season and this week could be another boom. The Iowa State pass defense is ranked 101st in the country and may have trouble containing Lockett. Look for this Wildcat to go over the century mark this week and likely add a score or two. Lockett could be a nice #3 WR in most league formats in Week Ten.
WR Ezell Ruffin, San Diego State (vs. New Mexico):
Ruffin has recorded at least 100 yards receiving in three of the last four games for the Aztecs and has found a rhythm with QB Quinn Kaehler. His fantasy success could continue this week against New Mexico. The match up with the Lobos could be a high scoring affair and Ruffin find himself on the receiving end of a couple of big plays. Ruffin could make for a solid #3 wide out in most formats this week.
SNEAKY D'S

Houston vs. South Florida
Northern Illinois vs. UMASS
Marshall vs. Southern Miss
Western Kentucky vs. Georgia State
Arizona vs. Cal
Texas vs. Kansas
Clemson vs. Virginia
La Lafayette vs. New Mexico State
East Carolina vs. Florida International
UCLA vs. Colorado
Texas A&M vs. UTEP
There you have it everyone, enjoy this week's action and always remember to have fun playing college fantasy football. Good luck this week!

More…
For more college fantasy football information, visit CollegeFootballGeek.com:
• Start 'Em, Sit 'Em
• Injury Reports
• Player Rankings
• Player News
• Sneaky Plays of the Week
• Waiver Wire Reports

CollegeFootballGeek.com is your home for 2013 college fantasy football content! Draft kit, injury reports, player news, player projections, player rankings, mock drafts, community forums, and much more!
CollegeFootballGeek.com's 2013 College Fantasy Player Rankings - Week 10
Todd DeVries, CollegeFootballGeek.com
QUARTERBACKS
RUNNING BACKS
WIDE RECEIVERS

Rank

Name
School

Rank

Name
School

Rank

Name
School

1

Jordan Lynch
NIU

1

Ka'Deem Carey
ARIZ

1

Davante Adams
FRES

2

Johnny Manziel
TXAM

2

Marion Grice
AZST

2

Brandin Cooks
ORST

3

Brett Hundley
UCLA

3

Antonio Andrews
WKU

3

Mike Evans
TXAM

4

David Fales
SJOS

4

Adam Muema
SDST

4

Michael Campanaro
WAKE

5

Jameis Winston
FSU

5

Kasey Carrier
NMEX

5

Chandler Jones
SJOS

6

Braxton Miller
OHST

6

Melvin Gordon
WISC

6

Deontay Greenberry
HOU

7

Cody Fajardo
NEV

7

Carlos Hyde
OHST

7

Devante Davis
UNLV

8

Tajh Boyd
CLEM

8

Robert Lowe
TEXS

8

Sammy Watkins
CLEM

9

B.J. Denker
ARIZ

9

Tre Mason
AUB

9

Justin Hardy
ECAR

10

Derek Carr
FRES

10

Mike Davis
SCAR

10

Brandon Wimberly
NEV

11

Taylor Kelly
AZST

11

Jay Ajayi
BOIS

11

Jared Abbrederis
WISC

12

Shane Carden
ECAR

12

Darrin Reaves
UAB

12

Allen Robinson
PSU

13

Sean Mannion
ORST

13

Jeremy Langford
MCST

13

Tyler Winston
SJOS

14

John O'Korn
HOU

14

Bill Belton
PSU

14

Jordan Leslie
UTEP

15

Nick Marshall
AUB

15

Vintavious Cooper
ECAR

15

Shane Williams-Rhodes
BOIS

16

Caleb Herring
UNLV

16

Ameer Abdullah
NEB

16

Paul Richardson
COLO

17

Grant Hedrick
BOIS

17

David Fluellen
TOLE

17

Jamal Robinson
LALA

18

Davis Webb
TTCH

18

Tim Cornett
UNLV

18

Josh Harper
FRES

19

Devin Gardner
MICH

19

Bronson Hill
EMIC

19

Tommy Shuler
MARS

20

Connor Halliday
WAZZ

20

Dri Archer
KENS

20

Eric Ward
TTCH

21

Maty Mauk
MIZZ

21

Trey Watts
TULS

21

Quinshad Davis
UNC

22

Logan Thomas
VTEC

22

James White
WISC

22

Alex Amidon
BC

23

P.J. Walker
TEMP

23

Justin Goodwin
RUTG

23

Corey Brown
OHST

24

Christian Hackenberg
PSU

24

Tevin Coleman
IND

24

Tyler Lockett
KANS

25

Rakeem Cato
MARS

25

Marteze Waller
FRES

25

Brandon Coleman
RUTG

26

Ross Metheny
SALB

26

Shadrach Thornton
NCST

26

Eric Thomas
TROY

27

Clint Chelf
OKST

27

Duke Johnson
MIAF

27

Devin Street
PITT

28

Terrance Broadway
LALA

28

Charles Ross
RICE

28

Isaiah Burse
FRES

29

Dak Prescott
MSST

29

Andre Williams
BC

29

Jaelen Strong
AZST

30

Adam Kennedy
ARKS

30

Kelvin Taylor
FLOR

30

Gabriel Marks
WAZZ

31

Brandon Mitchell
NCST

31

Cameron Stingily
NIU

31

Chris Harper
CAL

32

Gary Nova
RUTG

32

Desmond Roland
OKST

32

Cody Latimer
IND

33

Keenan Reynolds
NAVY

33

Jordon James
UCLA

33

L'Damian Washington
MIZZ

34

Tommy Rees
ND

34

Alex Collins
ARK

34

Josh Stewart
OKST

35

Jared Goff
CAL

35

Kevin Parks
VIRG

35

Tyler Boyd
PITT

36

Eric Soza
UTSA

36

Roderick McDowell
CLEM

36

Tommylee Lewis
NIU

37

Corey Robinson
TROY

37

Donnel Pumphrey
SDST

37

Dorial Green-Beckham
MIZZ

38

Daniel Sams
KANS

38

Kapri Bibbs
CSU

38

Bryan Underwood
NCST

39

Kolton Browning
LAMO

39

Imani Cross
NEB

39

Julian Jones
ARKS

40

Nathan Scheelhaase
ILLI

40

Joey DeMartino
UTST

40

Bernard Reedy
TOLE

41

Jaquez Johnson
FAU

41

Josh Ferguson
ILLI

41

Jameon Lewis
MSST

42

Aaron Murray
GEOR

42

Todd Gurley
GEOR

42

Nelson Agholor
USC

43

Nate Sudfeld
IND

43

Terry Baggett
ARMY

43

Brelan Chancellor
NTEX

44

Philip Nelson
MINN

44

Charles Sims
WVU

44

Bryce Treggs
CAL

45

Connor Shaw
SCAR

45

David Cobb
MINN

45

Albert Wilson
GEOS

46

Tre Roberson
IND

46

Aaron Wimberly
IWST

46

Quincy Enunwa
NEB

47

Logan Kilgore
MTSU

47

Ryan Jackson
HOU

47

Ryan Grant
TULN

48

Cody Green
TULS

48

David Oku
ARKS

48

Alonzo Russell
TOLE

49

Daniel Sams
KSU

49

Johnathan Gray
TEX

49

Jeremy Gallon
MICH

50

Jake Rudock
IOWA

50

Kenneth Farrow
HOU

50

Rashad Greene
FSU
TIGHT ENDS
KICKERS
DEFENSES

Rank

Name
School

Rank

Name
School

Rank

Team

1

Jace Amaro
TTCH

1

Roberto Aguayo
FSU

1

Florida State Seminoles

2

Eric Ebron
UNC

2

Chandler Catanzaro
CLEM

2

Ohio State Buckeyes

3

Devin Funchess
MICH

3

Ryan Bustin
TTCH

3

Texas Longhorns

4

Nick O'Leary
FSU

4

Drew Basil
OHST

4

Virginia Tech Hokies

5

Gator Hoskins
MARS

5

Sam Ficken
PSU

5

Missouri Tigers

6

Tyreese Russell
EMIC

6

Kyle Brindza
ND

6

Florida Gators

7

Rob Blanchflower
MASS

7

Ka'imi Fairbairn
UCLA

7

Clemson Tigers

8

Kivon Cartwright
CSU

8

Richie Leone
HOU

8

TCU Horned Frogs

9

Tyler Kroft
RUTG

9

Andrew Furney
WAZZ

9

Houston Cougars

10

Troy Niklas
ND

10

Warren Harvey
ECAR

10

UCLA Bruins

11

Ted Bolser
IND

11

Trevor Romaine
ORST

11

Boise State Broncos

12

Christopher Coyle
AZST

12

Cody Parkey
AUB

12

Notre Dame Fighting Irish

13

Jimmay Mundine
KAN

13

Vincenzo D'Amato
CAL

13

South Carolina Gamecocks

14

Jacob Pedersen
WISC

14

Jake Smith
ARIZ

14

Marshall Thundering Herd

15

Billy Freeman
SJOS

15

Ben Grogan
OKST

15

Northern Illinois Huskies

16

Jordan Leggett
CLEM

16

Michael Geiger
MCST

16

Wisconsin Badgers

17

Dan Vitale
NW

17

Chris Boswell
RICE

17

Michigan State Spartans

18

Richard Rodgers
CAL

18

Jeff Budzien
NW

18

Rice Owls

19

Crockett Gillmore
CSU

19

Jaden Oberkrom
TCU

19

Georgia Bulldogs

20

D.J. Tialavea
UTST

20

Colin McGuire
FRES

20

East Carolina Pirates
For complete up-to-date college fantasy football player rankings and statistical projections, visit CollegeFootballGeek.com
Scoring System Used for CFG Rankings:
4 points per passing touchdown
6 points per rushing/receiving touchdown
25 passing yards = 1 point
10 rushing/receiving yards = 1 point
1 interception = -2 points
1 reception = 0.5 points
Follow Phil Steele anywhere!

•

•

•
•

•

•

•

•
Phil Steele is a college football analyst who has been publishing his annual College Football Preview since 1995. His magazine is regarded as one of the best in the business.
Google+