Week 6 Top 25 Team Performances (Game Grades)
| | | | | | | | | | | | | |
| --- | --- | --- | --- | --- | --- | --- | --- | --- | --- | --- | --- | --- |
| | | | | OFF | OFF | OFF | DEF | DEF | DEF | | Total | Game |
| RANK | TEAM | | FOE | RUSH | PASS | PTS | RUSH | PASS | PTS | TO's | Yards | Grade |
| 1 | Florida St | | Maryland | 183 | 431 | 63 | 33 | 201 | 0 | 1 | 380 | 129.25 |
| 2 | Baylor | | West Virginia | 468 | 396 | 73 | 118 | 276 | 42 | -3 | 470 | 115.56 |
| 3 | Oregon | at | Colorado | 349 | 406 | 57 | 94 | 280 | 16 | -1 | 381 | 111.82 |
| 4 | Clemson | at | Syracuse | 158 | 466 | 49 | 323 | 74 | 14 | 2 | 227 | 107.25 |
| 5 | Washington | at | Stanford | 139 | 350 | 28 | 179 | 105 | 31 | 0 | 205 | 106.1 |
| 6 | Fresno St | at | Idaho | 312 | 422 | 61 | 98 | 177 | 14 | 2 | 459 | 101.92 |
| 7 | LSU | at | Mississippi St | 223 | 340 | 59 | 216 | 252 | 26 | 1 | 95 | 101.65 |
| 8 | BYU | at | Utah St | 160 | 278 | 31 | 186 | 211 | 14 | 1 | 41 | 100.49 |
| 9 | Texas Tech | at | Kansas | 114 | 404 | 54 | 53 | 220 | 16 | 3 | 245 | 100.1 |
| 10 | Miami, Fl | | Georgia Tech | 227 | 324 | 45 | 335 | 66 | 30 | -1 | 150 | 98.78 |
| 11 | Michigan St | at | Iowa | 135 | 277 | 26 | 23 | 241 | 14 | 1 | 148 | 98.29 |
| 12 | Missouri | at | Vanderbilt | 245 | 278 | 51 | 130 | 338 | 28 | 1 | 55 | 96.61 |
| 13 | Ohio | at | Akron | 147 | 215 | 43 | 56 | 101 | 3 | 1 | 205 | 95.87 |
| 14 | Notre Dame | † | Arizona St | 145 | 279 | 37 | 65 | 362 | 34 | 2 | -3 | 93.73 |
| 15 | Oklahoma | | TCU | 203 | 152 | 20 | 44 | 166 | 17 | -1 | 145 | 93.56 |
| 16 | Indiana | | Penn St | 150 | 336 | 44 | 70 | 340 | 24 | 0 | 76 | 92.57 |
| 17 | Louisiana | | Texas St | 212 | 360 | 48 | 120 | 76 | 24 | 1 | 376 | 92.02 |
| 18 | UCLA | at | Utah | 186 | 218 | 34 | 99 | 288 | 27 | 4 | 17 | 91.12 |
| 19 | Nebraska | | Illinois | 335 | 186 | 39 | 195 | 177 | 19 | 1 | 149 | 90.86 |
| 20 | Tennessee | | Georgia | 189 | 215 | 31 | 238 | 196 | 34 | -1 | -30 | 90.8 |
| 21 | Iowa St | | Texas | 201 | 262 | 30 | 119 | 244 | 31 | -1 | 100 | 90.64 |
| 22 | Florida | | Arkansas | 115 | 240 | 30 | 111 | 164 | 10 | 2 | 80 | 90.04 |
| 23 | Ohio St | at | Northwestern | 248 | 203 | 40 | 94 | 343 | 30 | -1 | 14 | 89.82 |
| 24 | N Illinois | at | Kent St | 454 | 244 | 38 | 147 | 245 | 24 | 0 | 306 | 89.32 |
| 25 | Auburn | | Mississippi | 282 | 93 | 30 | 124 | 340 | 22 | 0 | -89 | 89.16 |
By Phil Steele
The story of the Utah/UCLA game was 6 interceptions by Travis Wilson although not all 6 were his fault. He hit 22-44-288 and there were some dropped passes. As it was, even with the 6-2 TO deficit, Utah, down 7, had a review on a possible td pass when the receiver caught the ball and clipped the pylon but his foot was not down inbounds. On 4&10 they were intercepted at the UCLA12. Utah did have a 14-7 lead in the 1Q in a game played in temps in the 40's. It was 24-24 early 4Q but UCLA got a 36 yard td run with 3:33 left to go up by 10. Utah got a 37 yard FG with 2:04 left and recovered the onside kick. After the review, Wilson was intercepted at the 12 and returned 43 yards with :16 left. UCLA only had a 404-387 yard edge and Utah a 22-20 FD edge.
San Diego St/Nevada was a game of momentum shifts. It was good to see Cody Fajardo back in the lineup for UN. He hit 33-51-393. SDSt's Adam Muema also appears to be getting back into form after not being 100% earlier in the year. He rushed for 134 yards on 24 carries. Quinn Kaehler hit 23-32-286. UN led 17-14 and was punting with :46 left in the half. However, the snap went through the P's hands, who then kicked it out of the endzone for a safety and then following the free kick, SDSt went 64/6pl with a 25 yard td pass with :09 left to lead 23-17. The appeared to have the game wrapped up leading 44-30 when they missed a 39 yard FG with 10:36 left. UN would then regain momentum going 78/14pl for a td with 6:26 left to get back within 7 and then SDSt went for it on 4&5 and fired incomplete at the UN40 with 3:13 left. UN went 60/6pl for a 5 yard td pass with 1:38 left, 44-44. In OT SDSt got a13 yard td pass on 3&9 and UN, on 4&11, fired incomplete.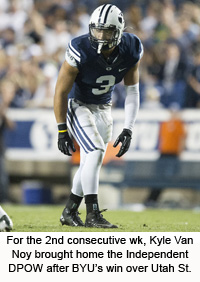 The key story of the BYU/Utah St game was the Aggies losing starting QB Chuckie Keeton (out for year) with 3:50 left in the 1Q. Keeton had only hit 4-10-26 yards. Craig Harrison replaced him and hit 18-41-185. Keeton had 17 yards rushing, Harrison finished with 6 carries for 38 yards. Keeton's first pass of the game was intercepted by Kyle Van Noy and returned 17 yards for a td. BYU led 17-7 at the half but with only a 189-187 yard edge. They extended it to 31-7 after 3Q's. The Aggies were SOD at the BYU21 with 12:47 left but then took over with 5:53 left and went 88/11pl capped by an 8 yard garbage td pass with 1:34 left to skew the stats as they were only outgained 438-397 thanks to that drive.
The Texas/Iowa St game was controversial with HC Paul Rhoads holding an irate press conference over the apparent fumble by Texas near the goal line. ISt did finish with a 463-363 yard edge. There were numerous momentum changes in this game. UT got a 44-yard Hail Mary just before the half to lead 17-13. In the 3Q, on ISt's 2nd drive, the Cyclones were pinned at their own 2 but on 3&9, got a 97 yard Richardson-to-Bundrage td pass. UT retook the lead, 24-20, but then fumbled early 4Q, setting up an ISt 37/3pl drive and UT trailed 27-24. ISt had a chance to put it away as they had a FD at the UT13 but on 3&3 fired incomplete and settled for a 29 yard FG leaving the Horns in the game. UT, on 3&8, got a pass interference which gave them a FD at the 2. On the next play, RB Johnathan Gray was ruled down but the ISt DL had taken the ball out of his hands and started running down the field. Replays were inconclusive and the play stood. On the next down, he fumbled again, but got it back himself scraping the ball off the goal line. A Case McCoy QB sneak gave UT a 31-30 lead and ISt was intercepted on 3&4 at its own 42. ISt came into the game the least penalized team in the league but had 10 penalties for 118 yards, while the Horns had 6 for 62. Sam B. Richardson appears to get healthier each week and hit 16-26-262 while also rushing for 83 yards with many key 3rd down runs keeping drives alive.
The key story for ULM/WKU game actually took place before the game even started. ULM had lost 4th year starting Sr QB Kolton Browning to injury in the previous game. Brayle Brown got his first start and did well hitting 21-40-275 but only had 5 yards rushing on 4 carries whereas Browning is more of a dual-threat QB. Last week WKU played as many as 4 QB's. Here, Brandon Doughty played the entire game hitting 24-36-370. WKU had a 530-391 yard edge. Leading 14-10 WKU had a 1&gl at the 1 with :03 left in the half and opted to go for the td but was stuffed. ULM failed to capitalize on the momentum after returning from the break and WKU opened the 3Q going 80/7pl and then, after a 25 yard PR, 41/8pl for a td and a 22 yard FG to lead 24-10. Two possessions later they went 89/14pl for a td, 31-10 and ULM's last 2 drives ended on a SOD at the WKU37 and an interception at the WKU23. They also fumbled a punt at their own 12 with 2:09 left.
The Department of Defense finally decided to allow Air Force and Navy to play. A record crowd of 38,225 filled Navy-Marine Corps Memorial Stadium. This game was closer than the final score would indicate. AF had a 19-18 FD edge and Navy a 327-313 yard edge. AF settled for a 45 yard FG in the 1Q after a 13 play drive and missed a 50 yard FG after a 14 play drive to only lead 3-0. They had a 202-120 yard edge and a 10-7 lead at the half. AF trailed just 14-10 when they were SOD at the N34 on 4&2 with 14:30 left. Navy went 66/11pl for a td. AF fumbled at its own 38 after an 8 yd reception (8:24), then was intercepted at its own 27 with 5:48 left. Navy took 3 plays to reach the endzone and go up by 17. On the Falcons final drive they brought Nate Romine in at QB and after 2 FD's to the N39 he was intercepted at the 29 with 2:35 left.
Louisville's Teddy Bridgewater lost one of his favorite receivers in DeVante Parker who had 6 td's coming in. Bridgewater still hit 25-35-348 vs an overmatched Temple. Temple benched starting QB Connor Reilly in the 2Q after he hit just 3-7-25 yards. PJ Walker hit 10-19-182. UL scored on all 4 of its 1H possessions going 79/11pl, 85/8pl, 61/8pl and 81/7pl for 3 td's and a short 22 yard FG and led 24-0 with a 325-120 yard edge. It was 30-0 when TU blk'd a punt with 1:23 left. They drove 26/3pl to avoid the shutout getting a 9 yard td pass with :38 left.
You would think when playing in Texas at the start of October it would be hot with the conditions favoring SMU but it was 60-degrees and raining at game time vs Rutgers. Garrett Gilbert for SMU hit 45-70-484 and 5 td's in a wild 3OT game. Rutgers was without the nation's leading rusher, Paul James, but Justin Goodwin filled in rushing 24 times for 149 yards and had 3 td's and 73 yards receiving on 2 receptions. Rutgers led 35-14 but SMU battled back and tied it with 1:19 left then recovered a fumble but could not get close enough for a FG at the end of regulation. Each team scored a td in the first 2 OT's with RU getting theirs on a 3&24, 29 yard pass. In the 3OT SMU settled for a 37 yard FG and Goodwin got a 17 yard td run to give RU the 3 pt win. SMU had actually trailed at the half, 21-7 but only was outgained 192-165 as the C snapped the ball when the QB wasn't ready and RU recovered for a td for one of their scores. It was not supposed to rain but it did and it was also very windy with Rutgers having the wind at their back in the 1Q, SMU in the 2&3Q's and RU in the 4Q. SMU finished with a 558-474 yard edge.
Boston College's Andre Williams, who is the ACC's rushing leader this year, tied a school record for single game rushing yards but then lost a yard on his final carry of the game to finish with 263 and did not get the record. The record was 264 yards set by Montel Harris in 2009 and Williams did not play on the last series of the game after losing that yard. BC did have troubles with the Army option allowing 326 yards rushing, 427 yards overall and in fact in the 1H they trailed 17-14 before going 51/6pl, and 66/5pl for td's. They led 31-20 at half with only a 297-266 yard edge. Army got an 80 yard td run by Larry Dixon to pull within 31-27 but BC then went 93/13pl, and 68/9pl for a td and 28 yard FG, 41-27. After an interception, BC went 38/2pl for a td to clinch it, 48-27 with 12:27 left and Army punted on its next 2 drives.
The last 2 weeks Texas Tech's Baker Mayfield started but did not finish the game after getting pulled. This past week he started and did well hitting 33-51-368 but then was injured and Davis Webb hit 3-6-36 in the 4Q. Kansas was giving TT quite a battle despite the final score and despite the fact TT had 31-15 FD and 518-273 yard edges. In fact, KU had jumped out to a 10-0 lead getting an interception on the first drive and driving 25 yards for a 36 yard FG then going 79/9pl for a td. It was 10-10 when KU faked a punt on 4&13 at its own 16 with 5:55 left in the half. That would change the game. TT got a 16 yard td run 3pl later and then, after a punt with 3:08 left, drove 68/9pl for a 25 yard FG to lead 20-10 at the half with a 290-144 yard edge. KU was intercepted on the first play of the 3Q and returned 36 yards and TT got a 4 yard td 'drive' then went 51/9pl for a 28 yard FG, and 80/12pl for a td to blow it open 37-10. TT added 50/5pl, 7/4pl (after fumble) and 6/3pl (after fumble) drives for td's in the 4Q to make it 54-10.
The light bulb went on for Buffalo last week and it continued to shine. They had 24-17 FD and 452-329 yard edges vs Eastern Mich. In fact, EMU gained 143 of their yards on their final 2 drives of the game trailing 42-7 including a 75 yard run for a td with 1:20 left so UB dominated even more than the final score. Joe Licata hit 15-22-224 and Branden Oliver rushed 25 times for 150 yards. EMU pulled starting QB Tyler Benz on the 2nd series of the 2H and Brogan Roback hit 4-8-25 in his place.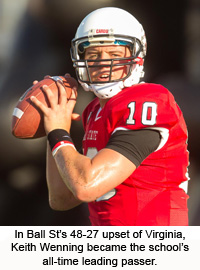 Virginia's defense came in with some great numbers but was shredded by a Ball St offense that put up 506 yards as Keith Wenning hit 23-41-346. UVA's stagnant offense did put up 459 yards with 22 FD's. UVA, in a 17-17 game, got to the BS36 at the end of the half but ran out of time. At the half the Cardinals had a slim 256-246 yard edge. Tied at 24, Ball St was SOD at the UVA22, but UVA was intercepted 3pl later and the Cardinals got a 32 yard td run by Jahwan Edwards 2pl later. Ball St then recovered a fumble, drove 11/6pl for a td then, after a 58/12pl UVA drive for a FG, got a 72 yard td pass to Williams. UVA was SOD at its own 48 and Ball St added a 48/6pl drive for a td for a somewhat misleading 21 pt win.
South Alabama rotated QB's again with Ross Metheny hitting 15-21-236 and Brandon Bridge 11-20-235. Corey Robinson hit 20-26-210 for Troy. USA finished with a 630-434 yard edge. Troy appeared in control leading 17-7 at the half with USA missing a 22 yard FG with :13 left. USA had a 231-229 yard edge. Troy took its first 3Q possession 70/5pl drive for a td to extend it to 24-7 but USA chipped away. They had an extra point blocked after a 63/6pl drive for a td, then were SOD at the T5 (13:29 4Q). USA got a 56 yard td pass but went for 2 and it failed, 24-19. Trailing 27-19 USA got a td with 2:51 left but went for 2 and failed again. The Jaguars forced a punt with 1:27 left and USA was pinned at its 1. After 2 FD's they got a 65 yard td pass to lead 33-27 with :48 left, their first lead of the game. Troy went 66/5pl and got a 20 yard td pass with :07 left to pull out the win.
Kyle Pohl for Akron came in having thrown for about 265 ypg in his last 4 games but Ohio held him to 11-26-101 yards in a surprisingly dominant win. Akron fumbled a punt into the EZ for a safety but would drive 49/9pl for a 31 yard FG and led 3-2. The rest of the game belonged to OU and they were up 30-3 at half with a 183-100 yard edge. OU was SOD at the UA1 in the 3Q but pulled away to 43-3 getting their final score on a 28 yard FG with 1:47 left. The Bobcats finished with a 362-157 yard edge.
Central Michigan/Miami, Oh both came in winless and both had 294 yards. MU missed two FG's in the 1H and CMU one. At the half MU had a 184-80 yard edge but trailed 7-3 with CMU getting a 19 yard drive for a td after a 54 yard PR. CMU fumbled the punt and MU got a td but went for 2 and failed and only led 9-7 with 8:31 left in the 3Q. CMU then went on an 84/16pl drive for a td. The teams punted 3 times and CMU went 60/6pl for a td to go up by 2 scores, 21-9 with 6:13 left. MU's last drive went 12pl but on 4&3 they were SOD at the CM40. CMU got a couple of FD's to the 20 where they took a knee. Cooper Rush hit 11-21-110 and Saylor Lavallii rushed 25-151 for the Chips.
Nebraska had its 330th consecutive sellout and also an easy win over Illinois despite the fact that Taylor Martinez did not play. Tommy Armstrong hit 8-13-135 and only rushed for 9-18. UI QB Nathan Scheelhaase hit just 13-26-135 while rushing for just 11 yards (his weakest outing of the season). NU had a 521-372 yard edge although the FD's were even at 24. NU went 57/7pl, 69/10pl, 62/18pl, and 71/10pl on their first 4 possessions for 3 td's and a FG to lead 23-3. It was 23-5 at half. NU opened the 3Q with a 75/4pl td drive and later added a 37 yard td pass (after int) on 3&8 to go up 36-12. It was 39-12 with 5:16 left when they got a 32 yard FG and UI then went 75/12pl for a garbage td with :57 left making the final score and stats appear closer than they really were.
For North Carolina Bryn Renner was a late scratch but Marquise Williams' mobility added a lot to the UNC offense. He hit 23-35-277 yards and also ran for 56 yards on 18 carries allowing UNC to pile up 376 yards vs the vaunted Virginia Tech D. Logan Thomas continues to show that solid improvement hitting 19-28-293 yards although he did rush for 2 yards on 9 carries. After the 1Q it was all VT as they led 7-0 and had a 139-26 yard edge. Down 14-0 UNC converted on 4&1 for a FD and would cap a 75/10pl drive with a td. It was VT 21-7 at the half with a 277-147 yard edge. There were 4 punts to open the 3Q and UNC got a 36 yard FG then had a 4&1 but was intercepted at the 7. UNC fumbled a punt at its own 16 and VT got a td for a commanding 27-10 lead with just 4:06 left. UNC did gain 86 of its yards on 13 plays getting a garbage td with 1:09 left but VT recovered the onside kick.
Many folks were expecting a showdown battle between a pair of undefeated, ranked teams. Maryland lost CJ Brown to an injury in the 2Q but he had hit just 6-14 for 82 yards. Caleb Rowe replaced him and hit 9-17-119 but this was a total blowout. Florida St finished with 33-9 FD and 614-234 yard edges and Jameis Winston was magical at times hitting 23-32-393 and also added 24 yards rushing. FSU only led 7-0 mid-2Q then drove 80/9pl and 78/9pl for td's to lead 21-0 at the half with a 245-131 yard edge. The Noles would score td's on their first 6 possessions of the 2H driving 94/7pl, 55/6pl, 83/10pl, 21/1pl (after fumble), 66/7pl and 24/1pl (after 28 yard PR) for their 63-0 rout. They did punt with 5:51 left on their 7th possession.
Indiana had never beaten Penn St going 0-16 but I called for them to get the upset win at home. Indy had talked about wanting to run the ball more and Tevin Coleman rushed for 92 yards on 20 carries. At the half IU settled for 24 and 27 yard FG's at the end of 68 and 65 yard drives and led 13-7. Penn St led 21-17 after 3Q's. IU went 73/11pl for a td then PSU went for it on 4&2 at their own 33 and was SOD. Nate Sudfeld hit a 36 yard td pass 2pl later. PSU fumbled the KO and they handed off to Tre Roberson for a 9 yard td run to make it 42-17 with 10:30 left. PSU drove 75/8pl getting a 14 yard td pass with 7:44 left but fumbled into the endzone for a safety then was SOD at its own 29 on the final 2 drives.
Everyone, including myself, expected a defensive battle between Michigan St and Iowa. While it was a low scoring game, the fact that Michigan St put up 412 yards vs a good Iowa D was a little surprising. They finished with 20-13 FD and 412-264 yard edges.Connor Cook hit 25-44-277 while Iowa's Jake Rudock hit 26-46-241. MSU got a 46 yard td pass from Cook to Macgarrett Kings and led 10-0 with 6:18 left in the half but Iowa shockingly went 75/6pl capped by a 47 yard td pass and then 65/6pl with a 10 yard td pass to lead 14-10 at the half and MSU had a 210-160 yard edge. MSU opened the 3Q with a 75/7pl drive and got a 37 yard td pass for the lead. The Spartans would add 35 and 49 yard FG's to go up 23-14 early 4Q. UI missed a 50 yard FG and the Spartans drove 45/12pl for a 40 yard FG with 5:25 left to close the scoring at 26-14. Iowa was intercepted at the MS40 with 5:09 left and their final drive went 64/16pl but on 4&5 they were SOD at the MS16.
Alabama's AJ McCarron only played 5 series vs overmatched Georgia St. He led 5 td's and it was 35-0 with 6:11 left in the 3Q when they brought in Blake Sims. Sims hit 14-18-130. It was 38-0 at the half with Bama having a 308-40 yard edge. The Panthers went 46/9pl getting a 53 yard FG to avoid the shutout on their opening drive of the 3Q. Bama missed a 30 yard FG and played conservatively in the 2H. Frosh DE A'Shawn Robinson made his first start in place of Ed Stinson and a lot of youngsters saw action.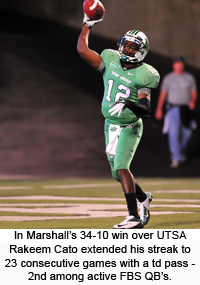 As expected, Marshall rolled over UTSA 34-10. UTSA impressed me offensively last week but this week Eric Soza hit just 10-26-130 and Marshall had a 404-254 yard edge. It probably should have been worse as at the half as MU had a 252-115 yard edge. The Herd scored on their first 3 possessions of the game to lead 17-0 and were up 24-0 when UTSA got a 24 yard FG with :31 left in the half to pull within 21. Rakeem Cato hit 22-32-279.
Tulane moved to 4-2 on the year with a homecoming win over North Texas. TU did benefit from a blocked FG for a td and an IR td but in the 1H could have led by more than their 7-0 margin as they had a 10-3 FD edge. It was 21-7 after 3Q but NT didn't quit. In fact, they got a 62 yard td pass on 3&8 with 3:45 left to shockingly tie it at 21. Nick Montana hit 18-28-132 while Derek Thompson hit 29-42-326. TU took over at its own 25 knowing they had last year's Lou Groza winner Cairo Santos waiting in the wings. The Green Wave went 66/10pl and once they got to the NT12, they ran a couple plays to the middle of the field and Santos banged home a 27-yarder on the final play for the win. TU held NT's rush attack to 34 yards on 20 carries.
Toledo's David Fluellen was dominant running the ball vs Western Mich. He rushed for 220 yards. It was the 5th straight 100 yard game for him and the 4th time in his career that he'd topped 200 yards. While Toledo had just a 525-375 yard edge for the game, they led 23-0 with 4:58 left in the half but WMU went 75/10pl for a td with :56 left. UT, after a 2 yard Fluellen td run with 3:24 left in the 3Q, led 47-7. WMU then went 73 yards for a 19 yard FG, 59 yards for a 35 yard FG then 96 yards for a td with 2:14 left to "only" lose 47-20 and only be outgained by 153 yards. During that late span, UT had just 82 yards offense.
Michigan's Devin Gardner had 7 TO's his previous 2 games. The shocking stat was that he didn't throw the ball until mid-2Q vs Minnesota. It was tied at 7 when Gardner threw his first pass. A key play happened with just 1:25 left in the half. After Minnesota punted from their own 10, Michigan started at its 38 and on 3&14, got a 24 yard td pass to Devin Funchess for a 14-7 lead. That helped Michigan have a 124-113 yard edge at the half. It was 28-13 with 7:02 left when Michigan took over and drove 69/9pl getting a 2 yard td run with 2:36 left making a lot of their backers happy, 35-13 and then made it a misleading final. Minnesota got 2 FD's to the MI35 when Mitch Leidner was intercepted and returned 72 yards for a td with 1:19 left. Michigan only had a 348-281 yard edge and 17-16 FD edge. Jerry Kill, the coach of Minnesota, missed an entire game for the first time of his career as he had a seizure Saturday morning and did not make the trip. DC Tracy Claeys was the acting HC and he led the team from the pressbox.
Stephen Morris, who had been banged up the previous 2 weeks, hit 17-22-324 yards. Miami did finish with a 551-401 yard edge. Georgia Tech jumped out to a 17-7 lead going 75/12pl for a td, 43/11pl for a 45 yard FG, then, after recovering a fumble, 54/3pl for a td. GT, up by 10, fumbled at the M21 with 10:32 left in the half and UM went 79/7pl and 73/7pl for a td and a 24 yard FG to tie it at the half. At half UM had a 254-243 yard edge. Miami was intercepted at the GT4 but then on 3&14 got a 69 yard td pass to go up 24-17. Miami fumbled a punt and GT got a td with 10:38 left and it was only 24-23 but Miami went 66/8pl for a td. After GT was SOD on 4&7, Miami went 66/6pl for a td and added a 36 yard IR td 1pl later to blow open a close game, 45-23. GT did go 54/7pl for a 15 yard td run with :10 left for the 45-30 final.
Half of the stadium between Ohio St/Northwestern was scarlet but it was a very loud NW crowd at times. At the end of the game after OSU's remarkable fall on the ball in the EZ, the crowd was very loud for OSU showcasing the split crowd. I tweeted this week that Northwestern had not beaten a top 5 team since it opened the 1959 season but they did give OSU a very tough game. Trevor Siemian hit 13-18-245 yards and Kain Colter 12-12-98 while Braxton Miller hit 15-26-203. Miller had 1 int and 2 key fumbles. OSU blocked a punt for a td to go up 10-7 and trailing 14-10 had a 1&gl at the 6 but settled for a 21 yard FG. NW went 68/8 then after a fake punt was stuffed at OSU's 31. NW added a 29 yard FG to lead 20-13 at the half. NW had a 213-205 yard edge. NW went 66/12pl for a 32 yard FG to lead by 10. OSU had a 1&gl at the 7 but Miller fumbled. After kick/catch interference on a PR, OSU went 36/6pl for a td to get back within 3 and then got an IR to the 16. That set up a 2 yard td run by Carlos Hyde and OSU led 27-23. NW then got a 68 yard pass down to the 7 and on 3&gl a 12 yard td pass, 30-27. OSU went 81/8pl and got a 7 yard td run. NW went for it on 4&1 at the OSU34 and it was a close call but ruled short as they punted with just :21 left and as ESPN's Rece Davis said, Northwestern's final play was a lateral which bounced off a NW player, rolled into the EZ and OSU "covered" it for the td, 40-30 for the improbable cover.
Syracuse had pulled a major upset each of the last 4 years but their blitzing D was no match for Tajh Boyd who hit 15-17-317 yds and 4 scores in the 1H. Clemson finished with 27-13 FD and 624-397 yd edges. Terrel Hunt, in just his 2nd career start, hit 8-24-52 with 3 interceptions and was sacked 4 times. CU led 35-7 at the half but SU went 62/7pl for a td to get within 21 and faced a 3&16 from the CU24 and were intercepted at the CU38 on their next drive. SU missed a 42 yd FG then, after converting on a fake punt, had a FD at the CU19 but on 4&4 was SOD at the CU13. Three shots at making it a 2 score game all failed and CU got a 91 yd td pass to Sammy Watkins 2pl later to blow it open. CU added a 67/10pl td drive with 3:56 left for the 35 point margin.
Follow Phil Steele anywhere!

•

•

•
•

•

•

•

•
Phil Steele is a college football analyst who has been publishing his annual College Football Preview since 1995. His magazine is regarded as one of the best in the business.
Google+