By Phil Steele
Wake Forest's stagnant offense put up 382 yards vs NC State. Pete Thomas did hit 27-43-257 for NCSt while Tanner Price hit 24-39-269. WF led 7-3 but NCSt got a td with :39 left in the half for the lead. WF\ went 75/4pl getting a 54 yard pass to Spencer Bishop and 2pl later a 10 yard td pass to Michael Campanaro to go up 14-10 with a 219-180 yard edge. WF went 87/10pl capped by a 3 yard td to go up 21-10. NCSt went 55/8pl for a 20 yard FG to get within 8 but WF, after being intercepted and punting on their next 2 possessions, drove 80/8pl for a td with 10:43 left to lead 28-13. NCSt's last 3 drives they gained 109 yards but were intercepted at the 7, SOD at the 48 and intercepted at the WF2 on a Hail Mary at the end.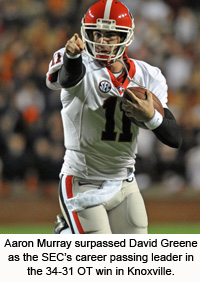 Georgia was in a letdown spot clearly vs Tennessee last week and were very fortunate to escape with the win. Justin Worley outpassed Georgia's Heisman candidate hitting 17-31-215 while Murray was 19-35-196. Rajion Neal rushed for 148 yards on 28 carries and UGA's leading rusher was JJ Green who had 17-129 as both Todd Gurley (out) and Keith Marshall (injured 1Q) were out. Tied at 24, Tennessee drove 80/13pl converting on 4&1 at its own 29, then converted on 4&1 with a 28 yard pass to the UGA7 and got a td with 1:54 left. UGA got a td with :05 left to force OT. Tennessee appeared to get a td in OT but as Pig Howard stretched for the endzone, the ball slipped out of his hands, hitting the pylon. It was originally ruled a td, but overturned into a TB after review. UGA gained 0 yards and got a 42 yard FG to escape with the 3 point win.
FIU frosh RB Silas Spearman rushed for 136 yards as FIU's offense actually put up 341 yards while their D, which was holding foes below their season average on the year, held Southern Miss to 314 yards. Jake Medlock returned to the lineup for FIU but hit just 5-10-88 and was replaced by AJ Hilliard who hit 8-13-93. SM led 23-21 when FIU got a 27 yard FG with 6:49 left. FIU missed a 45 yard FG with 1:00 left and SM had a chance to win. Pass interference gave them a FD to the FIU27 and they lined up for the game winning 44 yard FG on the last play, however, it was blocked.
Bowling Green did not have an easy game vs Massachusetts but could have easily won by more than the experts thought they should. Surprisingly the 1H was scoreless until BG got a td with 7:45 left in the 2Q capping a 91/7pl drive. BG then went 70/11pl for a td with 1:09 left in the half to lead 14-0 with a 239-127 yard edge. BG opened the 3Q with 56/5pl, and 55/5pl drives for td's to lead 28-0 late 3Q. UM got to the BG25 but was intercepted in the endzone with 13:44 left. The Minutemen got it back and went 71/10pl with 10:36 left and capped the drive with a 24 yard td pass with 4:34 left to pull within 28-7. BG got a pair of FD's to the UM15 but opted to take a knee on the last 3 plays.
East Carolina had a 511-334 yard edge vs Middle Tenn and a 33-20 FD edge but only managed a 7 point win. The Pirates led 14-10 at the half and passed up a 19 yard FG to go for it 1&gl from the 2 with :05 left and were stuffed at the 1. EC went on a 9pl drive but settled for a 25 yard FG then went 78/17pl but missed a 35 yard FG. Leading 24-17, they missed a 52 yard FG with 5:16 left and at the end of the game, EC was at the MT25 yard line taking a knee.
Cameron Stingily ran for 266 yards on 37 carries for Northern Illinois. Colin Reardon had another decent game for Kent St hitting 16-35-209. Dri Archer had a 100 yard KR td but just 13 yards rushing and 80 receiving. This was a rematch of LY's MAC Title game and it was a game for quite awhile. In fact, Kent St got a 28 yard td pass with 11:37 left in the 3Q to lead 24-21. NIU went 84/10pl and 94/15pl for td's then 56/10pl for a 31 yard FG to finally go up by 14, 38-24. Kent St on 4&7 fired incomplete from the NI9 with 4:23 left and NIU ran all but :18 off the clock. NIU did finish with an outstanding 36-15 FD and 698-392 yard edges.
Jaquez Johnson missed last week with injury for Florida Atlantic but there is no question that he is the starter. He returned to the lineup and hit 23-36-299 passing, added another 105 yards rushing and finished with 404 yards total offense. He guided FAU to 579-307 yard and 25-16 FD edges over UAB. Leading 16-13, FAU went 80/14pl and got a 2 yard td pass with :05 left in the half to go up 23-13 with a 285-170 yard edge. It was tied at 23 late in the 3Q when FAU got a td with 2:56 left in the 3Q to go up 29-23. They did have their second xp of the game blocked then missed a 35 yard FG on their next drive. They took over with 6:05 left and Johnson's 5 yard td pass capped the 73/7pl drive for a td with 1:22 left for the 14 point margin.
Kansas St/Oklahoma St each had 19 FD's and KSU had a slim 336-330 yard edge. OSU was fortunate to escape with a 4 point win. Daniel Sams got the start for KSU and hit 15-21-181 and was the team's leading rusher with 118. Jake Waters hit 3-7-11 with -6 yards rushing. JW Walsh bounced back from a poor performance last week and hit 24-38-248. In the 1H, OSU had a 229-152 yard edge with the key play happening when OSU, leading 10-7, lined up for a 43 yard FG which KSU blocked and returned 65 yards for a td. KSU opened the 3Q with a 79/11pl drive and got a 17 yard td pass to lead 21-17 and was up 21-20 when OSU recovered a fumble at the KS6 late in the 3Q. They settled for a 23 yard FG and the lead, 23-21. KSU went 57/11pl for a td to go up 29-23 with 6:09 left and the Cowboys appeared on the way to their 2nd straight outright upset loss but drove 75/6pl for a td with 4:13 left, got an int and added a 28 yard FG with 2:24 left to lead by 4. The Wildcats were driving for the winning td and were at the OSU44 when they were intercepted at the 21 and returned 72 yards to the 7 where OSU took a knee on the last play.
Old Dominion had a 550-401 yard edge vs Liberty but was SOD at the LU4, fumbled at the 36, fumbled at the LU13, missed a 53 yard FG and trailed 10-7 at the half. They were intercepted in the endzone on each of their first 2 drives of the 3Q and trailed 17-7. ODU was SOD at the LU1, then missed a 41 yard FG and things looked bleak. They got a 64 yard PR td with 4:22 left then took over with 1:20 left and went 72/6pl getting a 27 yard td pass from Taylor Heinicke to Blair Roberts with :28 left to pull out the 21-17 win. Heinicke hit 39-52-450 but did suffer a concussion in the 4Q (expected to play this week).
UCF must have had some hangover from the previous week's loss to South Carolina and was VERY fortunate to escape Memphis with a win. Blake Bortles hit just 17-36-160 and Memphis had 397-270 yard edge and 25-16 FD edges and things did not look good in the 2H. Paxton Lynch did hit 20-38-279 for Memphis. In the 1H Memphis had a 186-95 yard edge. Leading 7-3 UM, on 3&gl at the 8, was intercepted in the endzone with 1:19 left in the half. UCF drove 91/12pl for a td to make it 10-7. UM went 50/11pl for a 48 yard FG then, after faking a punt and gaining 14 yards, they went 62/8pl for a td and a 17-10 lead. UCF took over at its 20 with 8:11 left, but on 1&gl from the 1 they fumbled into the endzone. However OL Chris Martin fell on it for a td to tie it at 17. UM then fumbled the KO and UCF scooped it up and returned it 12 yards for a td and a shocking 24-17 lead with 2 fumbled td's. The Tigers went 69/7pl and had a 3&gl at the 6 but were intercepted in the endzone with :35 left.
Baylor had 28-21 FD and 864-391 yard edges against West Virginia. The Bears put up 28 points in the 1Q, 28 in the 2Q, then gave up 28 2H points with the game out of reach. BU fumbled a punt into the endzone and WV fell on it for a td to make it 7-7 but BU explode to lead 56-14 with a 617-147 yard edge at the half. WV got as close as 66-35 with 8:07 left in the game when BU, playing its backups after the first series of the 3Q, gave up a td. BU went 70/5pl for a td with 5:41 left but then was intercepted and returned 30 yards for a td to make it "only" 73-42. WV recovered the onside kick but on 4&15 from its own 40 fired incomplete with 1:29 left.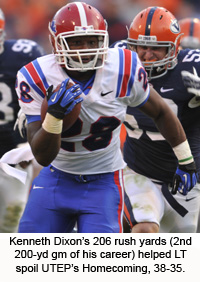 Kenneth Dixon rushed for 200 yards for Louisiana Tech as they got the road win at UTEP. They did only have a 24-22 FD edge and 463-440 yard edge in their close 3 point win. UTEP scored first on a 75/8pl drive for a td but LT went 61/4pl and 93/16pl, the key there a 4&3, 8 yard pass to the UTEP31 keeping the drive alive. The td made it 14-7. LT was SOD at the UTEP39 but then drove 81/4pl for a td to lead 21-7. After an interception, they drove again for a 24 yard FG. It was 24-14 at the half. LT led 31-21 when UTEP got a 65 yard td pass with 6:27 left in the 3Q. UTEP, trailing 38-28, went on a 69/11pl drive but had a 28 yard FG blocked. LT punted with 5:56 left and UTEP went 79/18pl for a 6 yard td with 1:03 left to pull within 3, however, LT recovered the onside kick.
South Carolina's Steve Spurrier was not too happy that Jadeveon Clowney's ribs were too sore for him to play against Kentucky. He talked about it at the post game press conf saying, "...if he doesn't want to play, he doesn't have to play. Simple as that." Connor Shaw was not supposed to play but did and hit 17-20-262. Spurrier improved his personal career mark vs UK to 20-1. The Gamecocks finished with a 453-301 yard edge and actually scored td's on their first 3 possessions going 77/4pl, 80/10pl, 71/9pl and appeared on their way to a rout, 21-0 with 14:20 left in the 2Q. UK answered with a 75/14pl drive and only trailed 24-7 at the half with SC having a 292-116 yard edge. SC went 53/11pl for a 41 yard FG to go up 27-7 but then UK went 75/12pl for a td. SC fumbled the KO and UK went 35/5pl and shockingly it was 27-21. SC went 80/7pl for a td, but UK responded with an 81/8pl for a td. SC took over at its own 39 with 4:02 left leading by 7. They converted on 3&7, added another FD, then took a knee at the UK36 successfully running off the final 4:02.
This one was a tale of two halves. Rice controlled the 1H with a 230-186 yard edge over Tulsa. The Owls took their opening drive 75/13pl for a td. TU went 59/9pl for a 33 yard FG then Rice went 75/8pl for a td. The next 6 possessions all resulted in punts. Rice would get a 27 yard FG with 5:14 left in the half then, after a TU interception, drove 10/3pl for a td and a 24-10 lead. TU had a 1&gl at the 10 but fumbled at the R4 with 1:19 left in the half. In the 2H it was Tulsa with the advantage and they finished with 415-344 yard and 24-19 FD edges. TU opened the 3Q with a 50/8pl drive for a 37 yard FG and 2 possessions later was SOD on 4&8 at the R31. On their next poss they went 57/13pl but were SOD at the R32. They went 62/11pl for a td to get within 24-21 and then drove 47/9pl for a 36 yard FG to tie it with 1:07 left and force OT. In OT Tulsa settled for a 36 yard FG and Rice, on 2&10, got a 25 yard td pass to take control of the CUSA West.
Cincinnati had a tough week as they attended the funeral for rFr Ben Flick who was fatally injured in a tragic car accident that involved two other players. The team also made trips to the hospital to visit one of those injured who remained hospitalized. UC finished with 21-12 FD and 350-241 yard edges. USF lost QB Steven Bench and RB Marcus Shaw to injury in the 1H but UC turned the ball over 4 times and had a key blocked FG which they allowed for a td. USF led 26-6 before UC mounted its comeback. They key was a 40 yard FG by UC on its opening possession which USF blocked and returned 75 yards for a td. After an interception USF drove 20/7pl for a 25 yard FG and went 45/12pl for a 52 yard FG and led 13-6. USF got a 10 yard FR td with 7:42 left in the half and then went 74/12pl and got a 24 yard FG on the last play of the half to lead 23-6. At half USF had a 155-104 yard edge thanks to that 74 yard drive. USF opened the 3Q with a 55/11pl drive for a 26-6 lead. UC started to chip away going 80/11pl for a td with 14:19 left in the game, 26-13. The Bearcats then were SOD on 4&1 at the USF11 with 6:48 left. They drove 70/10pl for a td with 2:03 left to get within 6. USF recovered the onside kick and punted with just :13 left.
Derek Carr had 390 yards passing and 5 td's in the 1H vs Idaho and would play just a few snaps in the 2H (29 yards). While Fresno St finished with a 734-275 yard edge, their halftime stats were even more impressive as they piled up 556 yards in the opening stanza compared to just 121 for the Vandals and led 47-0. Idaho got two 4Q td's on drives of 63 and 56 yards to "only" lose 61-14.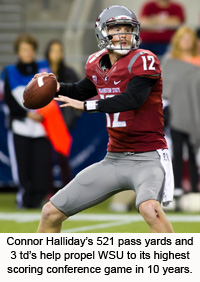 Sonny Dykes spent 7 years as an assistant under Washington St HC Mike Leach while at Texas Tech and it was AirRaid vs BearRaid. Connor Halliday was not 100% healthy but still hit 41-67-521 yards and WSU, who had lost 8 in a row to Cal, snapped that streak with ease in a 44-22 road win. Frosh Jared Goff was originally thought to have hit 32-58-489 for Cal, however a stat correction post-game gave him a school single-game record 504 passing yards (33-59). Cal announced prior to the game that C Chris Adcock and FS Alex Logan would both miss the rest of the season due to injuries then had 3 defensive starters injured in the 1H. Cal fumbled at the WS8 at the end of a 65/11pl drive and WSU went 92/7pl, and 85/11pl for a pair of td's to lead 14-0. Cal fumbled again, this time at the WS2, but got a safety on the next play and a 35 yard FG after the free kick to make it 14-5. WSU was intercepted at the Cal11 and Cal got an 89 yard td pass with 7:14 left in the half to make it 14-12. WSU got a 68 yard td pass with 1:04 left in the half, 21-12 and Cal got a 43 yard FG with :10 left. At the half Cal had a 356-297 yard edge but trailed 21-15. WSU took its second 3Q possession 79/10pl for a td then Cal was SOD on 4&1 at the WS33. On 1&15 a 72 yard td pass to Vince Mayle made it WSU 35-15. Cal got a 53 yard td pass to get back within 13 but WSU went 48/13pl for a 44 yard FG. After Cal was SOD at the WSU38, the Cougars would add a 41 yard FG with 7:53 left and went on to a 44-22 win.
Oklahoma was in a major flat spot coming off of Notre Dame with the Red River Rivalry on deck. With 20-10 FD and 355-210 yard edge they still only beat TCU by 3. OU dominated the 1H with an amazing 191-16 yard edge and led 13-0. It was actually 3-0 when they got a td with 2:29 left in the half, forced a punt and got a 37 yard FG on the final play of the half. TCU went on a 45/11pl drive for a 25 yard FG on its second 3Q possession. The drive included a 4&6 conversion. TCU then recovered an onside kick and went 35/6pl for a td to pull within 13-10. There were 4 punts but then OU got a 76 yard td run by Brennan Clay to go up by 10 with just 4:37 left. TCU got a 45 yard pass to David Porter, a 21 yard pass to BJ Catalon then a Trevone Boykin 8 yard td run with 2:26 left to pull within 3. They kicked off deep but OU would convert on 2&11 with a 13 yard run by Blake Bell and on 2&10 with a 17 yard run by Bell and ran the clock at the TCU36.
Last week in my Inside the Pressbox, my High Scoring Game of the Week selection was New Mexico St vs New Mexico and the two teams would total 83 points. They almost passed the Las Vegas total at the half as it was 42-14 with NM up, although the Lobos only had a 282-238 yard edge. On the first play of the 4Q it was 59-17 and NM would have just 1 td in the 4Q as they rolled to a 608-451 yard edge (1059 total yards) in the 66-17 win. I talked last week about how Austin Franklin was back on the roster for NMSt and he was limited to 3 receptions for 28 yards. New Mexico did it all on the ground passing the ball just 8 times, completing 3 while rushing for 541 as Cole Gautsche rushed for 127 and Kasey for Carrier 126. Andrew McDonald for NMSt hit 20-34-269.
If you didn't watch the game, you wouldn't even realize that Oregon was challenged early on by Colorado. CU settled for a couple of early FG's. The Buffs took their opening drive 69/3pl and settled for a 33 yard FG. UO went 75/9pl for a td and 2 point conversion, 8-3 but WR Paul Richardson hit a 75 yard td pass to DD Goodson and a stunning 10-8 lead for the Buffs. UO was SOD but got an interception and drove 43/7pl for a td then got a 75 td pass to start to take control. At the half UO led 43-16 going 26/3pl (after int), 67/12pl and 92/11pl for td's. The Buffs settled for 22 and 31 yard FG's after 74 and 39 yard drives and amazingly at the half, UO only had a 415-318 yard edge. UO opened the 3Q with 58/5pl, and 82/7pl drives for td's and then brought the backups in. With Jeff Lockie in, the RB, Thomas Tyner, fumbled with 3:34 left in the 3Q at their own 10 and Lockie was intercepted at the CU45. Jake Rodrigues got the Ducks down to the CU4 but he was intercepted in the endzone. At the end of the game, with Lockie back in, they were at the CU1 taking a knee in the 41 point win. UO finished with a 755-374 yard edge holding CU to 56 yards in the 2H.
Mississippi St was selling out vs the run vs LSU and Zach Mettenberger hit 25-29-340 yards. While the final score shows LSU winning by 33, it certainly looked like a letdown spot for a good portion of the game. Les Miles moved his record to 21-1 after a loss. LSU's D gave up 468 yards. In fact, at the half LSU had a 334-274 yard edge but they trailed 23-21 when they got a 14 yard td pass with :17 left in the half to lead 28-23. Miss St pulled within 28-26 to open the 3Q, but down 31-26 missed a 42 yard FG. After, in what was the game changing play, the Bulldogs were intercepted and returned 40 yards to the 5 with 14:24 left. LSU got a 5 yard td run to go up 45-26. After MSU was SOD, LSU drove 66/6pl for another td then, after a fumble, drove 26/6pl for a td with 1:21 left for the 33 point win where they only had 27-23 FD and 563-468 yard edges.
Mississippi was in a let down spot coming off their big game vs Alabama. They would have 24-19 FD and 464-375 yard edges in the game against Auburn. In fact, in perhaps the key play of the game, Ole Miss, trailing 6-3, had the ball at the AU19 but Bo Wallace was intercepted and returned 78 yards for a td with 1:39 left in the 1H to make it 13-3. At the half UM had a 232-186 yard edge but trailed 20-6 thanks to that 14 point swing. UM got back to 27-22 with a 13 yard td pass with 8:29 left. After an exchange of TO's and punts, Auburn took over at the UM31 and got a 23 yard FG with 3:02 left to go up by 8. The Rebels got out to their 38 but on 4&17 took a sack back at their 28 and Auburn took a knee. QB Nick Marshall rushed for 140 yards becoming Auburn's fourth 100-yard rusher of the season joining RB's Corey Grant, Cameron Artis-Payne and Tre Mason.
It was Texas St's first game in the Sun Belt and they were taking on my preseason favorite to win the SBC, Louisiana. TXSt was off its upset win of Wyoming but this game was no contest. UL had 25-11 FD edge and 572-196 yard edges, scoring on almost every possession of the 1H. Backup QB Brooks Haack came in to start the 4Q and attempted just 2 passes. Trailing 45-3 the Bobcats got a 94 and 100 yard KR td's, both by Brandon Smith and TXSt took over with 3:41 left in the game and drove 80/5pl for another garbage td with 1:07 left.
Florida only had a 355-275 yard edge vs Arkansas and the FD's were even at 17. A key for the Gators was Solomon Patton who took a couple of short passes the distance and had 124 yards on just 6 receptions. Tyler Murphy hit 16-22-240. The Hogs did rush for 111 yards on 29 carries. On their 2nd possession they fumbled at the UF29 but then went 64/8pl for a td to lead 7-0. UF got a 42 yard IR td by Loucheiz Purifoy with 8:33 left 2Q for their first lead then on 3&12, Murphy hit Patton with a 51 yard td pass with just :20 left in the half to give them momentum. Prior to that play, Arkansas had a 150-91 yard edge. UF did open the 3Q with a 75/7pl drive for a td to lead 24-7. It was 24-10 when the Gators went 42/5pl getting a Murphy-to-Showers 9 yard td pass with 4:47 left. Arkansas had a 4&gl at the 3 with :55 left and was SOD.
While the Notre Dame/Arizona St game was at a neutral site, I would estimate that ND had about 50,000 of the 65,000 fans in attendance. ND's D recorded 6 sacks with Prince Shembo recording 3. The Irish probably would have been favored in this had it been played last week but they were almost a td underdog. The Irish opened with a 58/13pl drive but missed a 38 yard FG. ASU went on a 58/12pl drive settling for a 40 yard FG. ASU went 79/13pl and settled for a 27 yard FG to lead 6-0 with 6:11 left in the half. The next 3 possessions were all td's and the Irish got an 8 yard td pass with :10 left in the half for a 14-13 halftime lead. ND had a 245-209 yard edge. ND went 43/6pl and got a 53 yard FG to lead 17-13. After 4 punts, ASU fumbled at its own 21 with 4:20 left in the 3Q and the Irish got a 21 yard td pass, 24-13. ND was intercepted and returned 37 yards for a td and ASU got back in it, 24-20 at the start of the 4Q. ND went 69/8pl for a 33 yard FG but ASU went 75/7pl for a 21 yard td pass to tie it at 27. The Irish went 56/10pl and got a 25 yard FG with 3:03 left to lead by 3. ASU was intercepted with 1:59 left but the Irish punted with 1:16 left. ASU was then intercepted and returned 14 yards for a td by Dan Fox, 37-27. ASU, down 10, went 75/7pl getting a 16 yard td with :11 left but the Irish recovered the onside kick. Tommy Rees, after a pair of off efforts, hit 17-38-279 while Arizona St's Taylor Kelly hit 33-47-362.
While Stanford got the win over Washington, it was surprising that Washington had a 489-284 yard edge and commanding 30-14 FD advantage in the game. The star of the game was SU's Ty Montgomery who had a 99 yard KR td to open giving SU a quick 7-0 lead. SU went 42/7 for a 33 yard FG to lead 10-0 on the first play of the 2Q. The next 4 possessions were punts. UW took over with 4:25 left and put together an 85/12pl drive and got a 7 yard td run with 1:03 left by Bishop Sankey but SU went 61/5pl and got a 39 yard td pass to Montgomery with :11 left in the half to retake the 10 point lead. SU did have a 184-143 yard edge. Each team drove for a td to open the 3Q then punted on their next possession, drove for a td on their 3rd possession and SU led 31-21. After an exchange of punts, UW went 73/18 but on FD from the SU7, Keith Price was intercepted at the 5 with 6:11 left. UW got it back and went 79/6pl capped by a 1 yard td pass with 2:38 left. They kicked off deep and forced a punt stuffing them on 3&1 with 1:51 left. UW got 1 FD and appeared to get another FD on a 16 yard pass to the SU33 but it was overturned and ruled incomplete on 4&10.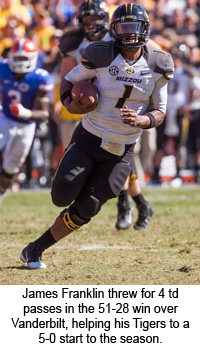 It was James Franklin - the QB for Missouri - vs James Franklin - the coach of Vanderbilt - and the younger Franklin's squad dominated this game (probably even more than the 51-28 score would indicate). The Tigers went 75/5pl for a td, 30/7pl for a 44 yard FG and then after an interception, 11/1pl for a td to lead 17-0. They went 50/7pl but settled for a 29 yard FG and a 20-0 lead. VU did put together a 75/15pl drive for a td but MU answered with a 75/7pl drive for a td, 48/9pl drive for a 41 yard FG and led 30-7 at the half with a 288-109 yard edge. The teams traded td's on the first 4 possessions of the 2H, 44-21. After another exchange of td's early 4Q, it was 51-28. Missouri just ran it on 4&14 for a 2 yards with 1:23 left and VU picked up 66 of its yards on the final 6 plays of the game getting to the MU22. MU finished with a 523-468 yard edge.
David Fales was only completing 56% of his passes on the year and was playing without his top 2 WR's and San Jose St was also without one of the top CB's in the country, Bene Benwikere. In their trip to Hawaii they quickly trailed 14-3 late 1Q but Fales, while he hit just 16-35-318, rallied the Spartans as they led 27-14 at the half with three 2Q td's and a 322-218 yard edge. UH alternated Sean Schroeder and Ikaika Woolsey at times but Schroeder hit 28-50-342 and Woolsey threw the ball just 3 times and ran it 3 times. UH got within 37-27 with 7:51 left but punted with 5:12 left and SJSt ran off the final 5:12 getting 3 FD's. SJSt actually lost 23 yards, taking a knee on their final 3 plays.
Follow Phil Steele anywhere!

•

•

•
•

•

•

•

•
Phil Steele is a college football analyst who has been publishing his annual College Football Preview since 1995. His magazine is regarded as one of the best in the business.
Google+