| | |
| --- | --- |
| Daily Blog • September 9th | |
FAU was only outgained by East Carolina 312-282 but I thought FAU was more impressive the previous week vs Miami, Fl than they were here. In the 1H ECU did get an 85 yd KR setting up a 12 yd td drive then an 18 yd IR setting up another 12 yd td drive and led 21-6. FAU also had a 37 yd FG bounce off the upright and ECU had 190-114 yd edge at the half. ECU got another interception returned to the FAU5 and got a 22 yd FG for a 24-6 lead. FAU went on a 12 play drive but was SOD and ECU went 57/9pl to go up 31-6. FAU fumbled at its own 29 but recovered a fumble at its own 11. FAU missed a 40 yd FG with 7:34 left as ECU put backup QB Cody Keith in with 10:40 left. FAU's last drive went 64/11pl and on 4th&gl from the 2 Hankerson hit Dukes with a td pass which made some Owl fans' very happy as they "only" lost by 18.
Sacramento St had only lost to San Jose St the previous week by 24 but on Thursday night was blasted by Arizona St. Sac St had beaten Colorado in '12 and Oregon St in '11. This was a ball game for the first half of the 1Q. Sac St took the opening KO at its 25. They went 59/15pl and with just 7:25 left in the 1Q, they missed a 33 yd FG. ASU would go 80/11pl, 71/6pl, 29/7pl (after fumble), 52/5pl, and 59/3pl for td's on their first 5 possessions to lead 35-0. After their second 3Q possession, which came after a 67 yd IR to the 2, they led 52-0. ASU had 27-6 FD and 523-167 yd edges.
On the Friday night game on CBS College Sports, UCF rolled to a 38-0 shutout of FIU with a 390-173 yd edge. FIU had an excited home crowd at the start and did only trail 7-0 after the 1Q. UCF got a 44/4pl drive for a td (after 16 yd PR) and 50/8pl drive for a 37 yd FG to lead 17-0 then got a 59 yd pass keying an 80/4pl drive for a td to go up 24-0. FIU went 58/11pl but missed a 34 yd FG. FIU fumbled a shogun snap at their own 17 setting up a UCF td and UCF went 70/7pl for a td to lead 38-0 with 3:04 left in the 3Q and played their backups the rest of the game. Blake Bortles hit 12-19-214 while Jake Medlock hit 16-25-128.
Coach Addazio was very high on Andre Williams during the offseason and Williams is living up to that praise. Williams, who was questionable coming into the game, rushed 35-204. Boston College won 24-10 but the game was decided with 2 stops inside the BC5 and 2 fumbles. Wake Forest fumbled at its own 27 on its first drive and BC went 27/2pl for a td. At the start of the 2Q, WF fumbled at its own 22 and BC got a 22 yd td pass on the next play and led 17-7. Just before the half, the Demon Deacons blocked a punt and recovered at the BC3 but after a 2nd&gl at the 1, they were stuffed on 4th&gl at the 1. BC only had a 170-160 yd edge. After each team punted twice to open the 3Q, BC drove 47/7pl for a td and WF drove 66/14pl and once again had a 1st&gl at the 4 but this time settled for a 26 yd FG. WF opted to punt on 4th&10 from its own 24 with 5:14 left and BC ran 44/10pl running out the clock to the WF25. BC only had a 314-246 yd edge.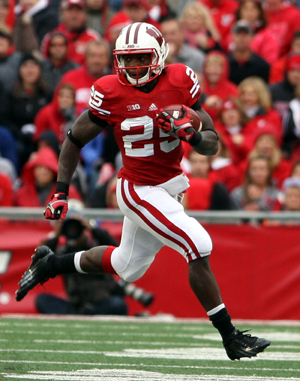 Melvin Gordon ran for 140 yds and Wisconsin's defense has not allowed a point in the first 2 games. Joel Stave hit 24-28-219. Once again UW had 3 RB's top 100 yds including frosh Corey Clement who rushed for 13-149 and a 75 yd run in the 2H. Tennessee Tech crossed the 50 yd line just once in the first 3Q's. It was the first time the Badgers had B2B shutouts to open the season since 1958. It was 28-0 at the half and UW had a 327-57 yd edge. UW's last score was the 75 yd td run by Clement and that came with 6:04 left in the game to get the Badgers a 48 pt win.
Casey Pachall was injured in the 1H and a sluggish TCU only had 204 yds and led 17-14 vs SELA. TCU's first 2 drives ended on a 4th&6 SOD at the SELA34 and a 4th&3 at the SELA21. With Pachall injured (possibly out 8 weeks) Trevone Boykin came off the bench and his first two 3Q drives went 57/6pl, 44/2pl for td's. His 3rd drive was SOD on 4th&4 at the SELA22 and he then led them 61/6pl for a td before punting on his final possession. Third string QB Tyler Matthews came in with 3:25 left. TCU only had 20-18 FD and 402-339 yd edges with Pachall hitting 8-14-100 and Boykin 9-13-133.
Iowa appeared to have all kinds of trouble with Missouri St despite being favored by nearly 4 td's. Ten seconds turned this into a close one. Iowa had a 25-12 FD edge and 489-197 yd edge. Iowa missed a 33 yd FG in the 2Q and despite a 204-67 yd edge, led just 7-0. They were SOD at the MS2 but still led 21-0 after 3Q's. Missouri St on 4th&5 got a FD and 2pl later a 27 yd td pass. On the next play Iowa QB Rudock threw an interception which was returned 28 yds for a td and stunningly 21-0 turned into 21-14. Iowa answered immediately with a 65/10pl drive for a td. Missouri St did get to the Iowa 14 but was intercepted in the EZ with 6:50 left and Iowa finished with a 489-197 yd edge.
Teddy Bridgewater did hit 23-32-397 yds but Louisville was a 41 pt favorite and only scored 44 pts in their 44-7 win over in-state rival (100 miles apart) Eastern Kentucky. UL did have its state rival Kentucky in deck. UL led 27-0 at half with a 251-76 yd edge punting 2 times in the 1H. They opened the 2H with 71/7pl and 62/7pl drives to lead 37-0 but allowed an 87/12pl drive for a td with 12:45 left to only led 37-7. UL went 76/7pl with Bridgewater still in the game getting a td with 9:08 left. EKU's final drive got to the UL49.
It was a frustrating game for Houston as they got inside the redzone an amazing 9 times vs Temple and had a 1&gl 6 times and yet with 1:18 left in the game, only had 15 total points. David Piland started the game and hit 6-17-72 although he did have 4 or 5 dropped passes. John O'Korn played the rest hitting 23-31-233. UH had 32-19 FD and 524-300 yd edges in the game. UH was also called for 3 PF's in the 1H. UH's first drive ended on a missed 35 yd FG. They went 68/12pl but settled for a 40 yd FG. They went 76/10pl and had a 3&gl at the 1 but settled for a 19 yd FG then went 72/12pl and had a 1&gl at the 1 but again settled for a 19 yd FG. At half UH had an 18-11 FD edge but trailed 13-9 as Temple crossed midfield twice and scored td's on each. UH opened the 3Q in the same fashion going 58/11pl and settling for a 24 yd FG after a 1&gl. UH had a 1&gl at the 8 but on 4&gl at the 1 was SOD with 10:00 left 3Q then after 3&gl at the 2, settled for a 22 yd FG, 15-13. UH went 87/16pl and had a 3&gl at the 6 when O'Korn fumbled at the 3 but the Cougars got a 40 yd IR to the 12 with 1:18 left and a 10 yd td run with 1:06 left to win 22-13.
Rutgers had a 19-6 FD edge vs Norfolk St and 423-133 yd edge. Usually in games vs weaker foes, Rutgers has its defense set its offense up for scores and that was the case here. These teams have met three times since 2007 and Rutgers has now won by a combined 128-0. Paul James rushed 18-119 and Savon Huggins 21-96. RU's first td was set up by a blocked punt as they drove 30 yds for a td then after a fumble drove 19 yds for a td. After a 33 yd punt from the EZ they drove 34 yds for a td to lead 21-0 at the half but did have a 201-80 yd edge. After an int, RU drove 30/6pl for a td then after a short punt, drove 49/8pl for a td. Their longest drive was a 68/13pl resulting in a 24 yd FG at the start of the 4Q.
Bryn Renner hit 23-34-399. North Carolina came in off a loss to South Carolina but jumped out to a 23-0 halftime lead on Middle Tenn with a 326-99 yd edge. MT took its opening drive of the 3Q 66/9pl for a td but trailing 26-7 got a 28 yd FR td with 12:38 left to get within 13. UNC went 75/5pl for a td and a 20 pt lead and MT took over with 11:16 left and went 70/12pl but on 4&5 was SOD at the UNC9 with 6:52 left. MT was SOD on 4&1 at its own 43 with 3:31 left and UNC went 43/5pl for a td with 2:24 left, 40-13. MT went 75/9pl and got a 12 yd td pass with :25 left. UNC had a 511-401 yd edge.
It's no surprise that with Clemson taking on lowly South Carolina St and possessing a Heisman Trophy candidate at QB that they had a QB throw for 3 td's and set the Clemson single game completion % record hitting 19-20. Amazingly that QB was Cole Stoudt who hit 19-20-143 while Tajh Boyd hit 14-23-169. Boyd and the starters rested in the 2H of the game. CU got a 52 yd IR td late in the 1Q to lead 17-0 and up 24-0, allowed a 63 yd td pass on 3rd&8 in the 2Q but it was 38-7 at the half with 316-135 CU yd edge. Early in the 4Q CU drove 83/13pl for a td to lead 52-7 and SCSt on 3rd&8 got a 51 yd td pass 4:05 left to close the scoring. CU finished with 28-11 FD and 512-241 yd edges.
Cincinnati, an AAC team, was a large favorite over a Big Ten team on the road. Last week UC was off a misleading final vs Purdue as they were tied at 7 late 1H and benefitted from PU being SOD in its own territory twice in the 3Q. Also, Illinois had a big lead over their foe and let up at the end for another misleading final. The Illini dominated leading 21-0 in the 2Q. UC QB Munchie Legaux was injured with 9:10 left in the game (out for year) and they were already trailing 31-17. UI, after a 38 yd PR, went 27/2pl for a td then 68/7pl for a td with 2:11 left for a 45-17 rout. Nathan Scheelhaase continues to thrive in Bill Cubit's offense hitting 26-37-312. UI piled up 27 FD's and 522 yds.
Florida's Jeff Driskel threw for a career high 291 yds vs Miami. Florida had a commanding 22-10 FD edge and 413-212 yd edge but constantly came up short in the redzone and actually ended up losing by 5. UF controlled the ball for 38:20 to Miami's 21:40. UF's opening drive was 8 plays but on 2nd&11 from the UM28 they fumbled. Trailing 14-6 UF had a 3rd&gl at the 11 but Driskel was intercepted at the 3. On their next drive UF went 56/11pl but on 4&1 was SOD at the 16. They went 65/12pl but on FD from the 12, fumbled at the 13. At half UF had a 245-145 yd edge but trailed. Down 14-9 UF had a 3rd&3 at the UM17 but was intercepted at the 12. UF fumbled at its own 4 and UM got a td 2pl later to lead 21-9. UF went 65/4pl for a td with 2:08 left. UM recovered the onside kick and punted with :28 left and the game ended on a sack.
Bowling Green switched to backup QB Matt Johnson as the starter and it has paid dividends. He hit 19-25-357 vs a decent Kent St D. KSt was playing without star RB Dri Archer. BG finished with a 576-302 yd edge and 26-15 FD edge although the 1H both teams scored at will. BG, trailing 22-17 took over with 4:40 left in the half and drove 71 yds for a td with :54 left and the lead. BG had a 298-252 yd edge. BG opened the 3Q with a 45/13pl drive for a 41 yd FG then the key play happened. After forcing a punt, on 3rd&15, they had a 92 yd td pass for some breathing room, 34-22. BG's D, which had been stellar the previous week, forced consecutive punts and the Falcons rolled to a 41-22 lead. On 3&3 of what was KSt's last drive they gained 1 yd to the BG23 with 3:16 left.
41-7 probably doesn't sum up the Kentucky/Miami, Oh game. At the half UK had a 410-73 yd edge with MU's only td coming when UK fumbled the punt and MU fell on it for a td and it was 31-7. It was 41-7 and UK's, on its final drive, got a 1st&gl at the 5, threatening to extend the lead, but taking a knee instead. UK had 27-8 FD and 675-122 yd edges.
Ball St only had a 440-439 yd edge vs Army but won 40-14. Army played mistake free (0 TO's, 0 pen) the previous week but here had 3-1 TO deficit and also had 8 penalties for 90 yds. Ball St RB Jawan Edwards (concussion), DE Jonathan Newsome (ankle), LB Julian Boyd (knee) and WR Chris Schillings (ankle) all missed. Army got a 71 yd td run by Dixon on the game's 3rd play to lead 7-0 but fumbled at their own 21 setting up a FG and went on an 8pl drive and missed a 33 yd FG and trailed 27-7 at the half with Ball St having a 276-221 yd edge. The Cardinals got a 19 yd FG to open the 3Q then recovered a fumble. Army was intercepted at its own 40 and went 78/14pl but was SOD at the BS13. On their final drive, the Black Knights went 31/11pl but were SOD at the BS31.
Eastern Michigan played a solid 1H vs Penn St. In fact, they did not have a 3&out the entire half but were outgained 265-139. They only trailed 17-7 after they returned a fumble 11 yds for a td. Late in the 3Q it was still 17-7 when Penn St got a 13 yd PR setting up a 32/6pl drive for a td then went 84/6pl, 83/4pl and 67/6pl on the next poss all for td's to blow it open. Penn St finished with a 574-183 yd edge and 25-11 FD edge.
Indiana St was playing without its top RB Shakir Bell who had 119 yds in the opener and the Sycamores managed just 39 yds rushing on 22 carries. Purdue was far from dominant vs Indiana St. The FD's were even at 16, ISt had a 295-284 yd edge and at one point PU ran 6 plays from the IS1 in the 1H and had 3 points to show for it. At the end of the game, ISt, down 6, had the ball at the PU35 but was intercepted. Trailing 10-0 ISt was SOD at the PU43 early in the 3Q and opted to punt on 4th&20 with 2:48 left before getting the ball back at the 41 prior to the interception.
For the 2nd straight week, Michigan St's offense struggled as they alternated Connor Cook, Tyler O'Connor and Andrew Maxwell at QB and the three combined to hit 12-24-94 against USF. Once again the Spartans got a defensive td and still only won by 15. Michigan St missed a 25 yd FG with 9:37 left in the 2Q in a scoreless game but got a 4 yd FR td. USF went on an 11pl drive for a 49 yd FG and then after recovering a fumble with :20 left in the half, added a 21 yd FG to only trail 7-6 at the half. Down 21-6 USF was SOD at the MS33 and punted on their final 2 drives.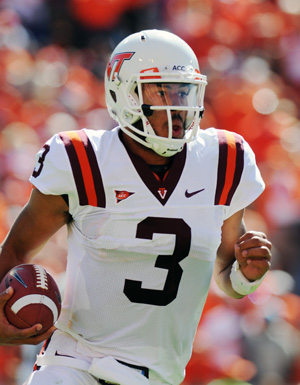 Virginia Tech's Logan Thomas, who was 5-26 vs Bama's outstanding defense, hit 17-31-200 last week vs FCS foe Western Carolina. VT's RB corps got a little stronger as rFr Chris Mangus rushed 5-84 and converted WR Joe Caleb (PS#12) rushed for 36 yds on 6 carries while Trey Edmunds, who had a solid game vs Bama, had 2 td's. VT's D allowed just 162 yds and 8 FD's while the offense rolled up 462 yds and 24 FD's.
WKU took its opening drive 53/14pl for a 37 yd FG and a 3-0 lead. They would then turn it over 5 times in 6 plays and trailed Tennessee 31-3 with UT getting a pair of IR td's. Just before the half, trailing 31-10, WKU blocked a punt to set up a td and pulled within 31-17. UT went 59/5pl, 75/8pl, was intercepted and went 80/8pl for td's on its first 4 poss to lead 52-20. Despite leading 31-17 at the half, they were outgained 232-90 but, of course, their offense did not have the ball very often. For the game WKU had a 393-382 yd edge.
Oklahoma St gave JW Walsh the starting job and hit 24-27-327 yds hitting his first 10 passes. Walsh was replaced with 6:00 left in the 3Q with OSU up 42-7. OSU only had a 605-504 yd edge and in the 1H, UTSA did miss a 31 yd FG after a 61/12pl drive and was intercepted at the OS41 and missed a 59 yd FG on the final play of the half but they trailed 35-7. OSU led by 28 for a good portion of the 2H and got a td with 5:27 left to lead 56-28. UTSA went 81/11pl and on 4th&4 they got a FD pass to the 19 and on 4th&6, a 15 yd td pass saw them only lose by 21 which made some of their backers very happy.
Massachusetts came into the Maine game with a 41-16-1 overall mark in the series. Maine finished with 514-265 yd and 21-14 FD edges. UMass took its opening drive 54/4 for a td and Maine drove down to a 1st&gl at the 5 but was intercepted in the EZ. UMass fumbled a punt at its own 40 and Maine got a 26 yd FG to trail 7-3. UMass was SOD at the Maine29 and Maine, after a 20 yd UMass punt got a 35 yd td run early 2Q and led 10-7 at the half. Maine took its 2nd 3Q poss 68/12pl and then went 65/6pl, both for td's to lead 24-7. UMass got a td with 11:10 left to pull within 10 but Maine took over with 7:41 left and went 73/4pl taking a knee at the UMass6.
Boise St bounced back from its worst defeat in 8 years and rolled over overmatched UT Martin, 63-14, with Joe Southwick hitting 17-25-234 and 5 td's. It was 14-7 after the 1Q but Boise went 43/6pl, 63/6pl, 59/8pl, got a 33 yd IR td and then recovered a fumbled KO and went 15/5pl, all for td's to lead 49-7 at the half with only a 274-169 yd edge. Despite the 63-14 final, Boise only had a 25-19 FD edge and a 472-357 yd edge.
Chattanooga flat out dominated Georgia St with a 25-13 FD edge and 509-303 yd edge. They led 21-0 at the half and 42-0 early 4Q before Georgia St went 70 and 77 yds for td's on their first 2 4Q drives. At half UTC had a 236-87 yd edge.
Central Michigan was without starting QB Cody Kater and RB Zurlon Tipton who were both injured in the 1Q last week vs Michigan. They nearly suffered a loss to New Hampshire. At the half NH had a 187-98 yd edge and led 13-0 with NH missing a 41 yd FG and CMU being SOD on 4th&9 at the NH25. CMU was SOD at the NH3 to open the 3Q but after an interception drove 61/7pl for a td. NH went 75/8pl and early in the 4Q led 21-7. CMU went 65/5pl for a td then the key play of the game happened when pinned at their own 3, rFr QB Cooper Rush (PS#90) tossed a 97 yd td to Davis on the first play tied it at 21. NH had the ball with 5:07 left but fumbled at the CMU24 yd line. CMU converted on 3rd&15 for a huge FD and got a 27 yd FG on the final play of the game to pull out the win.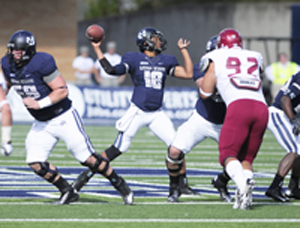 Utah St's Chuckie Keeton looks like one of the top QB's in the country and hit 32-40-360 vs Air Force and ran for another 77. They had 5 td passes. AF's Jaleel Awini hit 4-12-61 although he had about 5 drops in the game. Utah St scored on its first 2 poss jumping out to a 14-0 lead and AF settled for 33 yd FG's after a pair of 11 play drives and trailed 14-6. It was 24-13 at the half with the Aggies having a 279-152 yd edge but Utah St went 89/10pl and AF faked a punt from its own 32 and was SOD. The Aggies went 32/3pl, 69/7pl and 70/13pl to put it away 52-13 in their 52-20 win. They finished with 577-270 yd and 32-16 FD edges.
Ohio St/San Diego St turned out to be a battle of backup QB's. Adam Dingwell for the Aztecs was 0-5 passing with an int and was replaced by Quinn Kaehler who hit 22-36-216 but SDSt's only score came on a 72/6pl drive for a td late in the 3Q when they trailed 42-0. Ohio St had a 309-99 yd edge at the half. Braxton Miller was injured on the first drive of the game and Kenny Guiton hit 19-28-152 yds and rushed for 83. OSU punted on Guiton's first poss then went 56/5pl, 57/9pl, 77/5pl and 24/5pl (after fumble) to lead 35-0 at the half and went 66/11pl for a td on their 2nd 3Q drive. The Bucks were SOD at the SDSt33 and the Aztecs were intercepted at the OSU22 in the only other scoring opportunities in the game. Ohio St finished with a 445-280 yd edge.
Ross Metheny rushed for 75 yds for South Alabama in their game vs Tulane. He had 14 and 30 yd td passes on USA's 3rd and 4th series and got a 12 yd td run on their 5th as they jumped out to a 28-7 lead. USA had a 328-257 yd edge at the half leading 31-19. Tulane got a 40 yd td pass with 6:35 left 3Q to take the lead, 33-31 but USA blocked a punt and recovered it for a td with 1:21 left in the 3Q for a 38-33 lead. Each team punted on their next 2 poss then TU was intercepted with 9:46 left at the USA16. USA went 78/9pl getting a 23 yd FG to lead by 8 with 6:02 left. TU went 82/15pl and got a td with 1:19 left but the 2 point conversion failed. USA had a 465-372 yd edge.
Utah scored its most points since 1973 (82-6 vs UTEP) and finished with 628-205 yd and 24-13 FD edges vs Weber St. Utah is a perfect 36-0 all-time vs the Big Sky conference. The Utes got an 80 yd td pass in the 1Q but only led 14-0 mid-2Q. They went 69/3pl, 82/2pl and got a 21 yd IR td and went 70/5pl for a td with :04 left to lead 49-0 with a 430-107 yd edge. Utah's final td came with 1:43 left in the 70-7 rout.
Oregon's D controlled matters vs Virginia as in the 1Q they blocked a punt setting up a 14 yd td drive and then got an interception setting up a 40 yd td. It was 21-7 after 1Q and just 28-10 at the half with Oregon having a 325-182 yd edge. On their last drive of the 1H the Ducks were SOD at the 1. UO scored on its first three 3Q possessions with UVA turning it over twice on its first 3 to blow it open. UVA had a 3rd&gl at the UO8 and was intercepted and returned 97 yds to the 3 setting up another td which made it 52-10. UO finished with a 557-298 yd edge.
Missouri/Toledo played in 90-degree plus temps. UT settled for 24, 46 and 41 yd FG's and trailed 10-9 with 4:57 left 1H. MO went 75/10pl for a td to make it 17-9. UT appeared to answer going 72/9pl but on 2nd&gl from the 3 on the last play of the half was intercepted in the EZ. UT opened the 3Q with a 53/8pl drive to the MO22 but was intercepted and returned 70 yds for a td. UT went 38/4pl (after 59 yd KR) and 60/6pl for td's to pull within 24-23 but MO went 75/10pl, then after a 9 yd punt, 44/10pl for td's to make it 38-23 with 10:29 left. The Rockets were intercepted and punted on their last 2 drives and MO went 41/9pl getting a FD at the UT6 where they took a knee at the end.
If you look at attempts/completions, it appears Baylor's Bryce Petty had an average game hitting 13-16 vs Buffalo. Amazingly the 13 completions went for 388 yds, 29.8 ypc! The Baylor starters played just 46 plays but had 576 yds offense vs Buffalo. Even the D got in big plays as LB Bryce Hager had a 91 yd FR td. Baylor starters were pulled after the 1st series of the 4Q where they went 75/5pl for at td, 63-13, and had a 561-259 yd edge at that point.
Against Idaho, Brett Smith set a Wyoming career record by getting his 72nd td (pass/run combo) topping Casey Bramlet who had 70 from 2000-03. He hit 22-38-295 and rushed another 64 as Wyoming had a 564-344 yd edge. The game was delayed for 33:00 in the 2Q due to lightning. The first 8 possessions of the game were all punts with Wyo not scoring until a td on the first play of the 2Q. UI, trailing 14-0, was SOD at the UW29 with 3:48 left in the half and UW went 71/11pl getting a td with :49 left for a 21-0 lead. UI missed a 41 yd FG on the 1H final play but UW did have a 273-134 yd edge. UI fumbled to open the 3Q and UW went 65/7pl, 57/4pl, 83/8pl to lead 42-0. UW was intercepted in the EZ on 2nd&4 from the 16 and UI went 56/13pl for a FG with 6:15 left then 80/12pl for a td with :26 left gaining 136 of their 344 yds on the last 2 drives.
With a win over Memphis, Duke opened the season 2-0 for the first time since 1998 despite losing starting QB Anthony Boone to injury. Brandon Connette came off the bench and hit 14-21-198 yds and rushed for 14-31. Duke's D was dominant throughout the game. They had a game under their belt and were taking on a rFr QB in Paxton Lynch making his first start. At the half Duke had 182-67 yd and 10-2 FD edges but amazingly the game was tied 7-7 as Memphis had a 75 yd IR td. Duke led 14-7 when Memphis went 70/3pl for a td with 11:38 to tie at 14. Duke answered with 75/7pl and 75/6pl drives for td's to win 28-14 with 470-237 yd and 25-12 FD edges.
Last year ODU QB Taylor Heinicke threw for over 5,000 yds with a 44-14 ratio. While ODU moved the ball with 18 FD's and 335 yds vs Maryland, Heinicke had 3 interceptions and was pulled late for David Washington (3-5-4). ODU was interceptions on 3 of its first 4 drives including on 3rd&gl at the 2 with the interceptions coming at the MD41, MD48 and MD5. ODU went for it on 4th&1 with :13 left in the half and fired incomplete and MD led 31-3 at the half with a 392-222 yd edge. ODU was SOD at the MD21 to open the 3Q and MD went 79/5pl and 60/11pl for td's and led 47-3 before Washington led ODU 61/13pl for a td with 5:05 left. MD ended the game at the ODU34 taking a knee.
Northwestern dominated Syracuse leading 34-7 at the half with a 387-154 yd edge. It was 41-13 in the 4Q with SU going 54/5pl and gaining 160 of their 434 yds in the 4Q and also getting 2 td's including a 77/10pl drive for a garbage td with :41 left.