| | |
| --- | --- |
| Daily Blog • September 10th | |
By Phil Steele
Despite playing Navy early in the year and working on the option in the offseason, Indiana had a tough time against it. Navy went 88/8pl, 34/7pl, 64/12pl, 75/6pl scoring 3 td's and a FG in their first 4 possessions of the game and led 24-14 at the half with a 321-238 yd edge. Indiana was SOD at its own 34 and intercepted at the N3 in the half. Navy missed a 32 yd FG on the final play of the half. The first 7 possessions of the 2H resulted in 6 td's and a FG and Navy, on 4th&1, got a FD to the IU47 with 2:00 left and ran out the clock in their 41-35 win.
Nebraska's D was much maligned after allowing over 600 yds to Wyoming the previous week but would get not one but two IR td's in the 1Q vs Southern Miss. The Huskers led 35-6 at the half but Southern Miss actually had a 168-163 yd edge with 3:11 left in the half before NU went 75/12pl for a 3rd&10, 21 yd td pass to lead 35-6. This was supposed to have been an SM home game but they agreed to move the game to Lincoln for $2.1 mill and Nebraska did finish with a 479-284 yd edge.
Mississippi St rolled up 30-6 FD and 556-163 yd edges vs the overmatched Alcorn St despite not having starting QB Russell who was injured. Dak Prescott hit 12-19-174, and Damian Williams 8-13-105. It was 37-0 at half with MSU holding a 325-48 yd edge.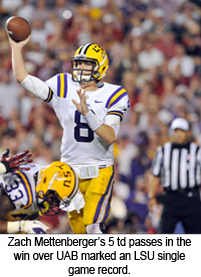 LSU's Zach Mettenberger had 12 td passes all of last year but already has 6 in the first two games under new OC Cam Cameron. Mettenberger hit 16-19-282 and Jeremy Hill came off a suspension to rush for 50 yds on 6 carries. UAB actually came into this game 1-0 in Death Valley as they won their only other visit back in 2000. LSU finished with a 445-296 yd edge. UAB got a 24 yd FG on the final play of the half to only trail 35-17 with LSU having a 281-127 yd edge. LSU's final td came on a UAB 59 yd FG which came up short and Odell Beckham fielded the kick in the EZ and returned it 100 yds for a td with 2:11 left. UAB was SOD at the LSU7 at the end in the 56/17 rout.
Arkansas continues to look a little bit like Wisconsin as they rushed for 333 yds vs Samford with Alex Collins rushing for 172 yds on 24 carries. The Badgers...I mean the Hogs'...QB Brandon Allen hit 9-17-125 but there were a couple of drops. UA had a 458-231 yd edge and took its opening drive 75/6pl for a td then went 78/8pl to go up 14-0. SU went on a 75/13pl drive for a td and UA went 36/9pl for a 53 yd FG, 17-7 (11:54 2Q) and that was the score at the half with Ark having a 229-129 yd edge. UA fumbled at its own 24 and Stanford, 3pl later, had a td. Two possessions later Samford went 50/6pl and got a 16 yd td run to shockingly lead 21-17. Ark went 75/14pl for a td and on the next drive, 74/5pl, the key a Collins 55 yd run, to get some breathing room, 31-21 and UA ended the game taking a knee at the SU10.
Jameill Showers hit 15-20 but for only 119 yds for UTEP. New Mexico had a 483-399 yd edge and Kasey Carrier rushed for 291 yds on 41 carries for the Lobos. With starting QB Gausche out, Clayton Mitchem hit 4-7-88 and rushed 9-51. The game was 21-21 at the half with UTEP getting a 14 yd td run by Showers with :30 left. NM had a 21 yd FG hit the upright at the end of a 71/14pl drive. UTEP got a 65 yd td run by Aaron Jones to go up 28-21. NM tipped a punt and it only went 8 yds and the Lobos went 39/6pl to tie. NM took the lead with 7:40 left on a 17 yd td run but UTEP went 70/14pl getting a td with 1:12 left to force OT. Carrier's 21 yd td run in OT made it 42-35 and UTEP on 4th&1 from the 4 was SOD.
Louisiana Tech had a 438-362 yd edge. Lamar was intercepted in the EZ from the 24 yd line in the 1H and after a 17 yd Lamar punt, LT went 26/2pl for a td to go ahead 14-7 at the half but Lamar had a 166-148 yd edge. Lamar got a 62 yd td pass with 10:56 left to get within 17-14. LT went 44/5pl for a 49 yd FG, 20-14, and Lamar fumbled at the LT35 with 6:04 left. LT went 65/9pl and on 3rd&10, got a 19 yd td run with 1:51 left for a somewhat misleading 27-14 final.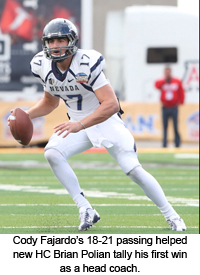 Nevada's Cody Fajardo hit 18-21-239. UN had 30-11 edge and 535-296 yd edges. They got an interception and drove 24/3pl for a td then went 80/4pl for a td. Mid-2Q, UC Davis missed a 31 yd FG after an 80/10pl drive and UN went 80/16pl getting a td with 1:51 left in the half to lead 20-0. UCD got a 23 yd td pass with 1:01 left and at the half UN only had a 238-234 yd edge and led 20-7. UN went 75/7pl, fumbled at its own 33, went 87/8pl and 81/18pl on its 1st four 3Q possessions resulting in 2 td's and a 23 yd FG to roll to a 36-7 lead which is what they won by. UN did finish the game at the UCD39.
Texas A&M's Johnny Manziel threw for 426 yds and 3 td's and ran for another score vs Sam Houston St. A&M had 38-14 FD and 714-390 yd edges. A&M only led 27-14 late in the 1H but did have a 447-162 yd edge. A&M went 70/11pl, 70/4pl, 46/9pl on its first 3 possessions of the 2H to lead 51-28 then got a 30 yd IR td, 58-28. Another interception set up a 52/2pl drive for a td with 1:14 left in the 3Q and A&M rolled 65-28.
Colorado's offense continues to be much different with Paul Richardson at WR. In the opener, Richardson had 208 yds and this past week vs Central Arkansas, topped it with 11-209 yds including a 55 yd td reception in the 1Q and a 30 yd td reception in the 4Q as CU jumped out to a 14-0 lead. It was 14-14 at the half and CU only had a 221-200 yd edge. It was 17-17 late in the 3Q when UCA recovered a fumble by CU QB Wood at the 16. On 4th&gl at the 1 they got a td and UCA led 24-17 after 3Q's. The game turned when UCA was driving to try to make it a 2 score game and on 2nd&4 from the CU24 was not only intercepted but returned 79 yds for a td, 24-24. After a fumble 3pl later, CU on 2nd&10 got a 30 yd td pass to Richardson then on 3rd&20 connected on a 39 yd td pass with 4:24 left and UCA's final drive went 58/11pl but on 3rd&gl from the 4 they were intercepted in the EZ making this a misleading final as it was much closer than the 38-24 final and the Buffs only had a 424-340 yd edge.
Pete Thomas got the start for NC State at QB and hit 24-31-237 and Bryant Shirreffs hit 3-3-19 and accounted for 2 td's. NCSt needed a 48 yd FG with :55 left to pull out the win. Richmond actually led 21-10 when NCSt took over with 1:33 left in the half. The Wolfpack went 74/13pl for a 19 yd FG to pull within 21-13 and that drive gave them the yardage edge for the half at 257-233. NCSt got a 7 yd td pass with 7:09 left in the 3Q to pull within 1. NCSt got to the UR43 but was intercepted at the 12 on 3rd&6. The final drive started with 1:59 left at their own 20 and they would get 3 FD's on a 48/7pl drive and a 48 yd FG with :33 left. Richmond got to the NCS37 but its Hail Mary fell incomplete.
Akron continued to alternate QB's with Kyle Pohl hitting 14-22-143 and Nick Hirschman 4-10-144. James Madison QB Michael Birdsong hit 29-42-310. JMU led 13-7 and fumbled with 2:41 left in the half. Hirschman drove the Zips 16/4pl for a td, 14-13. At half JMU had a 173-118 yd edge. JMU got a 45 yd FG to open the 3Q. Hirschman on 3rd&6 hit a 68 yd td pass, 21-16. JMU went 61/7pl getting a 5 yd td pass to lead 24-21. Bowden went back to Pohl at QB (Hirschman injured) and he guided the Zips 65/4pl for a td and the lead 28-24. JMU went 57/9pl for a 29 yd FG to pull within 28-27. After a 23 yd PR, Akron drove 56/9pl and got a 3rd&10, 24 yd td pass with 8:11 left, 35-27. JMU went 68/5pl for a td but the 2 pt conversion failed with 5:18 left, 35-33. Akron punted with 1:19 left and JMU got a FD but a PF moved it back to its own 16. They got 3 FD's to the UA36 but after a 9 yd pass ran out of time. JMU had 498-356 yd and 26-14 FD edges.
Montana St's flight didn't get in until about 3:00 am on Saturday but SMU was fortunate to escape with a 1 pt win. The Mustangs did finish with a 461-378 yd edge but fumbled at the MS11 on their 2nd drive and trailing 22-12, forced a punt in the final seconds of the 1H. SMU got a 51 yd PR td with time expiring to make it 22-19. Trailing 30-25, SMU got the ball back with 3:46 left at its own 19 and went 81/13pl. On 3rd&gl they got a 4 yd td pass to take the lead 31-30 with :05 left.
Steward Butler rushed for 151 yds for Marshall and they had a 509-184 yd edge over Gardner-Webb. Marshall led 34-0 at the half with a 292-130 yd edge and 55-0 after 3Q's.
Western Michigan had 30-18 FD and 485-447 yd edges vs Nicholls St, but it was yet another FBS that came up short vs an FCS foe. The Colonels jumped out to a 14-0 lead after 1Q and on their next possession were intercepted in the EZ from the 12. They still led 21-9 at the half with a 305-239 yd edge. WMU went 75/7pl and 61/12pl, the first resulted in a td, while the 2nd was SOD at the 2. WMU went 42/4pl for a td and the lead, 23-21 (3:13 3Q). NSU went 61/13pl and got a 29 yd FG with 11:19 left, then added a 28 yd FG with 1:44 left. WMU got to the NS24 but Van Tubbergen was intercepted at the 1.
The San Jose St/Stanford series is going to be discontinued and while SU had a 404-251 yd edge, they only had a 25-22 FD edge and won the game 34-13 - closer than the final score. SU did score on its first 3 possessions wracking up 197 yds of offense as they led 17-3 but SJSt went 70/13pl and settled for a 22 yd FG. At the half SU only had a 201-120 yd edge and a 17-6 lead. SU went 44/11pl for a 48 yd FG and 47/9pl for a td, 27-6. SJSt answered with a 65/9pl drive for a td then was intercepted at the 48 with 13:45 left and SU went 52/5pl for a td, 34-13. SJSt went 64/12pl and had a FD at the 11 but on 4th&8 was sacked and SU went 51/8 taking a knee at the SJS19.
Ka'Deem Carey returned to the lineup for Arizona and had 171 yds rushing and 2 td' in the win over UNLV. UA finished with 478-282 yd and 25-10 FD edges. It was 31-6 when they got a 49 yd IR td with 6:58 left in the 1H and then with 1:34 left, got a 52 yd IR td to lead 45-6. At half UA only had a 276-165 yd edge. After 3Q's, UA led 48-6 and went 84/11pl for a td with 2:50 left in the game which put them over the 400 yd mark and had them win by 45.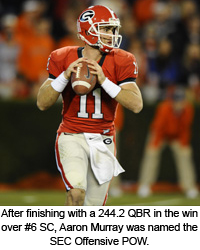 A couple of Heisman Trophy candidates, Ohio St's Braxton Miller and South Carolina's Jadeveon Clowney, continue to drop. Clowney did get a sack vs Georgia but UGA rolled up 536-454 yd and 25-21 FD edges. UGA jumped out to a 17-3 lead and appeared in control. The game was tied 24-24 at the half when QB Shaw hit a 30 yd td pass on 2nd&2 with :09 left in the half. Shaw impressed me with his running with 75 yards on 16 carries as well as he passing (16-24-228) but it's great to see Aaron Murray (17-23-309) finally win a big game. SC on 4th&5 got a Shaw 9 yd run with 11:12 left in the 3Q but he fumbled. SC trailed 34-24 but got a 75 yd run on the first play by Davis. They went 80/4pl for a td to pull within 34-30. On 3rd&13 UGA got an 85 yd td pass. SC went for it on 4th&gl at the 1 and was SOD with 8:28 left and UGA went on an 81/13pl drive ending the game at the SC19.
Kansas St was off a loss and rolled to a 48-27 win over Louisiana. The Wildcats led 41-17 and there were basically 3 return td's at the start of the 3Q. At the half Kansas St led 20-3 with a 234-110 yardage edge and got a 94 yd KR td by Thompson then a 79 yd PR by Thompson to the 1 setting up another td and they led 34-3. The Ragin' Cajuns would get as close as 41-27 with a 24 yd FG with 10:55 left, but the Wildcats went 65/6pl for a td and Louisiana was SOD at the KS26 with 5:09 left.
Ole Miss did have 532-252 yd and 25-17 FD edges vs SE Missouri St. They opened strong scoring on their first 5 possessions of the game to lead 31-0 and had a 379-105 yd edge at the half. UM's first 2 drives of the 3Q were SOD at the SEM48 and a fumble which was returned 47 yds to their 27. SEMO went 51/11pl and 27/3pl for td's to pull within 31-13. UM went to 3rd string QB Ratliff at that point for the next 2 series but got the comfortable win without scoring a point in the 2H.
USC's Marqise Lee had 7 catches but for just 27 yds for Washington St. Tre Madden did rush for 151 yds. USC's offense had just 54 yds passing with Cody Kessler hitting 8-13-41 and Max Wittek 3-8-13. Four consecutive USC drives at the end of the 1H and start of 3Q were the key to this loss. The Trojans, up 7-0, had the ball on FD at the WS33 when Kessler was intercepted and returned 70 yds for a td with :27 left in the 1H to tie it. In the 3Q, with Wittek at QB, USC went 60/9pl but had a 32 yd FG blocked. They went 30/9pl but had a 43 yd FG go wide left. Their next drive went 48/12pl but this time, on 4th&8, they passed up a FG (which would have been a long one) and gained 7 yds on a pass to Lee which meant they were SOD. They appeared to be getting the ball back with 5:00 left when on 3rd&9 a short pass by WSU saw Williams break a couple of tackles before the FD marker and race 50 yds into FG range and they got a 41 yarder with 3:03 left. USC's last drive ended on an interception at its own 37.
Oregon St had a 508-239 yd edge vs Hawaii. The Beavers led 14-0 early 2Q when Hawaii got a 23 yd IR td. UH then went 80/9pl for a td and actually tied it at 14 at half with the Beavers having a 202-128 yd edge. The Beavers went 69/9pl and 72/9pl on their first two 3Q possessions and went for it twice in the game on 4th down inside their own territory. They added a 34 yd FG with 7:39 left after an 11 play drive to go up by 19 to win 33-14.
Kansas/South Dakota was 97-degrees at kickoff. New QB Jake Heaps hit 10-20-11 but the Jayhawks rushed for 280 yds. The first 4 possessions of the game were punts and KU was SOD at the SD45. SD went 55/9pl for a td and a 7-0 lead after 1Q. KU went 75/10pl for a td and then with 3:25 left in the 2Q, fumbled at the SD32. After a 29 yd PR that set them up the SD9, they got a 5 yd td pass with 1:28 left to lead 14-7 at the half with a 159-111 yd edge. KU went 71/12pl to open the 3Q and then added a 45 yd FG early 4Q, 24-7. Each team went on a long td drive with KU scoring with 5:59 left for the 31-14 final. KU had a 390-286 yd edge.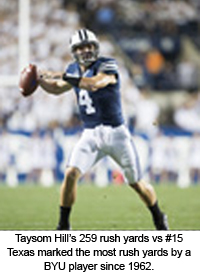 Texas fired Manny Diaz as the DC (will be reassigned) after a woeful performance vs BYU. They had no clue how to stop a running QB as Taysom Hill rushed for a 259 yds on 17 carries. His 259 yards were the most in the nation since 2005 and the Cougars tallied a school record 550 rush yds. Hill did hit just 9-26-129 passing. BYU rolled up 436 total yds in the 1H and 679 in a game that was delayed a couple of hours due to lightning. BYU shuffled its O-line after its season opening loss. It was still a defensive struggle with 3:21 left in the 1Q when UT got a 57 yd td pass to lead 7-3 with the teams combining for 5 FD's prior to that. The 2Q was all offense with BYU rolling up the yds. BYU got a 32 yd FG with :04 left in the half to lead 27-14. In the 2H the Cougars opened with 79/8pl, 51/10pl, 73/7pl drives for 2 td's and a FG and led 40-21 and UT QB Ash was injured with McCoy leading Texas 49/14pl (SOD) and 52/3pl (time expired) on the Horns final 2 drives.
Devin Gardner wore #98 to honor Michigan great Tom Harmon and had a great game against Notre Dame, hitting 21-33-294 with 4 td's and rushing 13 for 82 with another td. UM had a 460-410 yd edge and an NCAA record crowd of 115,109. UM got a 12 yd td pass with 1:09 left in the half to take a 27-13 lead. The Irish, trailing 34-20, were SOD at the UM17 on 4th&4 but as they were tackling Gardner in the EZ, he threw it up and DT Tuitt got an interception for a td, 34-27. UM, leading 34-30, had a 3rd&12 pass go incomplete but pass interference gave them a FD, then on 3rd&5 another PI FD set up a 4 yd td pass with 4:18 left, 41-30. ND was intercepted in the EZ on 1st&gl from the 6 with 1:29 left.
Phil Steele is a college football analyst who has been publishing his annual College Football Preview since 1995. His magazine is regarded as one of the best in the business.
Google+