| | |
| --- | --- |
| Daily Blog • September 17th | |
By Phil Steele
Bethune-Cookman actually moved to 3-0 all-time vs FIU as the two were both in the FCS just a few years ago. BCU was favored and proved why as they had 19-9 FD and 349-229 yard edges. BCU led 14-7 at the half with a 207-177 yard edge then opened the 3Q with 81/13pl and 49/3pl drives for td's to go up 28-7. They were intercepted on their next possession but with FAU trying to get back into the game, BCU got a 92 yard IR td with 14:38 left to make it 34-7. FIU got a 41 yard PR to the 7 and on 4th&1 got a 1 yard td pass with 7:45 left to "only" lose by 21.
Taylor Heinicke, who had over 5,000 yards passing last year in the FCS, was pulled last week late with his team way down. This time Heinicke came out after hitting 20-27-406 and ODU was up 66-10. Backup David Washington hit 8-11-81. Howard moved the ball with 465 yards but ODU had 733 yards and 31 FD's in their 76-19 romp. Howard was intercepted in the endzone in the 1H, SOD at the 6, fumbled at the ODU36 and ODU had a 514-321 yard edge at the half but led 49-10.
Buffalo had a 157-117 yard edge vs Stony Brook at the half with each team missing a 40 yard FG. UB only led 3-0 settling on a FG from 4th&gl from the 1. UB led 10-0 when SB got a 22 yard FG with 11:07 left. UB missed a clinching 34 yard FG with 4:28 left and SB went 80/15pl getting a 5 yard td pass with :24 left. The game went 5OTs. UB had a chance to win in the 3OT after getting a TO, but on FD from the SB13, fumbled. Then UB turned it over in the 4OT but SB missed a 37 yard FG. In the 5OT, SB got a 25 yard FG and UB a 6 yard td run for the 26-23 win. SB had a 440-349 yard edge.
North Texas had 505-496 yard and 31-19 FD edges but did need a big comeback vs Ball St. The Cardinals got a 77 yard td run late in the 1Q for a 13-3 lead then got a 3 yard FR td to go up 20-3. NT went on an 11pl drive but settled for a 22 yard FG. They chipped away to 27-16 at the half with Ball St having a 305-219 yard edge. The Cardinals missed 54 and 51 yard FG's. Leading 27-24, Ball St was SOD at the NT33. After NT drove 68/9pl for a td and the lead, 34-27. The Cardinals punted with 7:37 left then were intercepted at their own 20 with 1:17 left.
Wyoming only had a 437-340 yard edge over Northern Colorado and punted on its first 2 possessions. However, the Pokes then went 76/13pl, got a 39 yard IR td and went 95/15pl for td's to lead 21-0 at the half with a 262-114 yard edge. Wyo was intercepted at the NC2, SOD at the NC25 and NC went 80/8pl in the 4Q to pull within 21-7. The Cowboys went 48/5pl for a td and NC was SOD at the UW4 with 3:20 left. Wyoming would add a 50 yard FR td with 1:58 left in the 35-7 win.
Navy has scored 92 points in its first 2 games, the most since 1975 when they put up 97. To start the 4Q against Delaware, Navy pulled most of its offensive starters, including Keenan Reynolds who hit 10-13-233 and rushed 15 times for 109 yards. Navy scored on its first 4 possessions to go up 23-0 but at the half, while still leading 23-7, they only had a 254-223 yard edge as Delaware was SOD at the N33 and intercepted at the N24 in the 1H. Navy opened the 3Q with 68/10pl, 92/12pl and 77/5pl td drives to blow it open 44-7. Backup QB Hendrick's led a 61/8pl drive with 9:00 left and even ended the game at the DE13 taking a knee as the Midshipmen finished with a 589-336 yard edge.
Last week FAU played its true frosh QB in the 2H vs EC but Jaquez Johnson was firmly in control of the job vs USF and hit 10-17-98 yards while rushing for 55 yards on 18 carries. FAU had lost 4 straight, not having won since Pelini beat a Taggart-led WKU on the road last year. USF came in a 2 td favorite. They benched QB Bobby Eveld in the 1Q and Steven Bench played the rest of the game hitting 8-23-128 yards. Matt Floyd had originally won the QB job. USF did finish with a 297-228 yard edge. FAU got a 10 yard FR td to lead 7-0 but USF led 10-7 and went for it on 4th&gl at the 2 with 10:43 left in the 2Q but was stuffed. FAU took over with 3:26 left in the half and drove 99/10pl for a td with :35 left to lead 14-10. FAU recovered a fumble with 5:20 left in the 3Q and went 39/6pl for a td to lead 21-10. USF was driving with 3:12 left on 4th&14 but was intercepted and returned 75 yards for a td by Smith for a somewhat misleading 28-10 final but a game FAU deserved to win.
Louisiana set a modern day school record for points with 70 vs Nicholls St. They had a 620-305 yard edge. At the half UL had already rolled up 413 yards while allowing just 158 and it was 49-0 before the Colonels went 75/3pl to score a td with 1:25 left in the half to make the yardage that close. UL went 42/7pl, 47/2pl (after a SOD) and 77/9pl (after a missed 40 yard FG) to lead 70-7 at the start of the 4Q. Nicholls gained 42 of their yards on 11 plays in the final 2:33 trailing 70-7.
South Carolina figured to be in a letdown spot after losing to Georgia and if you look at the final, you would think that was the case as they only got past Vanderbilt by 10. For those that didn't watch the game, SC was dominant early showing no signs of a letdown. In fact, they looked like a team off a loss and angry. They went 42/6pl, 98/11pl, 76/8pl and 92/8pl for td's to lead 28-0 just 5:00 into the 2Q. SC was intercepted and returned 69 yards to its 1 and Vandy got a 1 yard td "drive" to make it 28-7. At the half SC had a commanding 376-95 yard edge and came out in the 2H going 75/10pl for a td to lead 35-10. VU's best offensive drive was a 49/10pl showing that resulted in a td with 14:12 left to make it 35-17. SC then fumbled a kick at its own 19 and VU got a 19 yard td drive then SC fumbled the punt at its own 37. Now with VU down 10, they found themselves at the SC4 threatening to make a game of it when they were intercepted at the 1. SC went 64/17pl before being SOD at the VU36 with :53 left. SC had 579-268 yard and 31-14 FD edges.
Brendon Kay was Cincinnati's starting QB at the beginning of the year and got his job back after Munchie Legaux was lost for the season to injury. Kay hit 12-14-277 yards vs Northwestern St. Tuberville needed to get his backup QB some action and it is rFr Bennie Coney (PS#33). Coney hit 5-5-60 getting action even in the 2Q. On his first drive he handed off 8 times on the 75 yard march. The good news for the UC D is that Zach Adkins came in as the Southland Conference's top QB averaging 313 ypg and UC held him to 15-20-79. After punting on their first possession, the Bearcats went 68/6pl, 72/7pl, 82/8pl, 75/8pl, and 88/3pl all for td's and led 35-9 at the half with a 387-179 yard edge. UC's final drive was led by 3rd string QB Michael Colosimo as they went 57/12pl for a td with 2:43 left for the 66-9 final.
Mississippi St's Tyler Russell was injured but Dak Prescott looked impressive against Auburn hitting 15-28-213 and also rushing for 133 yards. Twice in the 2H he converted on 4th down with some QB runs. Auburn looked like they'd be on their way to a blowout jumping to an 11-0 lead but a 61 yard Prescott pass and a 14 yard run by Lewis capped a 2pl drive to get MSU back in it at 11-6. Trailing 14-6. Miss St went 79/11pl for a td with 5:02 left in the half to only trail 14-13. The Bulldogs opened the 3Q with a 75/6pl drive capped by a 2 yard td run to lead 20-14. The Tigers went 59/7pl for a 47 yard FG with 9:53 left in the 3Q, 20-17 but then fumbled at their own 48, were intercepted at the MS40, and took over with 1:56 left in the game at their own 12. Nick Marshall, who hit 23-34-339 in by far his best outing yet, led the team 88/12pl and on 2nd&7 hit an 11 yard td pass with :10 left for the win.
Many of LSU's sellout crowd left during the 2H of the Kent St game. LSU had a 571-248 yard edge and appeared to be on its way to a huge rout as they went 86/5pl, 57/6pl, 37/4pl, 68/5pl, and 93/8pl on their first 5 poss for 4 td's and a FG to lead 31-7. LSU fumbled the punt with 1:38 left and the Flashes got a FG with :17 left to make it only 13-10. LSU had a 259-105 yard edge at the half. Kent St surprisingly went 49/10pl on its second 3Q drive for a 36 yard FG, 31-13. LSU then went 73/9pl and 60/5pl, getting a td with 10:44 left to make it 45-13. Kent missed a 48 yard FG with 5:05 left and LSU ended the game at the KS15 taking a knee, disappointing a few LSU backers.
Southern Utah had beaten an FBS team in the opener but it was only South Alabama. Washington St was coming off its big win vs USC and had a 465-219 yard edge. Connor Halliday hit 32-41-383 yards. Washington St went 80/5pl and 61/5pl on their first 2 possessions to lead 14-3 but only were up 14-10. They were intercepted in the EZ from the 19 with 7:30 left in the 2Q but on 3rd&18 got a 55 yard td pass with 4:18 left. SUU was threatening as they had a 3rd&3 at the WS35 when they were intercepted and returned 72 yards for a td with :38 left in the half to go up 28-10 despite the fact they had a 246-157 yard edge. The punt game set the Cougars up for a 30 and 27 yard drives for a pair of FG's to open the 3Q and then and interception set them up for an 18/2pl drive as they blew it open, 41-10 and won 48-10.
Ohio St sat Braxton Miller and Kenny Guiton hit 21-32-276 while also rushing for 92 yards vs Cal. Guiton's second pass went 90 yards for a td to Devin Smith. OSU jumped out to leads of 21-0 and 24-7 but it was just 31-20 at the half. OSU's D allowed 291 yards to Cal and the offense gained 365. OSU went 75/9, 80/15 to open it up to 45-20. After an exchange of td's, Cal was SOD at the OSU7 with 12:16 left then drove 61/11pl for a td with 6:06 left to only lose by 18. OSU had 608-503 yard edge and Cal a 28-27 FD edge as Jared Goff continues to show why he was chosen as the starting QB hitting 31-53-371 yards.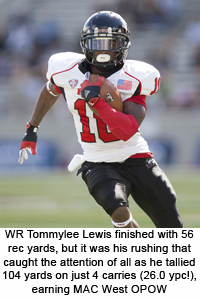 Idaho had been non-competitive in its first 2 games but gave Northern Illinois a scare. The Vandals went 75/10pl, 62/4pl, 87/9pl, and 75/9pl all for td's on 4 of their first 6 possessions and led the game 28-14 with 9:35 left in the half. UI had a 39 yard FG blocked with 1:01 left in the half and led 28-21 with a 328-222 yard edge. UI was SOD at the NI41 and the Huskies went 52/8pl for the tying td with 9:54 left 3Q. Lynch's 61 yard td run finally gave them the lead, 35-28. UI tied with 14:19 left on a 1 yard td run by fumbled at its own 34 and NI got a 51 yard FG with 10:49 left to take the lead then went 59/6pl for a td and some breathing room with 7:25 left. UI was SOD at the NI47 and the NI32 on its final 2 drives. UI's Chad Chalich hit 14-25-236 while Lynch hit 17-29-152 for NI and rushed for 159.
Toledo had 25-18 FD and 530-377 yard edges but Eastern Washington actually opened with 70/8pl and 75/7pl drives for td's and a 14-6 lead. UT lost starting QB Terrance Owens to injury so frosh Logan Woodside came in and hit 14-24-185 while rushing for 15 yards on 5 carries. UT got a 23 yard FG to lead 16-14. UT missed a 35 yard FG on the final play before halftime and only had a 253-213 yard edge. The first six 2H possessions were all punts then UT got an 81 yard td pass to go up 23-14. Leading 23-21, UT drove 88/12pl for a td with 8:50 left to clinch it, 30-21. EW was SOD at the UT45 and punted with 3:35 left. UT added a 36 yard FG at the end of a 36/8pl drive with :32 left. UT finished with a 533-377 yard edge.
Marshall had 28-19 FD and 482-335 yard edges vs Ohio but was done in by TO's. Rakeem Cato hit 30-45-366. MU turned it over on its fifth play and OU went 53/9pl for a td. It was tied at 7 when OU got a 32 yard FG to go up 10-7. MU then fumbled the KO and OU fell on it for a td, 17-7. It was 17-10 at half with MU having a 282-156 yard edge. The first 4 possessions of the 2H all went for td's, 31-24. MU had the ball with a chance to tie but was intercepted with 7:04 left at its own 33. OU got 2 FD's and a 29 yard FG with 2:46 left to get ahead by 2 scores. MU went 66/9pl and got a 1 yard td with :29 left but OU recovered the onside kick.
Connecticut QB Chandler Whitmer threw for a career-high 349 yards hitting 29-46 passes but Maryland had a 501-383 yard edge. UC WR Shakim Phillips had 178 yards on 10 catches including a late 75 yard catch and run but did injure his hamstring on the play. It was Randy Edsall's first time back at Renchler Field since he left the program after the '11 Fiesta Bowl. MD was SOD at the UC46, intercepted at the UC24, SOD at the UC24 and at the half had a 304-168 yard edge but led just 13-10. MD fumbled at the UC29 to open the 3Q but then drove 80/4pl for a td and a 20-10 lead. MD fumbled at its own 31 and UC got a 34 yard FG to pull within 7. MD missed a 50 yard FG but got a 49 yard IR td to break it open with 1:57 left in the 3Q, 27-13. UC was pinned at its 2 with 8:43 left and called for intentional grounding in the EZ for a safety and MD added a 40 yard FG after the free kick. UC got that 75 yard td pass and on its final drive gained 31 yards on 7 plays but was SOD on 4th&10 at its own 43.
UNLV/Central Michigan was a tale of 2 halves. The 1H was thoroughly dominated by CMU. At one point they had a 253-34 yard edge and led 21-0. With 2:13 left in the half, UNLV took over at its 24 and would get a 50 yard pass, 10 yard run then on 2nd&7, a 12 yard td pass to get back in it 21-7 and close that yardage edge to 253-110. That would give them the momentum in the 2H. They went 80/12pl for a td, punted on their 2nd possession, then went 60/4pl and 54/9pl for a td and a 34 yard FG, 24-21. CMU on 2nd&8 from the LV26 was intercepted at the 6 and UNLV went 94/13pl for a td to put them ahead by 10 with 6:40 left. CMU was intercepted at the 50 with 3:55 left and its final drive got to the LV28 but on 4th&10 the QB was sacked for a 7 yard loss with 1:20 left. Cooper Rush, in his first start for CMU, hit 23-46-265
UTEP/New Mexico St was closer than the final score even though UTEP had 29-15 FD and 546-398 yard edges. The first 4 possessions of the game all went for td's and it was 14-14 just 9:28 in. The next 6 possessions were 5 punts and a missed UTEP 31 yard FG. The Aggies were poised to take the lead when they fumbled at the UTEP6 with 5:28 left. UTEP went 94/10pl and on 2nd&gl with :17 left in the half, got an 8 yard td run, 21-14. At the half UTEP had a 249-242 yard edge. Each team tossed an interception to open the 3Q. UTEP on 3rd&7 fumbled at the NMSt16 and NMSt got a 72 yard td pass 3pl later to tie it at 21. UTEP got a 54 yard td run 3pl later, 28-21. There were 3 punts then UTEP went 88/14pl and a 17 yard td run with 5:28 left put them up by 2 scores for the first time. NMSt was intercepted 3pl later and UTEP, on the next play, got a 45 yard td run with 4:05 left for a somewhat misleading 21 pt win.
Utah finished with a 539-491 yard edge but needed a late comeback to get it. Oregon St did win it in OT. OSU led 20-7 on a td with 3:20 left in the half but Utah went 66/11pl and got a 27 yard FG with :20 left in the half to pull within 20-10. OSU had a 272-87 yard edge prior to that drive. OSU got a 27 yard IR td on its 3rd play of the 3Q to go up 27-10 and it seemed comfortable. Utah went 75/4pl, and 80/11pl for td's to get within 27-24. Mannion hit a 55 yard td pass late in the 3Q, 34-24. Utah went 64/5pl for a td and OSU went 61/8pl but settled for a 20 yard FG after a 1st&gl at the 7, 37-31. Two poss later, Utah went 85/7pl for a td to make it 38-37 with 4:25 left. OSU went 79/8pl for an 18 yard td pass, 45-38 with the 2 pt conversion. Utah drove 78/7pl capped by a 9 yard td run, 45-45 with :21 left to force OT. Utah got a 41 yard FG but OSU tossed a 6 yard td pass for the win.
Memphis had a 350-284 yard edge at Middle Tenn. MT took its 2nd possession 92/13pl for a td. Memphis got to the MT20 but was intercepted at the 1. UM went 34/8pl and settled for a 21 yard FG, 7-3 (11:09 2Q). MT went on a 66/14pl drive but missed a 33 yard FG. UM was intercepted and a PF moved the ball ahead to the 8 and MT got an 8/3pl td drive, 14-3. MT was intercepted with 1:12 left in the 1H and UM went 21/7pl for a 41 yard FG on the final play. At the half MT did have a 187-93 yard edge. UM went on a 75/15pl drive and settled for a 27 yard FG. On their second 3Q possession, UM drove 69/10pl for a td and the lead, 15-14. The next four possessions were punts. MT went 42/8pl for a 40 yard FG and the lead with 1:49 left. UM converted on 4th&13 for a FD and 3rd&4 out to its 36 but the game ended on a pair of sacks.
Kansas St finished with 456-309 yard and 22-17 FD edges vs UMass. K-St got a 38 yard IR td with 3:15 gone in the game but the xp was blocked, 6-0. UM went 77/16pl and settled for a 23 yard FG which was blocked. After an interception, UM went 46/5pl for a td and led 7-6 after 1Q. K-St piled up 233 yards in the 2Q going 75/11pl, 81/6pl, 62/5pl, the last being a 2nd&10, 45 yard td pass to Hubert with :11 left in the half, 27-7. K-St only had a 253-185 yard edge at half. K-St opened the 3Q with an 85/8pl drive for a td and UM went on a 14pl drive but was intercepted at the 14. K-St went 59/10pl for a 42 yard FG, 37-7. UM, after K-St fumbled the punt at its own 49, was SOD at the K-St26 with 1:24 left.
WKU jumped out to a 21-10 lead in the 1H but couldn't hold on against South Alabama. They did finish with a slim 427-414 yard edge. Ross Metheny hit 11-15-193. WKU led 21-10 at the half with a 234-157 yard edge. Brandon Bridge (5-11-77) replaced Metheny on the first 3 drives of the 2H and South Alabama went 35/9pl for a 43 yard FG, 89/14pl capped by a 4 yard td run, and 45/6pl for a 37 yard FG to tie it at 24. Metheny came back and led a 52/5pl drive but they missed a 17 yard FG. WKU was intercepted at the 50 with 2:12 left and USA returned it 49 yards to the 1. On 2nd&gl Fetner got a 1 yard td run for the lead, 31-24. WKU went 53/11pl but on 4th&10 from the SA13 was intercepted in the EZ. QB Brandon Doughty hit 27-47-282 for WKU.
Utah St completely dominated Weber St even more than the 587-138 yard edge would indicate. The Aggies scored a td on all seven 1H possessions to lead 49-0 with a 372-30 yard edge. At the end of the game, the Aggies had a bad snap on a punt and the Wildcats scooped it up at the 40 and raced 60 yards for a td with :50 left to avoid the shutout. Chuckie Keeton hit 19-25-249 for Utah St.
UTSA stayed close to Oklahoma St last week and fared better than the final score would indicate vs Arizona this past week. Arizona got a 16 yard IR to the 34. On 3rd&11, a 35 yard td made it 14-3. It was 17-6 when UA went 53/7pl for a td with 2:57 left in the half. At half UA had a slim 225-190 yard edge but led by 18. UTSA fumbled at the UA41 and the Wildcats went 59/10pl for a td early 4Q to make it 38-6. UTSA went 75/10pl for a td with 9:39 left and ended at the UA24 running out of time. UA only had a 422-379 yard edge and a 25-23 FD edge. UA QB Denker hit 14-21-158
Notre Dame was in a flat spot and taking on a Purdue team that had struggled mightily in its first 2 games. The Irish were off Michigan with Michigan St, Arizona St and Oklahoma on deck. Last year, in a flat spot off a trip to Ireland, ND was almost upset by Purdue. PU blitzed heavy and ND had just 91 yards rush on 37 carries (2.5 ypc). PU led 10-0 and had a 147-43 yard edge when ND took over at its 17 with 5:58 left in the half and went 80/11pl getting a 20 yard FG with :44 left. ND opened the 3Q with a 75/10pl drive for a td to tie but PU answered with a 54/8pl td drive. After a ND punt, ND went 66/11pl for a td to tie again. A minute and 22 seconds changed the game. ND was back at its own 18 in a tie game when the Irish got an 82 yard td pass to Daniels. Three plays later they got a 34 yard IR td and broke open a 31-17 lead. PU didn't wilt. They went 75/7pl for a td with 8:16 left then recovered a fumble but punted with 7:22 left. Unfortunately, they couldn't get the Irish off the field. ND converted on 3rd&6, 3rd&3, 3rd&2 and then 3rd&2 to the PU10 where they took a knee at the end. ND finished with a 400-294 yard edge and Tommy Rees hit 20-33-309. Rob Henry was a solid 25-40-256 for PU.
No doubt Texas is not living up to my advanced billing. I put out my selections in a magazine which is distributed nationally to hundreds of thousands of people year round and naturally those selections are on record, not just an internet fad that is tweeted. I picked Texas #4 in the country as I thought they had the talent and schedule to be favored in every game. After dropping 2 games as a favorite vs BYU and Mississippi, that will no longer be the case this year. UT still has not figured it out on D. Ole Miss finished with a 449-320 yard edge. Their biggest problem may have been on offense this past Saturday. After giving up td's of 75/8pl and 57/8pl on their first 2 possessions, UT scored on its next 5 possessions while not allowing a point. Unfortunately, they settled for 3 FG's of 28, 30 and 47 yards and only led 23-14 before Ole Miss got a 52 yard FG on the final play of the half. UT had a 220-207 yard edge at the half. UM dominated the 2H including a 73 yard PR td and UT punted on its first 4 possessions of the half, fumbled the 5th, was SOD at the UM47 on the 6th and was SOD at its own 27 on the last. UM got a td with 8:42 left to extend the margin to 44-23. I had Mack Brown #1 on my hotseat list at the start of the year saying if they had another 6, 7 or 8 win season he'd be in trouble and right now they figure to be an underdog to Oklahoma, at TCU, home to Oklahoma St, possibly at home to Texas Tech on November 28th and at Baylor unless they right their ship in a hurry.

Wisconsin's Melvin Gordon rushed for 193 yards on 15 carries vs Arizona St and UW led the majority of the game but a strange play at the end had them come up short by 2 points and not get a FG off. Taylor Kelly hit 29-51-352 while Joel Stave hit 15-30-187. James White was held to 45 yards on 12 carries and Marion Grice (22-84) and DJ Foster (5-27) barely topped 100 combined rush yards. ASU had a snap go through the P's legs, roll into the EZ and UW recovered it for a td to lead 14-3 early in the 2Q but ASU went on a 94/13pl drive getting a 19 yard FG before the half to pull within 4-13. At half the Sun Devils did have a 219-101 yard edge. UW went 59/6pl for a 34 yard FG with 13:30 left to lead 24-19. Arizona St went 76/8pl for a 2 yard td but failed on the 2 point conversion, 25-24 (11:40). ASU went 60/8pl and got a 12 yard td run to lead by 8. The Badgers took over with 8:50 left. On 4th&5 they faked a punt for a FD and continued on a 75/11pl drive and Gordon's 1 yard td run with 3:53 left made it 32-30 but the 2 pt conversion failed. UW got it back with 1:36 left and hit a 51 yard pass to the 26. After getting a FD to the 13, they wanted to set the ball in the middle of the field. Stave ran to the middle and placed the ball on the ground without taking a knee. Arizona St fell on the ball and the final :13 of the clock ran off.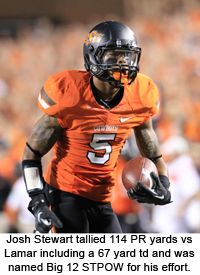 Oklahoma St had a lot of off field distractions this week with the SI article coming out and naturally the best place to get over that is on the field. OSU had a 252-123 yard edge at the half against Lamar and led 31-3. In the 3Q they got a 67 yard PR for a td then drove 54/7pl for a td and after a fumble drove 22/3pl for a td to lead 52-3 with 6:01 left in the 3Q. Lamar was SOD after a 10pl drive at the OS6 with 10:56 left and OSU went 94/8pl for a 16 yard td pass, 59-3. Lamar ended the game with a 47/11pl drive eating the last 7:34 and ending the game at the OS30. JW Walsh hit 17-30-181 and rushed for 43. OSU had a 446-245 yard edge.
Northwestern extended its winning streak in non-conference home games to 15. NU actually started its first 3 drives in Western Michigan territory at the 45, 27 and 45 yard lines but was intercepted, punted and missed a 42 yard FG and actually trailed 3-0 after 1Q. NU would get a td with 8:46 left in the half then went 65/6pl, 50/8pl and after a 12 yard punt, 42/7pl and got a 35 yard FG with :02 left in the half for a 24-10 lead. NU only had a 268-185 yard edge. NU opened the 3Q with an 87/14pl drive for a td. WM recovered a fumble and went 24/2pl for a td, 31-17. NU got a 42 yard td run by Green and WMU was SOD at the NU25 with 11:38 left. WMU was SOD at its own 44 with :29 left. NU finished with 471-345 yard and 31-17 FD edges.
Follow Phil Steele anywhere!

•

•

•
•

•

•

•

•
Phil Steele is a college football analyst who has been publishing his annual College Football Preview since 1995. His magazine is regarded as one of the best in the business.
Google+