| | |
| --- | --- |
| Daily Blog • September 16th | |
By Phil Steele
My QB's of the Week
Brett Smith, Wyoming • Nathan Scheelhaase, Illinois • Keith Price, Washington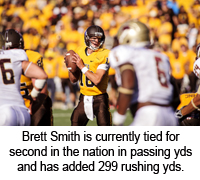 QB Brett Smith (Wyoming) – How well has Brett Smith done so far in 2013? How about being tied for 2nd in the nation in pass yards with 1,315! He also has added 299 rush (8.3). Still, many of you haven't heard of him but if he's available to pick up, now would be the time. This week the Cowboys get a favorable matchup with Texas St who were victimized for 434 yds in the air a week ago against Texas Tech. With a solid 13-3 ratio and his previously discussed passing yards, Smith should flourish again here.
QB Nathan Scheelhaase (Illinois) – While he had his share of struggles in his last game vs Wash when he threw for just 156 yds, we expect Scheelhaase to more resemble the QB that he was throughout the 1st two gms when he threw for a comb 728 yds with a 6-1 ratio. Miami (OH) was gashed in the air a few wks back vs Kentucky to the tune of 413 pass yds and while we don't expect them to allow that much again here, a 300 yd performance out of Scheelhaase could be a safe bet.
QB Keith Price (Washington) – A change in scheme to the hurry-up spread offense has greatly benefited Keith Price thus far in the young season as he has a 7-1 ratio and has exceeded 300+ yds in 2 of his 3 games (would be 3 for 3 had he not been pulled early vs Idaho St). While Arizona's defense has allowed just 312 ypg thus far this season, further analyzation shows that they have faced the likes of Northern Arizona, UNLV and UTSA, nobody near the caliber of the Huskies. Price should shine here.
My RB's of the Week
Travis Greene, Bowling Green • Adam Muema, San Diego St • David Fluellen, Toledo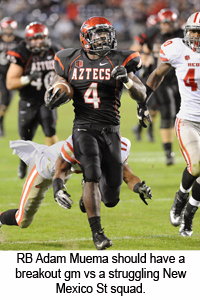 RB Travis Greene (Bowling Green) – Rushing games of 145 and 133 yds so far this season have us liking his opportunity for a repeat performance here against an Akron squad that has been gashed for 465 ypg this year. With an avg of nearly 19 carries a game, Greene could easily have his best outing yet.
RB Adam Muema (San Diego St) – After seeing just 13 carries through the 1st two games of the season due to injury, Adam Muema finally saw significant action a week ago against Oregon St. While he did have just 71 rush yds vs the Beavers, you have to like the 28 carries he received which has us licking our chops here against a New Mexico St defense that can't stop a Pee Wee football team right now (606 ypg allowed). Muema will surpass the 100 yard rushing plateau for the first time in 2013 here.
RB David Fluellen (Toledo) – A promising 3 game run for Fluellen has us taking a shot with him here against Ball St as in that span he's averaged 150 ypg on the ground with 4 total TD's while also pulling in 10 rec for 100 yds vs Mizzou. 363 yds, 231 yds and 204 yds are what the Cardinals have surrendered the past 3 games on the ground so we once again expect big things here.
My WR's of the Week
Gabe Marks, Washington St • Jamison Crowder, Duke • Dorial Green-Beckham, Missouri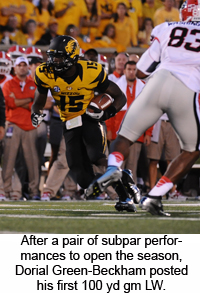 WR Gabe Marks (Washington St) – It's hard not to like any WR in a Mike Leach offense but we really like the chances of Gabe Marks here this week after his stellar 11 rec, 146 yard outing vs Idaho just a week ago. While Stanford is known for their def, Marks could get some one on one opportunities here and judging by the amount of passes WSU has been attempting on a weekly basis (49 per game), another big game should be expected.
WR Jamison Crowder (Duke) – One of the main reasons that Duke was able to come back TWICE from large deficits was due to the play of Jamison Crowder who surpassed the 140 yd mark for the 2nd time this year (281 all-purp yds). A matchup vs Troy this week gives us a warm and fuzzy feeling here for Crowder to once again put up substantial numbers (Troy has allowed 322 pass yards in their 3 contests vs FBS opponents this year).
WR Dorial Green-Beckham (Missouri) – After a pair of subpar games to start the year Green-Backham found himself surpassing the 100 yard mark for the first time this season last week vs Indiana. A 2nd consecutive solid performance should be expected here against an Arkansas St squad that has been ripped apart by each of their last 3 opponents on the defensive side of the ball, allowing 529 ypg in that span.
My Defense's of the Week
Colorado St • Illinois • Clemson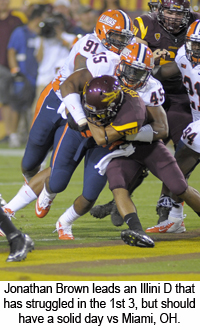 Colorado St Defense – After holding mighty Alabama to just 338 yds the Rams take a step down in competition vs a UTEP offense that mustered just 218 total yards a week ago to UTSA in their 32-13 loss. Our ratings have CSU holding the Miners to just 319 yds making them one of our Surprise Fantasy Defenses.
Illinois Defense – After allowing 493 ypg over their first 3 contests of the season, a matchup with the Miami (OH) offense is just what the doctor ordered here as the RedHawks have struggled to say the least with just 448 TOTAL yards through 3 games (149 ypg). With Miami scoring just 21 total points on the season, we have full confidence in the Illini defense here.
Clemson Defense – With Clemson's opponent Wake Forest averaging just 310 ypg vs their 3 FBS opponents so far this season, the Tigers get the call as our 3rd and final defense this week. Clemson has held each of their last two opponents to 14 points or less and a 3rd straight week of that feat could be in the offing.
---
CollegeFootballGeek.com's Sneaky Plays – Week 5
By Kevin Mount, CollegeFootballGeek.com
A very interesting Week Four is in the books and it is now time to look ahead to the fifth week of the college football season and the "sneaky" plays it has in store for fantasy owners. Here is a look at some guys who might fill in nicely for owners in need of a potential diamond in the rough.
QUARTERBACKS
QB James Franklin, Missouri (vs. Arkansas State):
Franklin is starting to resemble the play making, fantasy viable QB that he was two years ago. He torched a porous Indiana defense for 404 total yards and three total scores last week. His fantasy future looks very bright this week with a weak Arkansas State defense coming to Faurot field. Look for Franklin to tally at least 300 total yards and three total scores this week against the Red Wolves. This Tiger looks to be a terrific option for owners in search of points during a week with many players on bye.
QB Brandon Connette, Duke (vs. Troy):
Connette rolled up 424 total yards and six total scores in a shootout with Pitt last week. This junior has been making plays with both his arm and feet and has been carrying the Duke offense this season. The Duke defense has been awful leaving Connette to post big numbers just to stay in games. Look for Connette to roll up big numbers against a defensively challenged Troy squad. Expect some fireworks in this contest. This Blue Devil could make for a nice starting option in BCS only leagues in Week Five.
QB Tyler Murphy, Florida (vs. Kentucky):
There is some risk here, as Murphy had not seen much game-time action until last week when Jeff Driskel went down with a season ending injury. He filled in admirably with two touchdowns and 84 yards on the ground. He could just be the spark the Gators offense has been looking for this year. The Kentucky defense may be the perfect team for Murphy to start his first game against this week. Don't expect huge numbers, but 250 total yards and 2 or 3 total scores don't seem out of the realm of possibility this week.
RUNNING BACKS
RB James Connor, Pitt (vs. Virginia):
It appears that Connor has assumed control of the Pitt backfield with 292 yards rushing and three scores over the past two weeks. The "Terminator" could have a big game this week against a suspect Virginia defense. The Virgina defense could be hard pressed to stop this hard charging freshman. Look for Connor to top the 100-yard mark and add a score or two in this contest. If Connor is still available in your BCS fantasy league...run to pick him up.
RB Jahwan Edwards, Ball State (vs. Toledo):
Edwards returned to the lineup after missing two games and promptly rumbled for 3 scores against Eastern Michigan last week. He could match those numbers this week against a weak Toledo defense that gives up plenty of big plays. Expect a bunch of points in this match up, with Edwards being heavily involved on the ground. Another two or three scores seem like a decent possibility for Edwards on Saturday.
RB Rajion Neal, Tennessee (vs. South Alabama):
Neal seems to fair pretty well when he faces inferior competition this season. That could be the case this week when the South Alabama Jaguars come to Knoxville. Neal could find the end zone on multiple occasions and rack up decent yardage against the Jaguars. This Volunteer could make for an excellent RB option in BCS only leagues in Week Five.

WIDE RECEIVERS & TIGHT ENDS
WR Martavis Bryant, Clemson (vs. Wake Forest):
***UPDATE: Bryant could be punished this week due to a "throat-slashing" gesture he gave after a touchdown in a recent game. Proceed with caution.
This physically gifted Tiger may finally have turned the corner and appears ready to begin living up to his immense potential. He has all the tools and plays in the right system to be a top tier fantasy wide out in most formats. He had what could be his breakout performance with two receiving touchdowns last week versus NC State. Bryant is an excellent red-zone target with his tall frame and could find many jump balls coming his way. Look for this ultra-talented junior to be too much for the Wake forest secondary to handle this week.
WR Malcome Kennedy, Texas A&M (vs. Arkansas):
Kennedy has emerged as the #2 option in the high-powered Texas A&M passing game. He has garnered four scores over the past two games and is likely benefiting from the attention defenses are paying to Mike Evans. This Arkansas defense was torched for over 300 yards passing last week versus Rutgers and could be in line for a long day against the Aggies. Look for Kennedy to get behind the defense for a score or two against the Razorbacks this week.
SNEAKY D'S

Miami vs. South Florida
Tennessee vs. South Alabama
Iowa vs. Minnesota
NC State vs. Central Michigan
UCONN vs. Buffalo
Vanderbilt vs. UAB

There you have it everyone, enjoy this week's action and always remember to have fun playing college fantasy football. Good luck this week!

More…
For more college fantasy football information, visit CollegeFootballGeek.com:
• Start 'Em, Sit 'Em
• Injury Reports
• Player Rankings
• Player News
• Sneaky Plays of the Week
• Waiver Wire Reports


CollegeFootballGeek.com is your home for 2013 college fantasy football content! Draft kit, injury reports, player news, player projections, player rankings, mock drafts, community forums, and much more!
CollegeFootballGeek.com's 2013 College Fantasy Player Rankings - Week 5
Todd DeVries, CollegeFootballGeek.com
QUARTERBACKS
RUNNING BACKS
WIDE RECEIVERS

Rank

Name
School

Rank

Name
School

Rank

Name
School

1

Johnny Manziel
TXAM

1

David Fluellen
TOLE

1

Paul Richardson
COLO

2

Marcus Mariota
ORE

2

Ka'Deem Carey
ARIZ

2

Brandin Cooks
ORST

3

Derek Carr
FRES

3

De'Anthony Thomas
ORE

3

Davante Adams
FRES

4

Jordan Lynch
NIU

4

Bishop Sankey
WASH

4

Jordan Matthews
VAND

5

Tajh Boyd
CLEM

5

Antonio Andrews
WKU

5

Deontay Greenberry
HOU

6

Chuckie Keeton
UTST

6

Kasey Carrier
NMEX

6

Mike Evans
TXAM

7

Jameis Winston
FSU

7

Duke Johnson
MIAF

7

Willie Snead
BALL

8

Sean Mannion
ORST

8

Adam Muema
SDST

8

Michael Campanaro
WAKE

9

J.W. Walsh
OKST

9

Melvin Gordon
WISC

9

Justin Hardy
ECAR

10

Brett Smith
WYOM

10

Mike Davis
SCAR

10

Sammy Watkins
CLEM

11

Braxton Miller
OHST

11

Jeremy Hill
LSU

11

Jamison Crowder
DUKE

12

Kolton Browning
LAMO

12

Kenneth Dixon
LTEC

12

Alex Neutz
BUFF

13

James Franklin
MIZZ

13

T.J. Yeldon
ALAB

13

Isaiah Burse
FRES

14

Connor Wood
COLO

14

Todd Gurley
GEOR

14

Jarvis Landry
LSU

15

Taysom Hill
BYU

15

Jay Ajayi
BOIS

15

Amari Cooper
ALAB

16

Keenan Reynolds
NAVY

16

James Conner
PITT

16

Jamarcus Nelson
UAB

17

Keith Wenning
BALL

17

Tyler Gaffney
STAN

17

Devante Davis
UNLV

18

John O'Korn
HOU

18

Marion Grice
AZST

18

Dominic Rufran
WYOM

19

Garrett Gilbert
SMU

19

Ryan Jackson
HOU

19

Darius Joseph
SMU

20

David Fales
SJOS

20

Jordan Hall
OHST

20

Eric Thomas
TROY

21

Cody Fajardo
NEV

21

Jahwan Edwards
BALL

21

Ryan Grant
TULN

22

Taylor McHargue
RICE

22

Aaron Jones
UTEP

22

Josh Stewart
OKST

23

Blake Bell
OKLA

23

Matt Jones
FLOR

23

Marqise Lee
USC

24

Keith Price
WASH

24

Tre Madden
USC

24

Titus Davis
CMIC

25

Taylor Kelly
AZST

25

Saylor Lavallii
CMIC

25

Tyler Boyd
PITT

26

Shane Carden
ECAR

26

Storm Johnson
UCF

26

Odell Beckham Jr
LSU

27

Sam Richardson
IWST

27

Jordan Parker
MTSU

27

Corey Davis
WMIC

28

Blake Bortles
UCF

28

Darrin Reaves
UAB

28

Cody Hoffman
BYU

29

Brandon Connette
DUKE

29

Jeremy Smith
OKST

29

Jared Abbrederis
WISC

30

Zach Mettenberger
LSU

30

Tim Cornett
UNLV

30

Dorial Green-Beckham
MIZZ

31

A.J. McCarron
ALAB

31

Trey Watts
TULS

31

Gabriel Marks
WAZZ

32

Jared Goff
CAL

32

Carlos Hyde
OHST

32

Jalen Saunders
OKLA

33

Logan Thomas
VTEC

33

Mark Weisman
IOWA

33

Chandler Jones
SJOS

34

Nathan Scheelhaase
ILLI

34

Rajion Neal
TENN

34

Alex Amidon
BC

35

Bo Wallace
MISS

35

Ben Malena
TXAM

35

Jeremy Johnson
SMU

36

B.J. Denker
ARIZ

36

Alex Collins
ARK

36

Daniel Spencer
HOU

37

Joe Southwick
BOIS

37

Branden Oliver
BUFF

37

Malcome Kennedy
TXAM

38

Tom Savage
PITT

38

Travis Greene
BG

38

Josh Harper
FRES

39

Trevone Boykin
TCU

39

James White
WISC

39

Bernard Reedy
TOLE

40

Connor Halliday
WAZZ

40

Joe Hill
UTST

40

Jaelen Strong
AZST

41

Corey Robinson
TROY

41

Jeff Scott
MISS

41

DaVaris Daniels
ND

42

Angel Santiago
ARMY

42

Shaun Wick
WYOM

42

Bryce Treggs
CAL

43

Austin Brown
UAB

43

Kevin Parks
VIRG

43

Devin Street
PITT

44

Terrance Owens
TOLE

44

Devonta Freeman
FSU

44

Quinshad Davis
UNC

45

Aaron Murray
GEOR

45

Andre Williams
BC

45

Ty Montgomery
STAN

46

Tyler VanTubbergen
WMIC

46

Jonathan Williams
ARK

46

Richy Turner
NEV

47

Bryn Renner
UNC

47

Terron Ward
ORST

47

Der'rikk Thompson
SMU

48

Austyn Carta-Samuels
VAND

48

Charles Sims
WVU

48

Donte Moncrief
MISS

49

Kevin Hogan
STAN

49

Brennan Clay
OKLA

49

Josh Huff
ORE

50

Jameill Showers
UTEP

50

David Oku
ARKS

50

Tommylee Lewis
NIU
TIGHT ENDS
KICKERS
DEFENSES

Rank

Name
School

Rank

Name
School

Rank

Team

1

Austin Seferian-Jenkins
WASH

1

Chandler Catanzaro
CLEM

1

Tennessee Volunteers

2

Connor Hamlett
ORST

2

Trevor Romaine
ORST

2

Florida Gators

3

Eric Ebron
UNC

3

Colby Delahoussay
LSU

3

Florida State Seminoles

4

Evan Engram
MISS

4

Roberto Aguayo
FSU

4

Alabama Crimson Tide

5

Christopher Coyle
AZST

5

Drew Basil
OHST

5

South Carolina Gamecocks

6

Kolby Arendse
NEV

6

Will Oliver
COLO

6

Boise State Broncos

7

Richard Rodgers
CAL

7

Niklas Sade
NCST

7

Miami Hurricanes

8

Jake McGee
VIRG

8

Mathew Sims
NIU

8

Stanford Cardinal

9

Nick O'Leary
FSU

9

Mike Meyer
IOWA

9

Virginia Tech Hokies

10

Clive Walford
MIAF

10

Carey Spear
VAND

10

Ohio State Buckeyes

11

Arthur Lynch
GEOR

11

Jordan Williamson
STAN

11

Vanderbilt Commodores

12

Colt Lyerla
ORE

12

Richie Leone
HOU

12

LSU Tigers

13

O.J. Howard
ALAB

13

Jeremiah Detmer
TOLE

13

Georgia Bulldogs

14

C.J. Fiedorowicz
IOWA

14

Chris Boswell
RICE

14

Missouri Tigers

15

Troy Niklas
ND

15

Ben Grogan
OKST

15

BYU Cougars

16

Xavier Grimble
USC

16

Ross Martin
DUKE

16

Notre Dame Fighting Irish

17

Kivon Cartwright
CSU

17

Vincenzo D'Amato
CAL

17

TCU Horned Frogs

18

Braxton Deaver
DUKE

18

Cody Journell
VTEC

18

Oklahoma State Cowboys

19

Mitchell Henry
WKU

19

Jaden Oberkrom
TCU

19

North Carolina State Wolfpack

20

Hunter Henry
ARK

20

Cairo Santos
TULN

20

North Carolina Tar Heels
Follow Phil Steele anywhere!

•

•

•
•

•

•

•

•
Phil Steele is a college football analyst who has been publishing his annual College Football Preview since 1995. His magazine is regarded as one of the best in the business.
Google+