| | |
| --- | --- |
| Daily Blog • September 24th | |
By Phil Steele
I would say that the Stanford/Arizona St game goes down as a misleading statistical game. Some may point out that ASt had 417-391 yard and 20-19 FD edge and it appeared close as they only lost by 14. All you have to do is watch the 1H of the game. SU absolutely dominated with a 256-103 yard edge and led 29-0 at the half. SU extended it after 3Q's leading 39-7 in complete domination. ASt would go 73/5pl, 57/6pl, and 67/11pl getting 197 of their yards on 3 drives to pull back within 39-28 with 6:18 left. SU got a 24 yard FG with :31 left on a 40/10pl drive and ASt gained 31 yards on the final 2pl being intercepted for a touchback in the endzone on the last play from the SU43. Thanks to that big 2H Taylor Kelly finished 30-55-367 yards after having just 96 yards passing in the 1H
Miami, Fl lost starting QB Stephen Morris in the 1Q vs Savannah St to a sprained ankle after he hit 3-4-82. While Miami had an impressive 637-183 yard edge and 70 point win, let's keep in mind that Sav St is a weak FCS member that this year has lost to Georgia Southern 77-9 and Troy 66-3. Last year they lost to Oklahoma St 84-0 and Florida St 55-0. Trailing 63-0 Sav St got a 75 yard td run with 1:56 left in the 3Q but UM would get an 88 yard KR td and then after an interception drove 21/2pl for a td for the 77-7 final. UM was even SOD on 4th & goal at the SS9 with 2:59 left.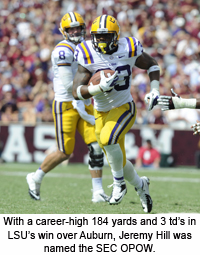 Jeremy Hill appears to be back in good graces for LSU as he rushed a career high 184 yards and 3 td's vs Auburn. LSU finished with a 457-437 yard edge but AU had a 21-16 FD edge. AU HC Malzahn was frustrated at the half but happy that the weather cleared up as he said they could finally utilize their pass game in the 2H. In the 1H LSU had a 21-0 lead and a 222-119 yard edge. AU's best shots ended on a fumble on 4th & 1 at the LSU43 and they also fumbled at their own 10 setting up an LSU td. They were again SOD on 4th & 5 at the LSU42 in the 2Q. LSU still led 35-14 in the 4Q when AU drove 88/10 for a td. AU was intercepted at the LSU30 with 3:15 left and at the end of the game had a FD at the LSU4 but on 4th & goal from the 17 after a sack gained 5 yards with :35 left. Zach Mettenberger hit 14-22-229 and Nick Marshall 17-33-224. LSU did have a big game vs Georgia on deck.
In each of the last 2 years, after their big game vs LSU, Alabama had been in a flat spot and played poorly. Now off their big game vs Texas A&M, Bama was in a flat spot again, and once again did not dominate as many expected. Bama had a slim 338-279 yard edge and 16-13 FD edge vs a Colorado St team coached by their former OC Jim McElwain. Bama opted to sit WR's Amari Cooper and Kevin Norwood, G Anthony Steen, CB Deion Belue and S Jarrick Williams. They also had a big game vs #21 Mississippi on deck. AJ McCarron did hit 20-26-258 while the Rams' QB Garrett Grayson hit 24-38-228 vs that tough Bama D. Bama blocked a punt for a td early 2Q to take a 14-0 lead and had a 194-100 yard edge at the half leading 17-0. Colorado St settled for a 45 yard FG after a 9pl drive then went on a 12pl drive and settled for a 31 yard FG and pulled within 17-6. The Rams fumbled at their own 30 and Bama got a 30 yard td pass on the next play. With 1:13 left, backup QB Blake Sims hit a 14 yard td pass to extend the margin to 31-6.
Bobby Petrino gave true frosh QB Todd Porter his first start and played all 4 QB's in the game vs Morgan St. Porter hit 5-10-64 with 1 int while WKU rolled up a 588-317 yard edge, the star was Antonio Andrews who rushed for 213 yards and his 5 td's broke the school record for most rushing td's in a single game. Petrino also said that backup QB Nelson Fishback has the best understanding of the offense next to Brandon Doughty so it may be a rotating group at QB. WKU got a 65 yard Andrews td run on the first play then after a 38 yard PR drove 35/5pl for a td then 59/2pl for a td and a 21-0 lead with 8:19 left in the 1Q. Porter was intercepted at the 12 and Morgan St drove 77/5pl for a td to pull within 21-7. Fishback had an 11 yard td run to cap the 79/7pl drive on the next series, 28-7 and after an interception, WKU went 36/4pl for a td then got a key play blocking a FG and returning it 70 yards for a td with 2:36 left in the half. WKU only had a 330-207 yard edge at the half but led 42-7. With Fishback in the game at the end they drove 63/11pl getting a td with 1:29 left for the 58-17 final.
Bethune-Cookman runs an option offense and has given some FBS foes some struggles including Miami, Fl who they've played much tougher than the final scores would indicate the last 2 years. Florida St finished with a 492-242 yard edge. FSU's receivers entered the game without a single drop but had 3 or 4 during the game and Jameis Winston, who had more td's than incompletions, had 9 incompletions for the game hitting just 10-19-148 leaving the game after the first series of the 3Q with the team up 40-0. Backup QB Jacob Coker led them 53/4pl and 63/6pl for td's on his first 2 series for a 54-6 lead after 3Q's and FSU had just 1 FD on their final 3 drives with the backups in.
In the battle for the Victory Bell it's amazing that Miami, OH had a grand total of 4 FD's and 87 yards offense while Cincinnati had 24 FD's and 369 yards yet the Bearcats only won by 14. Perhaps Miami's best play was an 84 yard punt which changed field position and kept UC in their own territory. Despite UC having a 170-86 yard edge at the half, they were intercepted at the MU17 late in the 1H and the game was scoreless. UC fumbled on their first 3Q possessions, missed a 38 yard FG and had a 36 yard FG blocked on their first three 2H possessions before finally taking the lead on a 79/16pl drive for a td with 4:55 left. After an interception, UC went 21/5pl for another td with 2:05 left. The RedHawks went for it on 4th & 17 at their own 9 and were SOD but UC only got down to the 6 taking a knee. MU had a grand total of 1 yard in the 2H.
Old Dominion escaped The Citadel with a 1 point win. Citadel had a 566-542 yard edge and there were a couple of interesting points here. Citadel led 28-14 with 6:38 left in the half. ODU got a td with 4:20 left after a 75/8pl drive and then Citadel fumbled on its next play and ODU got a 13 yard td run on the very next play to make it 28-28. Citadel went 65/11pl and got a 27 yard FG to lead 31-28 in the half and had a 315-226 yard edge. ODU got a 3 yard td run with 4:37 left in the 3Q to take a 41-38 lead then onside kicked and recovered and went 52/5pl for a td. They onside kicked and recovered again, this time getting a 52 yard FG for a 51-38 lead. Citadel converted twice on 4th down on the next drive which went 75/16pl for a td to pull within 6 and ODU fumbled at its own 30 and Citadel got a td for the lead, 52-51 with 4:21 left. ODU got a 70 yard td pass with 3:42 left to take the lead, 59-52. Citadel recovered another surprise onside kick, this time at the ODU38. This time they got a 23 yard td pass and when they went for 2, Ben Dupree looked like he was headed for the endzone and the win but a great tackle at the half yard line stopped them short and ODU held on for victory.

Akron was off its big game vs Michigan and a couple of times Louisiana appeared on its way to a rout. UL got a td with 9:51 left in the 2Q to lead 14-0 but UA got a 77 yard td pass and drove 69/6pl for a td to tie 14-14. With :36 left to go in the half, UL was at the UA15 yard line when they opted to go for it on 4th down, passing up the FG and they came up short getting no points out of the drive. UL had a 223-189 yard edge at the half. The lead changed hands four times in the 2H but UL took the lead 28-24 with 8:07 left then surprised UA with an onside kick and recovered. They went 54/5pl for a td with 6:19 left for an 11 point lead. UA missed a 46 yard FG on 4th & 9 with 3:49 left but UL threw an interception. UA was at the UL32, but missed a 48 yard FG on 4th & 5 with 2:33 left. UL punted with just 1:32 left and UA25 went 75/7pl and got a 28 yard td pass with :29 left saw them only lose by 5 (2ptng). UL recovered the onside kick. Terrance Broadway hit 25-37-305 and rushed for 68 while Kyle Pohl hit 27-43-321.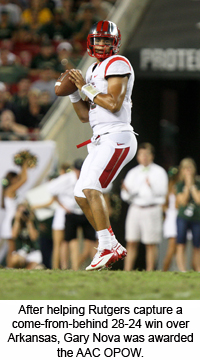 Last year Rutgers' Gary Nova threw for 397 yards and 5 td's vs Arkansas. This year he hit 22-43-346, but most of his yards came in the 4Q with RU way down. Fortunately for the Knights, they managed to pull off the huge comeback win as he had over 250 yards passing in the 4Q. UA QB Brandon Allen missed the game with an injury and AJ Derby hit 14-26-137. UA's outstanding RB tandem of Alex Collins and Jonathan Williams, who had each topped 100 in the first 3 games, was limited to 63 and 25 respectively. UA was fortunate to have a 10-0 lead late 1H as RU fumbled at the A19 and had a 32 yard FG blocked. UA did settle for a 41 yard FG but got a 26 yard IR td. RU took over with 5:05 left at its own 32 and on 4th & 4 got a 16 yard pass to the A19. Their td with :39 left pulled them within 10-7 and RU had 15-4 FD and 208-103 yard edges at the half. UA opened the 3Q with a 75/10pl drive for a td then, after recovering a fumble, got a 21 yard td pass and was fully in command up 24-7 mid-3Q. The Scarlet Knights punted on their next 2 possessions but the game started to turn when RU got a 58 yard PR td with 2:14 left in the 3Q and the crowd sensed the comeback. RU still punted on its next possession but then went 98/6pl and got a 33 yard td pass with 9:55 left. A 47 yard PR set up RU at the A33 and 6pl later they got the td for the improbable lead, 28-24 with 5:18 left. UA got 2 FD's and opted to punt on 4th & 24 with 2:48 left. RU got 1 FD and was able to run the clock.
Both of Penn St's games vs MAC foes this year have followed the same MO. Christian Hackenberg hit just 13-35-176 but PSU's D did hold a previously hot Kent St QB Colin Reardon to 12-28-100 yards. Rain fell for much of the afternoon on a sloppy day. Earlier in the season when PSU played EMU, they were far from dominant in the first 2.5Q's of play but then put it away in the final 1.5Q's. Here, Penn St did have 27-9 FD edge and 463-190 yard edges and in the 1H had an 87/9pl and 82/10pl drives for td's and led 14-10 at the half with a 216-81 yard edge. PSU was SOD at the K38, intercepted at its own 46 then punted on its first 3 possessions of the 3Q. Once again, in the final 1.5Q's they took over. The Nittany Lions went 51/9pl for a td with 4:53 left in the 3Q, 72/10pl for a 25 yard FG, 83/12pl capped by a 1 yard td run, then after a kick/catch interference penalty on their next drive drove 10 yards and Sam Ficken nailed a 54 yard FG with 2:45 left for the 34-0 final.
San Diego St gave Quinn Kaehler his first start and he did well hitting 16-25-251 yards. This situation greatly favored SDSt as they were off a bye while Oregon St had just played a Pac-12 game on the road vs Utah where they needed OT to win and now were traveling again. Sean Mannion hit 38-55-365 yards and OSU did have a 377-325 yard edge but this one appeared hopeless for Oregon St late in the game. At the half SDSt led 24-14 with a 248-177 yard edge. Leading 27-21, SDSt recovered a fumble at the OSU32. They would get a 30 yard FG to go up 2 scores with 5:18 left in the game, 30-21. OSU went 81/10pl getting a td with 2:40 left and kicked off deep to SDSt. The Aztecs, on 2nd & 19, were intercepted and returned 16 yards for a td and just like that the Beavers, who had led for a total of :19 (14-7), had the lead. SDSt was intercepted at the 50 on its final drive.
Northern Illinois' Jordan Lynch had 424 yards offense hitting 21-30-235 and 189 yards rushing. He finally got some help in the run game as Cameron Stingily rushed for 21-134. Lynch, however, was outdone by Eastern Illinois QB Jimmy Garoppolo who hit 34-49-450 yards although he did have -22 yards rushing as he only beat Lynch by 4 total yards offense. NIU won its 22nd straight home game, the longest streak in the nation. Things didn't look good early. EIU went for it on 4th & 3 on its first drive and went 75/9 for a td then, after NIU fumbled the KO, got a 43 yard td pass for a 13-0 lead. Leading 20-6, the Panthers went for it on 4th & 8 at the NI36 and were intercepted and NIU went 96/8pl for a td to get back in it, 20-13. EIU had a bad snap on the punt setting up NIU for a 40/2pl drive, 20-20. NIU took over with 4:12 left in the half and went 80/14pl and on 4th & goal from the 1, opted for the 18 yard FG and a 23-20 lead. They only had a 277-273 yard edge. It was a wild 2H with the teams scoring almost every possession and EIU went 75/7pl for a 10 yard td pass with 9:53 left, 39-36. NIU went 62/4pl for a td with 8:25 left to retake the lead 43-39. EIU opted to punt on 4th & 12 with 5:04 left and NIU converted on 3rd & 1, 3rd & 7 and 3rd & 11 for FD's to the EI16 where they took a knee. NIU had a slim 602-577 yard edge.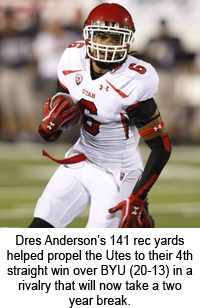 BYU's Taysom Hill, the star of the Texas win, hit 9-23 before half and finished 18-48-260 with 99 yards rushing vs Utah. BYU did finish with 443-402 yard and 24-16 FD edges. RB Jamaal Williams was injured before the half after 52 yards rushing and did not return after a helmet-to-helmet collision. Utah got a 65 yard run by Bubba Poole at the end of the 1Q to set up a 36 yard FG to lead 3-0 then went 64/9pl for a 32 yard FG to lead 6-0 mid-2Q. BYU missed a 34 yard FG with 5:39 left in the half. Utah took over with 2:39 left in the half and got a 74 yard pass to Dres Anderson down to the 1 and a td on the next play made it 13-0. Thanks to those 2 big plays, Utah had a 312-212 yard edge at the half. BYU went 68/9pl and 61/13pl on their first two 3Q possessions but settled for 32 and 31 yard FG's and still trailed 13-6. Utah went 79/12pl for a 2 yard td pass with 12:44 left, 20-6. BYU got a 58 yard PR down to the UU13 but on 4th & 4 fired incomplete. BYU took over with 7:09 left and went 44/6pl getting a 1 yard td run to pull within 7 with 5:13 left. The Cougars got it back at their 38, got 2 FD's but on 4th & 13 Hill was intercepted at the UU17 with 1:37 left. BYU forced a punt with :32 left and took over at its 48 but on 4th & 10 fired incomplete.
It surprised me a little to see UTSA favored at UTEP but they finished with 19-14 FD and 385-218 yard edges. UTEP got a 100 yard KR td and took its first drive 52/16pl but settled for a 28 yard FG and led 10-7 after 1Q. UTSA went 80/8pl and 64/10pl for a td and a FG to lead 18-10. Then on their next possession they took over with 2:09 left and got a 53 yard pass and on the second play a 17 yard td pass, 25-10. At half UTSA had a 298-71 yard edge. UTEP went on a 66/13pl drive but settled for a 24 yard FG at the end of the 3Q, 25-13. UTEP punted, then was SOD at the UTSA23 with 8:30 left. UTSA went 77/10pl getting a 17 yard td run with 2:45 left for the 32-13 rout.
Mack Brown said during the week that Texas still had a shot a the Big 12 Title game but of course, entered under extreme pressure. David Ash hit 14-25-166 vs Kansas St but was re-injured and missed the 2H. UT appeared to have this one in control throughout but at times it was close. UT had a 452-390 yard edge. UT took its 2nd drive 75/18pl and settled for a 27 yard FG which was the problem they had last week vs Mississippi - settling for too many FG's in the 1H. They then got a 63 yard td pass to Kendal Sanders on the next drive to make it 10-0. After 1 punt, UT went 76/11pl for a 21 yard td run to make it 17-0. KSt would go 82/4pl capped by a 15 yard td run with 1:01 left to get back in it at 17-7 and UT had a 264-175 yard edge. UT opened the 3Q with a 56/7pl drive for a td, and a 37/11pl drive but missed a 45 yard FG, 24-7 (4:16 3Q). KSt went 72/14pl for a td and UT went 66/11pl for a td, 31-14 (9:11). KSt went 74/6pl on its next drive for a 1 yard td run, 31-21. KSt got a 52 yard pass to Tyler Lockett down to the 11 but on 1st & goal from the 7, fumbled. KSt forced a punt and got a 40 yard PR to the UT11 with 1:26 left but on 3rd & 23 was sacked and fumbled. Case McCoy hit 5-9-59 in the 2H and UT finished with a 452-390 yard edge.
UNLV had a 424-338 yard edge vs Western Illinois. Caleb Herring hit 14-20-140. UNLV punted on its first possession but after a short punt, went 46/5pl for a td to lead 7-0. WIU went on a 55/10pl drive but was SOD at the 20 and UNLV went 54/10pl for a 43 yard FG, 10-0. WIU went 57/12pl but on 4th & 1 was SOD at the UNLV18. UNLV led 17-0 at the half but with only a 200-158 yard edge. UNLV opened the 3Q with a 75/8pl drive for a td then after an interception, went 27/2pl for a td, 31-0. The Leathernecks went 61/5pl getting a 3rd & 9 td with 2:07 left in the 3Q, 31-7. UNLV punted but on its next drive went 58/5pl for a 4th & 1, 16 yard td run to ice it, 38-7. The Rebels last drive went 57/9pl and they got a FD at the 6 where the game ended.
Michigan had a close escape vs Akron the previous week and almost every player on the team vowed that they would come out with a vengeance vs Connecticut. Paul Pasqualoni almost got the win to get him off the hotseat. UM was intercepted at the UC23 on its first drive, but the Wolverines' 2nd drive went 69/11pl capped by a 3rd & 12 17 yard td run, 7-0. The next 6 possessions were punts then UC went 56/8pl and on 3rd & gl got an 11 yard td pass to tie it at 7. UM fumbled the punt on its own 9 and UC got a 7 yard td pass with 1:47 left to lead 14-7 and UC did have a 128-120 yard edge. On 3rd & 1 Devin Gardner tried a sneak and fumbled and UC returned it 34 yards for a td and UC led 21-7. UM got to 21-14 with 5:37 left in the 3Q and UC missed a 46 yard FG with 1:14 left. UM went 49/10pl but on 4th & 2 gained 1 yard to the UC22. However, UC was intercepted 3pl later and returned to the 12 and Fitzgerald Toussaint's 12 yard td run tied it at 21. UM got a 24 yard PR and, starting at the UC40 with 8:11 left, got 2 FD's and a 21 yard FG for the lead with 4:36 left. On 4th & 30 UC gained 26 yards on their last gasp to the UM41. Gardner hit 11-23-97 with 2 interceptions and Chandler Whitmer 16-32-159.
Washington St's hot start to the season continued as they dominated Idaho. On the Cougars 2nd possession they got a 3rd & 6, 43 yard td pass to lead 7-0. They punted and were intercepted on their next 2 possessions but then went 64/10pl for a td, 14-0 (8:11). UI fumbled at its own 20 and WSt got a 20 yard td pass on the next play, 21-0 (5:01 2Q). WSt then took over with 3:36 left in the half, went 60/8pl for a td with :19 left, 28-0 and had a 222-789 yard edge. WSt went 73/7pl but was intercepted in the endzone. UI, however, returned it out to the 1 and on 4th & 2 went for it from its own 20 and was stopped. WSt went the short field for the td, 35-0. UI went on a 10pl drive and missed a 45 yard FG and WSt went 72/10pl for a td, 42-0 (8:07). UI took over and would go on an 82/16pl drive to try to break the shutout. They converted on 4th & 4 with a PI and had a 1st & goal at the 2. Leach brought his starters back in to hold on to the shutout and they did, stuffing them on 4th & 1. Petrino was not happy about that after which made for an awkward handshake.
Last year Wyoming's Dave Christensen got into a shouting match with Troy Calhoun at the end of the game and it earned him a one game suspension and a $50,000 fine. You know this game vs Air Force was important to Christensen this year and Brett Smith made sure he left happy. Smith hit an outstanding 35-41-373 and also rushed for 138 yards. It was Wyoming's highest scoring output ever vs Air Force and they've been playing since 1957. AF has now lost 7 of their last 9, the worst stretch under Calhoun and UW had 34-24 FD and 622-473 yard edges. Things opened up solid for the Falcons as they went 75/6pl on their first drive for a td, 59/9pl for a 33 yard FG on their 2nd and led 10-7. On their 3rd possession they were stuffed on 4th & 1 at the UW34. Two plays later UW got a 61 yard td pass for the lead and then went 89/9pl, and 36/7pl (after a fumble) to go up 28-10. It was 42-17 at half as UW got a 10 yard td pass with :06 left. UW had a 454-258 yard edge. The Cowboys' first punt came with 3:30 left 3Q. AF was SOD at the UW8 with 14:57 left trailing 49-17. Each team drove for a td with UW getting one with 8:13 left and the 56-23 final.
UCLA's home crowd waved blue towels and wore t-shirts with "36" on it to honor Nick Pasquale who was tragically killed 2 weeks ago. The Bruins also honored Pasquale by running their first play with only 10 men. UCLA has scored 50 points in consecutive home games for the first time since 1973. UCLA finished with a 692-333 yard edge and Brett Hundley hit 23-35-280. It wasn't a blowout all the way as UCLA only led 7-0 after 1Q. They went 80/8pl for a td to start the 2Q then after an interception, went 23/4pl for a td to make it 21-0. They got a 20 yard PR with 1:40 left in the half setting up a 42/4pl td drive to make it 31-0 and New Mexico St had a 49 yard FG blocked. At the half UCLA, despite leading 31-0, only had a 299-167 yard edge. UCLA was intercepted in the endzone from the NMSt15 to open the 3Q but then went 87/14pl, 55/3pl for td's to lead 45-0. They then traded td's on the next 4 possessions with UCLA getting one with 4:38 left to close the scoring, 59-13. UCLA's last drive did start with 3:09 left at its own 46 and they got to the 1 where they took a knee.
Gary Pinkel got his 93rd win at Missouri tying Dan Devine for the 2nd most wins in school history, trailing only Don Faurot who has 101. James Franklin hit 32-47-343 vs Indiana. Nate Sudfeld hit 21-39-229 but it was Tre Roberson who saw the majority of the action in the 4Q. Indiana had been averaging 50 points per game but was held to 28. Missouri had a 623-475 yard edge. MU's first drive ended on an int at the IU4. Their 2nd went 69/9pl for a td, the 3rd ended on an interception at the 1, the 4th was a 50/6pl for a td while MU's D forced punts on IU's first 4 drives. MU fumbled at the IU41 and the Hoosiers went 59/9pl for a td to make it 14-7. It was 21-14 and IU had the ball threatening to tie when Sudfeld was intercepted and returned 49 yards for a td with 1:57 left in the half to make it 28-14. At half MU had a 363-224 yard edge. After a surprising 3 punts to open the 4Q, MU went 61/9pl for a 31 yard FG. There were 3 more punts and MU went 77/8pl for a td to make it 38-14. Sudfeld returned but IU was intercepted and returned 19 yards but MU missed a 39 yard FG. Roberson hit a 68 yard td pass with 11:24 left. MU punted but then drove 76/8pl for a td with 2:14 left to make it 45-20. After all of the turnovers inside the redzone, my Inside the Pressbox High Scoring Game of the Week caught a break when IU went 75/9pl and Roberson scored a 3 yard td run with :10 left.
Here's a surprising stat for you: Did you know that Hawaii actually had a 20-10 FD edge vs Nevada and 376-340 yard edge despite losing 31-9? UH lost starting QB Taylor Graham to injury in the 1H and would use 4 different QB's with Graham hitting 9-15-77, Sean Schroeder 8-14-74 and 2 int, Jeremy Higgins 5-11-51 and Ikaika Woolsey 2-5-41. UH went on a 53/13pl drive but settled for a 28 yard FG. On the Warriors next drive they were SOD at the UN28 and UN went 75/6pl and 72/6pl for td's and the lead. It was 17-9 at half with UN having a 244-232 yard edge. Schroeder was intercepted and UN drove 12 yards for a td to start the 3Q. UH missed a 47 yard FG, was intercepted at the UN34 and then UN got a 2 yard FR td with 10:25 left to extend it to 31-9. UH had a 1st & goal at the 9 but was sacked and fumbled, was intercepted at the UN6 and intercepted at the UN35 on their final 3 drives.
Clemson did not look like the #3 ranked team in the country vs NC State in the Thursday game. They finished with a slim 415-378 yard edge and the game really changed on a ref call. NCSt led 7-6 late in the 2Q when CU went for it on 4th & 1 and converted at the NCS11 and got an 11 yard td pass on the next play with 2:23 left in the half to lead 13-7. CU, which came in averaging 45 points, was held to 26. NC had knocked off #3 FSU at home the previous year. The key play I spoke of happened mid-3Q. NCSt had a FD at its own 17. They ran a WR reverse to Bryan Underwood who raced 83 yards for a td. The ref ruled he stepped OOB at the CU47 but he clearly stayed in bounds the entire time but since the whistle had blown, it was not reviewable. Three plays later on 3rd & 10, Thomas was sacked and fumbled and CU went 48/5pl getting a 30 yard td pass to go up 20-7, basically a 14 point swing as they would have trailed 14-13 with the td. CU did open it up to 26-7 and NCSt had shades of last year's FSU game where they converted on 4th down six times in the 2H. NCSt went on an 84/23pl drive where they converted on 4th & 10, 4th & 6, 4th & 10 and 4th & 6 and on 3rd & goal got a 4 yard td run with 3:50 left to only lose by 12. CU recovered the onside kick and on 4th & 7 from the NCSt22 passed up a FG which would have put them more than 14 points ahead and Roderick McDowell was tackled for a 4 yard loss with :36 left. NCSt was intercepted at the CU17 on the final play.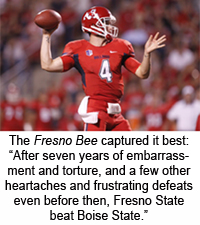 Boise St had dominated this series ever since they upset then-#8 Fresno St back in 2001. Boise had won 11 of 12 meetings with their only loss coming in '05. Derek Carr hit 39-60-460 yards and Joe Southwick hit 31-45-315. The 1H was competitive and FSU led 24-16 getting a 4 yard td pass with 2:28 left in the half. The Broncos went 64/13pl and got a 32 yard FG to pull within 24-19. FSU got the ball to open the 2H and opened with a 79/12pl drive for a td. Boise was SOD on 4th & 1 at the FSU21, fumbling after getting a FD and FSU went 68/10pl and took a 34-19 lead. The Broncos then got a 58 yard KR setting up a 35 yard td run. Boise went 89/13pl and got a td with 8:28 left but failed the 2 point conversion and trailed 34-32. FSU did not recover the squib KO and Boise fell on it at the FS32 and Southwick's 1 yard td run 4pl later put the Broncos ahead 40-34 with 7:04 left. FSU went 87/13pl and got a 1 yard td run with 2:14 left and Boise, on 4th & 6 at the FSU49, had a dropped pass and FSU took a knee. Boise had 32-27 FD and 561-522 yard edges. Now, if the two meet in the MW Title game, FSU will be a home.
Follow Phil Steele anywhere!

•

•

•
•

•

•

•

•
Phil Steele is a college football analyst who has been publishing his annual College Football Preview since 1995. His magazine is regarded as one of the best in the business.
Google+