| | |
| --- | --- |
| Daily Blog • September 30th | |
As far as my game grades go after the 2008 season was completed, I devised a power ratings system, which lets me analyze at what level each team played during an individual game. This "game grade" takes into account the yards rushing, yards passing, points scored, rushing yards allowed, passing yards allowed and points allowed and factors them in against the opponent played and even factors in the site the game was played at.

With all these factors taken into consideration you will see teams that lost the game having a better individual game grade than teams that beat them simply because the team they played was superior and much less was expected of them.
Week 5 Top 25 Team Performances (Game Grades)
| | | | | | | | | | | | | |
| --- | --- | --- | --- | --- | --- | --- | --- | --- | --- | --- | --- | --- |
| | | | | OFF | OFF | OFF | DEF | DEF | DEF | | Total | Game |
| RANK | TEAM | | FOE | RUSH | PASS | PTS | RUSH | PASS | PTS | TO's | Yards | Grade |
| 1 | Alabama | | Mississippi | 254 | 180 | 25 | 46 | 159 | 0 | 1 | 229 | 114.29 |
| 2 | Stanford | at | Washington St | 238 | 322 | 55 | 51 | 322 | 17 | 1 | 187 | 109.34 |
| 3 | Clemson | | Wake Forest | 166 | 407 | 56 | 60 | 162 | 7 | 2 | 351 | 106.81 |
| 4 | Arizona St | | USC | 261 | 351 | 62 | 247 | 295 | 41 | 3 | 70 | 103.51 |
| 5 | Boise St | | Southern Miss | 229 | 316 | 60 | 103 | 163 | 7 | 2 | 279 | 102.96 |
| 6 | Oklahoma | at | Notre Dame | 212 | 238 | 35 | 220 | 104 | 21 | 3 | 126 | 102.69 |
| 7 | East Carolina | at | North Carolina | 227 | 376 | 55 | 67 | 398 | 31 | 0 | 138 | 100.98 |
| 8 | Florida | at | Kentucky | 246 | 156 | 24 | 48 | 125 | 7 | 0 | 229 | 99.44 |
| 9 | Washington | | Arizona | 244 | 165 | 31 | 199 | 119 | 13 | 1 | 91 | 97.30 |
| 10 | Iowa | at | Minnesota | 246 | 218 | 23 | 30 | 135 | 7 | 1 | 299 | 97.04 |
| 11 | Georgia | | LSU | 196 | 298 | 44 | 77 | 372 | 41 | 0 | 45 | 96.16 |
| 12 | Utah St | at | San Jose St | 253 | 267 | 40 | 101 | 336 | 12 | 4 | 83 | 95.81 |
| 13 | Miami, Fl | at | USF | 165 | 375 | 49 | 99 | 189 | 21 | -1 | 252 | 95.21 |
| 14 | Oregon | | California | 264 | 117 | 55 | 149 | 176 | 16 | 3 | 56 | 94.82 |
| 15 | Virginia Tech | at | Georgia Tech | 55 | 221 | 17 | 129 | 144 | 10 | 3 | 3 | 94.60 |
| 16 | Oregon St | | Colorado | 120 | 420 | 44 | 154 | 146 | 17 | 2 | 240 | 94.27 |
| 17 | Ohio St | | Wisconsin | 192 | 198 | 31 | 192 | 295 | 24 | 1 | -97 | 93.90 |
| 18 | LSU | at | Georgia | 77 | 372 | 41 | 196 | 298 | 44 | 0 | -45 | 93.43 |
| 19 | Wisconsin | at | Ohio St | 104 | 295 | 24 | 192 | 198 | 31 | -1 | 9 | 93.15 |
| 20 | BYU | | Middle Tenn | 309 | 177 | 37 | 107 | 105 | 10 | -4 | 274 | 91.19 |
| 21 | South Carolina | at | UCF | 225 | 265 | 28 | 69 | 358 | 25 | 0 | 63 | 90.28 |
| 22 | West Virginia | | Oklahoma St | 68 | 320 | 30 | 111 | 322 | 21 | 1 | -45 | 89.77 |
| 23 | Texas A&M | at | Arkansas | 262 | 261 | 45 | 201 | 282 | 33 | 2 | 40 | 89.10 |
| 24 | Vanderbilt | | UAB | 206 | 334 | 52 | 156 | 206 | 24 | 1 | 178 | 88.99 |
| 25 | Florida St | at | Boston College | 159 | 330 | 48 | 200 | 197 | 34 | 1 | 92 | 88.58 |
Week 5 News and Notes Part 1
By Phil Steele
Virginia Tech's Logan Thomas had a fine night hitting 19-25-225 despite coming in completing less than 50% of his passes. Georgia Tech's rush offense ranked #4 in the country, but was held to 129 yards - more than 200 below the season average - by an outstanding VT D despite the fact that VT had a short practice week to defend the option. The active VT def front controlled their O-line during the game. VT forced an early fumble and drove 27/pl for a td then got an interception at its own 13 mid-1Q. VT took its 3rd drive 91/10pl for a td and a 14-0 lead and it was 14-3 at half with VT having a 181-160 yard edge. GT got a big 3&8, 40 yard pass on the opening drive of the 3Q and would go 82/14pl including an unnecessary VT pass interference in the endzone on 3&gl from the 10. VT punted but then went 26/8pl for a 39 yard FG to go up by 7. The Yellow Jackets went for it on 4&2 at their own 34 and were stopped but the Hokies, after 1 FD, missed a chipshot 25 yard FG which could have clinched it. After each team punted, GT would get to midfield but on 4&13, was intercepted from its own 42 with 1:06 left.
Tulsa's Cody Green hit 18-31-237 vs Iowa St but lost control on a couple of exchanges with the RB and also dropped the ball while attempting to pass and had an interception. He was replaced on the 3rd series of the 3Q by Dane Evans who hit 8-18-51. Evans QB'd 3 drives but then Green came off the bench with the team down 31-14 and guided Tulsa 75/9pl for a td. His next drive ended on an interception at the TU35 setting up Iowa St's clinching 26/6pl drive capped by a td run which came on 4&1. This appeared to be a low scoring battle as it was 7-0 mid-2Q but TU went 69/8pl for a td with 4:58 left in the half to tie it at 7. After a Cyclones' punt, the Golden Hurricane went 61/5pl for a 9 yard td pass with 1:33 left, 14-7. Then the Cyclones went 66/8pl and on 3&7 got a 10 yard td pass with :15 left in the half to make it 14-14. At the end, Green's interception had set up Iowa St with 3:44 left. The Cyclones got 1 FD then on 4&1 a 3 yard td run made the final 38-21 (59 points). Iowa St had 25-22 FD and 434-374 yard edges and Sam B. Richardson, while still not 100%, hit 26-41-255 and rushed for 25 yards on 14 carries.
BYU only ran 8 plays in the 1Q as Middle Tenn had almost 12:00 TOP. Both showed explosive return games with MT taking the opening KO 50 yards to the BYU40, setting up a 42 yard FG and BYU getting a 90 yard KR to the 5 setting up a 3&gl, 12 yard td run by Taysom Hill, 7-3. BYU fumbled the punt at its own 24 and MT converted on 4&1 then on 3&gl from the 16 for a td to lead 10-7. BYU went 51/9pl but on 1&gl at the 3 fumbled. After MT was tackled for a safety, BYU went 74/5pl but on 2&6 from the 6, Michael Alisa fumbled into the endzone for a touchback costing BYU its 2nd score. BYU would get a 50 yard td run by Hill and a 67/7pl drive for a 2 yard td run with :15 left in the half, 23-10. BYU opened the 3Q with a 60/12pl drive to take command, 30-10. MT was SOD at the BYU41 and BYU got a 71 yard PR td with :28 left in the 3Q, 37-10. BYU fumbled the 2nd punt at the MT49 but the D forced a 3&out. BYU was intercepted 2pl later at their own 12 but MT was intercepted in the endzone with 12:14 left. MT went 73/12pl and on 4&1 was SOD at the BYU7 with 5:17 left. The Cougars went 43/8pl and ran out the clock and finished with a commanding 486-212 yard edge.
It's surprising that the Utah St/San Jose St game only had 52 total points in it. Last week the high for FD's for the week in an FBS vs FBS game was 50 FD's. In this game USt had 32 FD's and SJSt 28 for a total of 60, yet the 2 would combine for just 52 points despite nearly 1,000 yards offense. The Aggies went on a 75/10pl drive to open for a td and the Spartans went 69/14 for a 31 yard FG, 7-3. USt went 80/7pl and 73/12pl, the first for a td but after a 1&gl at the 4 they settled for a short FG. SJSt went on a 66/11pl drive and after a 1&gl at the 7, settled for a 26 yard FG. The Aggies went 82/9pl but settled for a 24 yard FG also inside the 10. SJSt went on a 61/5pl drive and missed a 42 yard FG and USt had a 321-207 yard edge at the half yet the score was just 23-6. The Spartans went 57/16pl but on 3&gl from the 1 fumbled and it was returned 24 yards. USt went 75/12pl for a td to lead 30-6. SJSt went 54/7pl for a td with 3:02 left in the 3Q, 30-12. USt, after an interception, went 28/5pl for a td, 37-12 with :15 left in the 3Q. The Aggies went on an 88/7pl drive, but after a 1&gl they settled for a 21 yard FG, 40-12, with 5:25 left and that closed the scoring.
Pitt was fortunate to escape the Virginia game with a 14-3 win. UVA came in with my #1 pass efficiency D allowing just 37% completions and held Tom Savage to 13-30-190. Three times UVA went for it on 4th down and was stopped in Pitt territory and Pitt's 2 td's were set up by a bonehead PR man and a fumble (19 and 18 yard "drives"). Pitt had just a 199-188 yard edge. The first score happened when UVA's Dominique Terrell let the ball bounce on the punt and then followed it down the field when he should've gotten away from it. The ball naturally hit him in the leg and Pitt recovered to set up its 19 yard drive. The 2nd came on a fumble on 3&10 and the Panthers drove 18/2pl for a td and a 14-0 lead. The Cavs went for it on 4&2 at the P27 and was SOD twice; first with 8:21 left in the 2Q and then on 4&4 at the P29 with 5:27 left before half. Pitt did miss a 36 yard FG. At half the Panthers only had a 94-76 yard edge. UVA drove 37/7pl and this time on 4&2, took a 32 yard FG. Instead of potentially trailing 14-9, the Cavs were still down 14-3 so they were forced to go for it on 4&2 with 3:30 left at the P4 and once again were SOD for a 3rd time.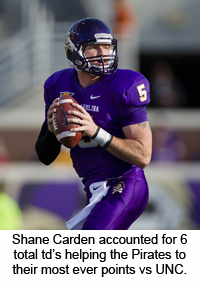 East Carolina's Vintavious Cooper ran for a career high 186 yards as they smashed North Carolina 55-31. They had 36-26 FD and 603-465 yard edges. The last time ECU beat UNC on the road was back in 1975. In the previous game ECU's offense had taken on an excellent VT D and was sacked 7 times with QB Shane Carden tossing 3 interceptions. However, in this game he accounted for 6 td's (3 passing, 3 rushing). Not only did ECU produce 603 yards, but Carden hit 32-47-376. The Pirates went 73/11pl on their first possession and 54/8pl on their 2nd possession for a 14-0 lead and would extend it to 35-10 after their first drive of the 3Q. Each scored on the next 6 drives with ECU settling for 32 and 29 yard FG's and only led 48-31. The Pirates then forced a punt and went 68/6pl for a td with 3:33 left on 4&1, a 48 yard pass to make the final 55-31.
South Carolina had scored 72 of their 90 points on the season in the first half of their 3 games with only 20 in the 2H, but it was the opposite here. UCF dominated the 1H leading 10-0 with a 196-164 yard edge. Things didn't look good for the Gamecocks when starting QB Connor Shaw sprained his right shoulder at the start of the 2Q and missed the final 3Q's (reportedly out 2-3 weeks). SC got a 53 yard td run on the 4th play of the 2H and would take the lead with 3:58 left in the 3Q capping a 97/11pl drive. After an interception they drove 34/6pl and after a fumble they drove 31/4pl to blow it open, 28-10. It was 28-18 when SC took over with 6:48 left and went 78/9pl. They got a 45 yard pass to the 2 yard line but then fumbled on the next play with 3:18 left and UCF got a 79 yard pass to Breshard Perriman and a 7 yard td pass to Rannell Hall to pull within 3 with 1:54 left. SC returned the onside kick 31 yards to the UCF15 and took a knee.
Tennessee could have turned the South Alabama game into a blowout but blew 2 scoring opportunities and it almost came back to bite them. USA took its opening possession 82/6pl for a td but UT wore them down. Trailing 7-3 the Vols went 92/9pl, 69/7pl, and 73/4pl all for td's to lead 24-7. UT's next drive got to the USA24 but on 3rd down they were intercepted in the endzone with 6:40 left. UT then went 74/13. On 2&gl from the 4 with :25 left in the half they were intercepted in the endzone and returned 14 yards. What could have been a 38-7 lead was just 24-7. UT opened the 3Q with a 76/6pl td drive to make it 31-7. The Jaguars forced their first punt since UT's first drive of the game and got a 58 yard PR all the way down to the UT15. USA went 15/2pl for a td; 68/10pl for a 24 yard FG; then 37/9pl but missed a 41 yard FG. UT went for a 52 yard FG with 10:52 left and not only was it short, but USA returned it to the UT29. That 52 yarder was forced when the Vols faked a 47 yarder and were successful for a big gain but illegal procedure brought it back 5 yards. The Jaguars went 29/6pl for a td to pull within 7. USA got it back with 7:53 left on its own 13 and went 79/16pl getting a 4&gl from the 8 when they were intercepted in the endzone.
Last week after their loss to Maryland, Mountaineers' Coach Holgorsen said that Ford Childress was still his starter, but he was injured so they went to their third starting QB in Florida St transfer Clint Trickett, who I projected as the starter in my magazine in the spring. Trickett hit 24-50-309 yards vs Oklahoma St and West Virginia, as a 3 td dog, pulled the upset, 30-21. JW Walsh went through a stretch where he had 6 consecutive incompletions and hit 20-47-322. In the 1H OSU had a 280-169 yard edge but the game turned with OSU up 7-0 and WV having 1 FD. OSU, leading 7-0 and WV got a 58 yard IR td to tie it at 7. The Mountaineers would use that momentum to lead 24-14 at the half with the Cowboys missing a 44 yard FG. OSU had a 280-169 yard edge at the half. OSU opened the 3Q with a 58/4pl td drive and WV went on a 10pl drive and missed a 50 yard FG. It was just a 3 point game. The teams punted on the next 5 possessions. WV went 60/6pl and missed a 34 yard FG. 2 punts. OSU got a 36 yard PR to the WV44 and had a 1&gl at the 3 threatening to take the lead but settled for a 23 yard FG and missed it. After each team punted, WV took over with 7:27 left and went 42/10pl and got a 27 yard FG for a 6 point lead then 2pl later got an interception at the OSU36 and 7pl later added a 34 yard FG with 1:28 left to clinch it. WV had just 6 FD's last week but had a 21-18 FD edge here.
TCU had a very misleading 48-17 win over SMU. They only had a 16-15 FD edge and 335-292 yard edge. In the 1H Trevone Boykin was just 7-16 and SMU controlled. They should have been leading by more than their 10-7 edge and TCU was booed some in the 1H. SMU was intercepted at the TCU25 and fumbled at its own 30 but led 10-7 at the half with a 147-120 yard edge. The Horned Frogs punted on their opening 3Q possession but then got a 24 yard PR to set up a 35 yard FG to tie it. The Mustangs were intercepted and returned 25 yards and TCU, on 3&18, got a 20 yard td pass to cap the 32 yard "drive" and led 17-10. TCU got a 56 yard td pass to go up by 14 but the game was 34-17 with 3:00 left. SMU tried the onside kick and not only did TCU's LaDarius Brown have the ball bounce up and hit him directly in the chest, he raced 45 yards for a td to put the Frogs up by 24 with 2:54 left. TCU added an IR td with 1:34 left for the misleading final.
As expected, Illinois dominated Miami, Oh with 36-14 FD and 601-250 yard edges. They led 36-0 at the half (UI 394-104 yard edge). Nathan Scheelhaase hit 19-24-278. MU's 104 yards of offense at the half were more than they had for the total game in either of their previous two. UI led 43-0 when MU went 75/9pl for a 1 yard td run then backup QB Reilly O'Toole was intercepted and MU went 41/9pl to pull within 43-14. UI answered with a 75/10pl drive and then 3rd string QB Aaron Bailey came in. UI went 40/12pl getting to the MU6 where they took a knee.
It was a first time a MAC team had beaten two Big Ten foes in the same season ever. Northern Illinois was actually outFD'd 29-22 and outgained 524-402 but had a 5-1 TO edge which helped them turn this one against Purdue into a blowout. Starting QB Rob Henry was pulled and true frosh Danny Etling came in late in the 1H and QB'd the rest of the game hitting 19-39-241. Trailing 20-7 PU was intercepted and returned 50 yards and NI went 29/4pl for a td, 27-7. PU seemed to gain momentum with a 47 yard FG on the 1H's final play to pull within 27-10 and PU had a 280-246 yard edge at the half. NIU got a 99 yard KR to open the 3Q then a 62 yard IR td. PU was SOD at the NI34 at the start of the 4Q and NIU went on to a 55-24 win.
Miami, FL's Stephen Morris hit 11-16-222 but re-injured his ankle, and although it wasn't very serious they were able to hold him out the rest of the game vs USF. USF struggled and the game was not as close as the 49-21 final. UM did not punt in the 1H, fumbling twice deep in USF territory and missing a FG. They had a 35-7 lead and a 411-125 yard edge. Backup QB Ryan Williams came in with 7:19 left in the 2Q and hit 8-14-153. It was 49-7 when USF got an 11 yard IR td with 13:38 left then USF took over at its own 4 with 3:01 left and went 96/9pl and got a 4&5, 16 yard td pass on a garbage drive that made the yards appear close at 540-288 and only a 28 point margin.
Navy's offense had been unstoppable but WKU had 23-10 FD and 417-183 yard edges. They did lose starting QB Keenan Reynolds late in the 2Q and would have just 65 yards offense in the 2H. The Midshipmen had 67 yards on their opening drive of the game and very little after that. Surprisingly it was 7-3 at the half with WKU being intercepted and missing a 36 yard FG. WKU's RB Antonio Andrews rushed for 182 yards - almost outgaining Navy for the game. The Hilltoppers were SOD at the N22 but went 61/8pl on their next drive to lead 17-7.
Bowling Green struggled at times vs Akron. The Zips opened with 67/3pl and 72/12pl td drives and led 14-3. The two teams combined for 5 punts on the next 5 possessions. BG blocked a punt with 4:53 left in the half and got a 22 yard td pass with 1:41 left to gain momentum. They only trailed 14-10 with Akron having a 204-159 yard edge. BG went 69/11pl, and 60/6pl for td's to lead 24-14. The key play happened when Akron went 74/11pl. On 4&gl at the 1 they settled for a 19 yard FG, much like last week when they missed FG's in the final minutes of the game. They missed the 19 yard FG and BG went 80/13pl getting an 11 yard td run with 4:49 left to have their biggest lead of the game, 31-14 and Akron's final drive was SOD at its own 31. BG had a 396-296 yard edge.
Ball St had 463-415 yard and 29-23 FD edges. Toledo got a 23 yard FR td to lead 10-7 late in the 1Q and the Cardinals went 70/5pl but settled for a 22 yard FG. BSt went 73/8pl for a td to lead 17-10 and had a 275-126 yard edge at the half. On UT's second 3Q drive they went 68/13pl but fumbled at the 9. UT went 80/9pl for a td to tie it. It was tied 24-24 with 6:20 left when Ball St went 71/8pl for a td with 3:01 left. UT's last gasp came on 4&6 at the BS49 when they fired incomplete. Keith Wenning hit 27-38-335 and Terrance Owens, who almost didn't play last week, but was forced to come off the bench (still not 100%) hit 34-46-274 this week.
Troy and Duke had the expected shootout but surprisingly the 4Q was almost scoreless. After the first 3 possessions were punts, there were 7 scoring drives on the next 9 possessions and Duke led 28-21 at the half with a 322-275 yard edge. Troy opened the 3Q with a 91/7pl td drive to tie then Duke went 75/10pl for a td, 35-28. Surprisingly the next 10 possessions there were 8 punts with the only non-punts being a Troy 50/11pl drive for a 37 yard FG with 12:49 left which made it 35-31. Duke took over with 5:11 left and went 51/9pl settling for a 34 yard FG for the 38-31 final. Troy got to midfield but its deep pass was intercepted at the 6 on the last play.
Tajh Boyd became the second ACC QB to account for 100 career td's and hit 17-24-311 yards vs Wake Forest while backup Cole Stoudt got plenty of action and was impressive again hitting 10-11-90. Clemson finished with a 573-222 yard edge. They led 35-7 at the half with a 361-142 yard edge even with CU punting on 3 consecutive possessions. After punting on their first drive of the 3Q, the Tigers went 46/10pl, 72/9pl, and 56/12pl for td's en route to their 56-7 win.
Oklahoma had 25-12 FD and 450-324 yard edges but did benefit from 3 TO's, including one on the third play of the game when an interception was returned 24 yards for a td. Notre Dame was intercepted on the very next play, the second interception on 4 plays and Oklahoma turned it into a 32/4pl td drive. Trailing 14-7, ND had a 3&10 from the OU24 but was intercepted at the 12 with 5:25 left in the half and the Sooners went 88/10pl and got a 26 yard td pass with :42 left for a 21-7 lead. The Irish actually had a 190-164 yard edge at the half. Oklahoma, leading 21-14 would go 43/9pl, and 65/9pl for 27 and 19 yard FG's. The Irish got a 30 yard td pass to pull within 27-21, but on 3&3 OU got a 54 yard td pass to go up 35-21. ND punted on its next 3 possessions and the Sooners took over with 5:39 left and went 38/10pl taking a knee at the ND17. Blake Bell hit 22-30-232 and Tommy Rees just 9-24-104.
Florida St went on the road and once again had a "B" or even a "C" game as they only had a 519-407 yard edge vs Boston College and a 25-22 FD edge. Special teams did set BC up for some key drives. A 19 yard PR set up the Eagles for a 36/8pl td drive, but then up 7-3, BC took its 2nd possession 75/10pl for a td and a stunning 14-3 lead. Florida St tied it at 17 and got the ball back with :50 left in the half. On 3&5, Jameis Winston just got the snap off, avoided a sack and threw a 53 yard Hail Mary to Kenny Shaw to give FSU a 24-17 halftime lead and 260-182 yard edge. FSU appeared on its way to a 4 td blowout as they opened it up to 38-20 after their second drive of the 3Q and 47-27 with 13:41 left, but FSU's D could not get BC off the field. BC went 75/7pl to get within 14, then got an interception. They drove 43/14pl but were intercepted at the 1 and returned 30 yards and FSU basically ran the clock.
Iowa absolutely dominated Minnesota, much as I expected. As I mentioned on my website a couple times during the week, Iowa came in having outgained foes by 135 ypg on the year and UM, despite a 4-0 record and 4 weak opponents, was just +15 ypg. That information proved valuable as Iowa had 464-165 yard and 22-11 FD edges. Philip Nelson did return to the starting lineup for UM but hit 12-24-135. Jake Rudock was 15-25-218. This time the yardage looked like the final margin of the game with Iowa winning 23-7. The Hawkeyes led 17-0 at the half with a 229-80 yard edge. They opened the 3Q with a 75/15pl drive but settled for a 23 yard FG. UM got a 66 yard KR to set up its only score, a 23 yard td pass and Iowa went 54/8pl but on 2&3 from the 17 was intercepted in the endzone. Iowa went 62/11pl but settled for a 46 yard FG and Iowa ended the game at the UM17 yard line taking a knee in their dominating win.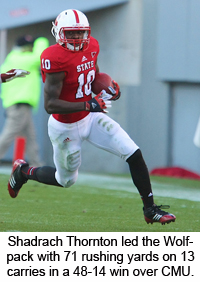 Shadrach Thornton, who was suspended for the opener for NC State, finally got fully integrated into the lineup and led the team with 71 yards rushing on 13 carries against Central Mich. The Wolfpack had 486-248 yard and 19-13 FD edges but did benefit from scoring on defense and special teams. NCSt got a 37 yard IR td to lead 7-0. CMU went on a 59/10pl drive but missed a 38 yard FG. NCSt went 68/9pl then 67/2pl for td's and added a 67 yard IR td to go up 28-0. They went 64/5pl for a td and led 35-0 at the half with a 284-93 yard edge. NCSt was intercepted at the CM13 but drove 36/9pl for a 46 yard FG. CMU went 78/9pl for a td to make it 38-7, then 53/3 to make it 38-14. However, the Chips were intercepted in the endzone with 9:38 left; intercepted at their own 43 with 8:39 left; and SOD at the NCSt38 on their last 3 possessions.
We're already 2-for-2 for Coaches on the Hot Seat listed in our summer blog being fired. After a 41-12 loss to Buffalo, Connecticut's Pasqualoni was shown the door on Monday. Buffalo was not as dominant as their 41-12 final would indicate but did have a 330-220 yard edge although the FD's were just 15-14. Conn turned the ball over 4 times and opens the season 0-4. The Huskies were off a big effort vs Michigan and now had to travel to face a Bulls team that was off a bye so the situation greatly favored Buffalo. Chandler Whitmer hit 10-24-182 but turned it over 4 times and was replaced by Casey Cochran who hit 2-5-11. UB recovered a fumble and drove 8/4pl for a td, got a 33 yard IR td, and then drove 76/4pl for a 21-6 lead. They blocked a 48 yard UC FG and recovered at the UC36 and 4pl later had a 28-6 lead. UC actually had a 208-169 yard edge at the half despite trailing 28-12. UB went 26/10pl for a 49 yard FG then after an int, 19/5pl for a 50 yard FG, 34-12. They added a 64/9pl drive for a td with 10:28 left for the 41-12 final.
Garrett Grayson hit 17-28-307 for Colorado St. Jameill Showers hit 26-43-365 yards for UTEP. Each team went on a long drive for a td to open. After each team punted, CSt went 56/6pl, 71/7pl, and 55/7pl for td's and a commanding 28-7 halftime lead with a 252-115 yard edge. UTEP got a 75 yard td pass from Showers to Jordan Leslie on the first play of the 3Q. After CSt fumbled, Showers, found Leslie on a 48 yard td pass 2pl later. UTEP drove 68/7pl for a td and with 8:01 left in the 3Q tied it at 28. The Rams missed a 35 yard FG but the Miners on 3&14 were sacked in the endzone for a safety. They fumbled at the end of the next possession and CSt would get 56/3pl and 60/5pl drives for td's to lead 45-28. After UTEP was SOD at the CS25, the Rams put it away with a 75/5pl drive for a td, 52-28. Each team would score a td in the final 3 possessions with the Miners coming after they took over with 3:08 left and went 72/12pl capped by a garbage 21 yard td pass on 4&10 with no time left.
Georgia played its 3rd top 10 team in the month of September and the LSU/UGA game lived up to the hype. Zach Mettenberger hit 23-37-372 and Aaron Murray 20-34-298. For all of the talk about Murray not being able to defeat a top 10 foe, he played well and guided the game winning drive. At the half UGA had a commanding 306-133 yard and 17-7 FD edge and led 24-17. The teams traded scores on the first 3 possessions of the 2H but then LSU fumbled a punt at its 20 and on 3&11 Murray tossed a 21 yard td pass for a 34-27 lead. They scored on the next 3 possessions with UGA settling for a 38 yard FG and LSU getting a pair of td's to take a 41-37 lead with 4:14 left. Murray then led a 75/6pl drive and had a 25 yard td pass with 1:47 left. LSU got out to its own 45 but on 4&10 fired incomplete.
A storm pushed the Army/Louisiana Tech game back about an hour prior to KO and the game was delayed again in the 1Q. Army had 28-20 FD and 430-377 yard edges on the opening weekend of the Texas State Fair, playing in the Cotton Bowl, the same place where Texas and Oklahoma play. Angel Santiago hit just 1-3-16 but Army rushed for 414. LT's Ryan Higgins hit 20-36-320. Army went 82/13pl and 66/13pl on their first 2 possessions for td's and a 14-0 lead. It was 21-9 at half with Army having a 267-153 yard edge. Each team went on a long td drive to open the 3Q, 28-16. After an exchange of punts, Army went 61/12pl for a td to make it 35-16 with just 8:52 left. LT punted with 7:44 left; fumbled at its own 49 with 6:30 left; and was intercepted at the one on the final play as they gained 46 yards on the garbage drive, converting on 3&19, 3&6 and 3&10.
I was surprised that Temple was favored by a td in the Kibbie Dome and was also impressed with the home crowd for Idaho. While nowhere near a sellout, it was an enthusiastic crowd. In the 1H Idaho rolled to a 273-146 yard edge. They got a 64 yard td pass on their first possession to lead 7-0 and would never trail. They extended the lead to 17-3 at the half, missing a 50 yard FG with :02 left. Temple battled back in the 2H getting within 20-10 after 3Q's. Trailing 23-10 they got a 51 yard td pass with 12:54 left to get within 6. Idaho got a 25 yard FG with 6:11 left and Temple would go 75/10pl for a 2 yard td run with 3:32 left to get within 2. Idaho got a crucial 3&10 run by Chad Chalich for a FD and didn't have to punt until :10 was left. Chalich hit 26-43-310 while Temple's Connor Reilly hit 23-47-249 and Idaho had a 478-410 yard edge for the game.
The key play in the Houston/UTSA game was a blocked FG in the 3Q. UH not only returned that 78 yards for a td, they had a 5-0 TO edge in their dominating 59-28 win over UTSA. John O'Korn continues to impress me hitting 24-36-312 despite being knocked out of the game for a series. They also have a running QB in Greg Ward Jr. who hit 2-3-29 and rushed 4 times for 11 yards. Also impressive was UTSA's offense which rolled up 493 yards as Eric Soza, a senior QB, hit 29-40-316. The game was 21-21 at the half and UH settled for a 25 yard FG. UTSA lined up for the game tying FG but UH not only blocked it, but returned it 78 yards for a td with 3:11 left in the 3Q. After each team scored a td, UH got an interception setting up a 26 yard FG and missed it. Another interception set up a 54/7pl drive for a td. Two possession later an interception set up a 15 yard td run and UH capped the scoring with :46 left on a 96 yard IR td so the game was much closer than the 59-28 final.
Oregon St's Sean Mannion continues his red hot start to the season. He hit 27-52-414 yards despite gusty wind conditions and he had 4 td passes. Connor Wood for Colorado hit just 14-34-146 yard. While the Beavers led 17-3 at half, they had 285-112 yard and 14-4 FD edges as they settled for a 36 yard FG and fumbled at the CU19 but did score a td with :11 left in the half. They opened it up to 38-3 and Mannion on 4&3 from the CU9 fired incomplete late in the 3Q. It was 44-11 when CU took over with 1:18 left and went 80/5pl getting a 28 yard td pass with :12 left on a great catch by Paul Richardson.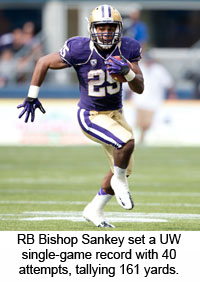 Bishop Sankey ran for a school record 40 rush attempts for Washington and had 161 yards in a battle of RB's. Ka'Deem Carey for Arizona rushed 30-132. It was stormy conditions so both were forced to rely more on the ground. Keith Price hit just 14-25-165 and BJ Denker was definitely bothered by the wet conditions hitting 14-35-119. The Wildcats did not have a FD on their first 5 possessions. Rich Rodriguez chewed Denker out on the sidelines late in the 2Q and Arizona went 89/14pl. They got a 3 yard td run with :06 left in the half to pull within 11-6. At the half, thanks to that final drive, they were only being outgained 152-149. UW opened the 3Q with a 95/14pl drive for a td but Arizona went 72/15pl getting a 7 yard td run by Denker 2pl after converting on 4&10. UW went 90/10pl for a td, 25-13 and UA was SOD at the UW41. UA was intercepted at the UW37 with 7:36 left and the Huskies went 59/10pl getting a 2 yard td run with 3:34 left to close the scoring. UW had 409-318 yard and 24-19 FD edges.
Florida lost QB Jeff Driskel and DT Dominique Easley to season ending injuries within the week. Tyler Murphy got his first start and hit 15-18-156 while rushing for 36 yards on 7 carries. UF had a dominating 402-173 yard and a 22-12 FD edge. I expected a defensive struggle and it surprised me that the first 2 drives of the game both went for td's. UF went 93/13pl for a 2 yard td run. Kentucky went 75/10pl. On 4&9, they faked a FG and K Joe Mansour took the flip over the shoulder from the holder and raced 25 yards for a td. UF missed a 53 yard FG on its 2nd drive, but went 79/3pl for a td on its 3rd and 62/9pl for a td on its 4th to lead 21-7 at half with a 261-124 yard edge. UF was intercepted at the UK24 and went 64/15pl for a 33 yard FG with 10:49 left to lead 24-7. UK's last gasp ended on a 4&28 Hail Mary pass at the UF38.
more to come....
Follow Phil Steele anywhere!

•

•

•
•

•

•

•

•
Phil Steele is a college football analyst who has been publishing his annual College Football Preview since 1995. His magazine is regarded as one of the best in the business.
Google+