| | |
| --- | --- |
| Daily Blog • September 16th | |
As far as my game grades go after the 2008 season was completed, I devised a power ratings system, which lets me analyze at what level each team played during an individual game. This "game grade" takes into account the yards rushing, yards passing, points scored, rushing yards allowed, passing yards allowed and points allowed and factors them in against the opponent played and even factors in the site the game was played at.

With all these factors taken into consideration you will see teams that lost the game having a better individual game grade than teams that beat them simply because the team they played was superior and much less was expected of them.
Here are the Top 25 Game Grades (Team Performances from Week 3)
| | | | | | | | | | | | | |
| --- | --- | --- | --- | --- | --- | --- | --- | --- | --- | --- | --- | --- |
| | | | | OFF | OFF | OFF | DEF | DEF | DEF | | Total | Game |
| Rank | Team | | Foe | RUSH | PASS | PTS | RUSH | PASS | PTS | TO's | Yards | Grade |
| 1 | Oregon | | Tennessee | 216 | 471 | 59 | 178 | 138 | 14 | 1 | 371 | 118.14 |
| 2 | Florida St | | Nevada | 377 | 240 | 62 | 128 | 86 | 7 | 0 | 403 | 113.25 |
| 3 | Ole Miss | at | Texas | 272 | 177 | 44 | 124 | 196 | 23 | 0 | 129 | 112.75 |
| 4 | UCLA | at | Nebraska | 210 | 294 | 41 | 128 | 203 | 21 | 0 | 173 | 104.72 |
| 5 | USC | | Boston College | 257 | 264 | 35 | 101 | 83 | 7 | 0 | 337 | 104.56 |
| 6 | Alabama | at | Texas A&M | 234 | 334 | 49 | 164 | 464 | 42 | 1 | -60 | 102.95 |
| 7 | Oklahoma | | Tulsa | 194 | 413 | 51 | 95 | 226 | 20 | 1 | 286 | 102.19 |
| 8 | Indiana | | Bowling Green | 266 | 335 | 42 | 136 | 273 | 10 | 0 | 192 | 101.04 |
| 9 | South Carolina | | Vanderbilt | 220 | 359 | 35 | 121 | 147 | 25 | -1 | 311 | 100.60 |
| 10 | Georgia Tech | at | Duke | 344 | 125 | 38 | 132 | 122 | 14 | -1 | 215 | 99.94 |
| 11 | Texas A&M | | Alabama | 164 | 464 | 42 | 234 | 334 | 49 | -1 | 60 | 98.68 |
| 12 | Washington | † | Illinois | 273 | 342 | 34 | 136 | 191 | 24 | -1 | 288 | 98.29 |
| 15 | Louisville | at | Kentucky | 242 | 250 | 27 | 162 | 214 | 13 | 2 | 116 | 93.61 |
| 16 | Wisconsin | at | Arizona St | 231 | 210 | 30 | 116 | 352 | 32 | 1 | -27 | 93.25 |
| 18 | LSU | | Kent St | 307 | 264 | 45 | 58 | 190 | 13 | -1 | 323 | 90.95 |
| 17 | Ohio St | at | California | 332 | 276 | 52 | 132 | 371 | 34 | 1 | 105 | 92.46 |
| 14 | UCF | at | Penn St | 219 | 288 | 34 | 193 | 262 | 31 | 0 | 52 | 93.96 |
| 19 | Arizona St | | Wisconsin | 116 | 352 | 32 | 231 | 210 | 30 | -1 | 27 | 90.39 |
| 13 | Akron | at | Michigan | 107 | 311 | 24 | 177 | 248 | 28 | 2 | -7 | 94.18 |
| 20 | Utah St | | Weber St | 267 | 320 | 70 | 104 | 34 | 6 | 1 | 449 | 90.05 |
| 21 | Syracuse | | Wagner | 236 | 359 | 54 | 53 | 34 | 0 | 3 | 508 | 88.67 |
| 22 | Cincinnati | | Northwestern St | 322 | 347 | 66 | 100 | 79 | 9 | 1 | 490 | 87.62 |
| 23 | Virginia Tech | at | East Carolina | 53 | 258 | 15 | 46 | 158 | 10 | 2 | 107 | 86.85 |
| 24 | Boise St | | Air Force | 229 | 304 | 42 | 188 | 99 | 20 | 9 | 246 | 86.63 |
| 25 | Michigan St | | Youngstown St | 277 | 270 | 55 | 51 | 121 | 17 | 1 | 375 | 86.53 |
News and Notes Part 1
By Phil Steele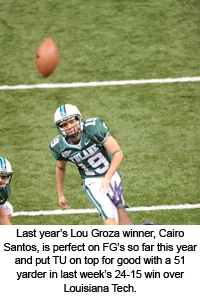 I'm pleased to report that in my Inside the Pressbox last week my Upset Pick of the Week was Tulane over Louisiana Tech and TU had a 364-289 yard edge and overcame 4 TO's vs LT. Nick Montana hit 20-36-235 while his father, Joe, was on hand. LT jumped out to a 6-0 lead with 25 and 27 yard FG's, the first set up by a fumble at midfield. Tulane went 75/7pl for a td and the lead, 7-6. TU fumbled at the LT39 then was intercepted at its own 28 setting up another LT FG, this one from 37 yards and it was 9-7. TU got an 11 yard run on FD to the LT32 but Montana fumbled at the end of it. At the half, TU had 3 TO's. Last year's Lou Groza winner Cairo Santos came in to attempt a 51 yard FG and it was a high snap but he still made it 10-9. TU then went 94/11pl for a td on a 38 yard pass from Montana to Rush. I can remember when the combination was Montana to Rice, 17-9. TU fumbled at its own 11 but LT missed a 30 yard FG with 8:42 left. LT was sacked and fumbled at its own 1 yard line and Darkwa got a 1 yard td run with 6:02 left to clinch it. LT would go 75/9pl getting an 8 yard td pass with 3:44 left to make it 24-15 and TU took a knee at the LT13 at the end.
Troy finished with a 614-539 yard edge vs Arkansas St and 30-26 FD edge. ASU jumped out to a 13-0 lead with Troy missing a 49 yard FG. Troy also fumbled at the ASU13 but went 43/7pl and got a 3 yard td pass with :06 left in the half to lead 21-20. They had a 327-294 yard edge. The lead kept changing hands in the 2H with ASU getting a 64 yard td run with 3:50 left in the 3Q to lead 34-28. Troy got a 53 yard td pass early 4Q but missed the xp, 34-34. Troy was driving when they were intercepted at the AS40 with 6:11 left and ASU went 60/7pl for a 13 yard td run with 3:56 left for a td lead. Troy's last drive got a FD at the AS22 but they were intercepted at the 6 with :55 left.
The officiating was widely questioned after the Texas Tech/TCU game. TT did dominant the 1H with a 211-133 yard edge, 10-6 FD edge and led 10-0 despite being intercepted at the TCU17 on their 2nd drive. TCU had just 1 sustained drive (3 FD, 47 yards, 10 plays) in the 1H. In the 2H, TT appeared to be holding on for the lead. TCU was SOD on 4th&1 at its own 44 and TT missed a 49 yard FG. TCU went 48/10pl for a 37 yard FG and TCU got to the TT22 but was intercepted and returned 20 yards on a screen pass. TCU missed a 55 yard FG with 12:23 left but tied it on a 69/9pl drive with 6:28 left. TT answered with a 75/9pl drive as QB Baker Mayfield was hurt and true frosh Davis Webb came in. Webb hit just 3-4-77 but was named player of the game. His 3rd&gl 19 yard td pass with 3:48 left gave them the lead and TT added a 37 yard FG with 2:43 left to clinch it. TCU did have a PR td called back when they said Brandon Carter gave a fair catch signal, which he did not.
Boise St finished with 31-17 FD and 533-287 yard edges on Friday night over Air Force. In the 1H each team scored every time they had the ball with Boise St capping a 75/15pl drive with a 1 yard td run with :24 left in the half to lead 21-17 as AF had settled for a 33 yard FG after a 59/17pl drive. In the 2H Boise fumbled at the AF8 but then went 67/6pl for a td. After an interception, AF went 70/13pl but settled for a 24 yard FG after a 1st&gl at the 7 to make it 28-20. The Broncos went 80/7pl for a td then, after an interception, went 47/6pl for a td and the 42-20 win. QB Jaleel Awini for Air Force hit 4-9-99 but continues to be much more accurate than his stats would indicate with 3 more dropped passes by the Falcons.
Minnesota coach Jerry Kill had a seizure at halftime, so it was up to DC Tracy Claeys to lead the team in the 2H against Western Illinois. UM had a lackluster win, only having 337-230 yard and 18-11 FD edges. QB Philip Nelson hit 3-4-19 yards but was injured and backup QB Mitch Leidner hit 7-8-105 and had 65 yards rushing on 17 carries. WIU was just 3-8 last year and picked for 9th place in the Missouri Valley Conference by the media. The Leathernecks do have a new coach in Bob Neilson who won a pair of Division II National Championships while at Minnesota-Duluth the last 5 years. While WIU trailed 7-6 at the half, they only had a 112-109 yard deficit. WIU drove 80/3pl for a td mid-3Q to lead 12-7. The Gophers fumbled at the 1, but on their next drive, after a 17 yard punt, went 25/6pl for a td then 53/7pl for a td and after a 26 yard PR, got a 37 yard td run on their next series to open up a 29-12 win.
You heard me all summer long on the radio circuit say that Blake Bell was not a running QB. Yes, he was used as a runner, but that was because Oklahoma had a great passing QB (Landry Jones) who you wouldn't take out of the game if you wanted to pass the ball. Bell shockingly got beat out for the starting job but with Trevor Knight injured, Bell got the start and hit 27-37-413 and 4 td's vs Tulsa. In OU's first 2 games they had just 124 and 119 yards passing and 44% completions. OU did not punt until their 8th possession of the game and finished with a 607-321 yard edge. The Sooners got a 72/12pl td drive and an 89/7pl drive but settled for a 20 yard FG. That drive was keyed by a short pass to Reynolds which went 82 yards to the 4 and greatly aided Bell's passing stats. TU went 75/11pl for a td to make it 10-7 but the Sooners scored on their next 3 possessions to lead 27-7 at the half with a 346-144 yard edge. Trailing 34-7, TU went 66/8pl for a 26 yard FG then got a 77 yard PR to the OU9 setting up a 21 yard FG, 34-13. OU went 56/14pl for a 36 yard FG, 75/5pl for a td and 84/11pl for a td on their final 3 possessions to win by 31, 51-20.
Nebraska had the wind at its back in the 1Q and rolled to a 14-3 lead over UCLA before adding a td early in the 2Q to go up 21-3. The rest of the game belonged to UCLA. The Bruins pulled within 21-10 at half missing 46 and 55 yard FG's with the wind at their backs in the 2Q. In the 3Q the Bruins went 89/10pl, 57/4pl, 53/5pl for td's then NU faked a punt on its own 44 and was stopped and UCLA went 44/3pl for a td to lead 38-21. NU got the wind at their backs in the 4Q but fumbled at the UCLA6 with 13:11 left and lost 41-21 being outgained 504-331. The Huskers' D has allowed 40.6 points per game their last 5 games.
Virginia Tech's D had 7 sks, 11 tfl, and 3 int, but unfortunately the offense missed a couple of FG's, was SOD and also couldn't fall on a late fumble in the EZ and only won by 5 against East Carolina. VT finished with a 311-204 yard edge. ECU did open with a 75/5pl td drive. VT took its 2nd poss 70/11pl for a td and the game was 7-7 at half with ECU having a 174-137 yard edge. The Pirates, after a 22 yard PR, got a 9 yard drive for a 44 yard FG and the lead, 10-7. The Hokies went 75/10pl for a 3 yard td pass, 13-10 but missed the xp. VT missed a 38 yard FG with :50 left in the 3Q. VT went 43/14pl and missed a 40 yard FG with 9:22 left. VT missed a 32 yard FG on 4th&6 but a running into the K penalty gave them 4th&1 and the Hokies opted to go for it. Thomas was tackled for no gain with 2:11 left. ECU's QB Carden was stripped in the endzone and fumbled but ECU fell on it for a safety with 1:31 left and VT recovered the onside kick at the EC24 and took a knee at the 22 to end.
Louisville QB Teddy Bridgewater opened 1-4-10 vs Kentucky but finished 16-28-250. UL had a 492-376 yard edge. Jalen Whitlow looked good in relief for Kentucky as starter Maxwell Smith injured his shoulder. Whitlow hit 8-17-105 and ran for 37 yards on 12 carries. UK played UL even in the 1H but trailed 10-3 as UL got a td with 2:36 left in the half 3. UL had a 153-121 yard edge. UL dominated the start of the 2H opening with an 88/9pl, 94/12pl, and 83/6pl drives all for scores which opened it up to a 27-6 lead. UK converted on 4th&12 and then on 4th&13, Whitlow ran 15 yards for a FD. Two plays later his td pass made it 27-13. UL went 61/7pl but a crucial 37 yard FG was blocked with 3:27 left and the Cardinals only won by 14.
Rice got a 52 yard IR td to take a 7-0 lead vs Kansas. KU got a 77 yard td run by Pearson to tie it at 7. Rice got a 40 and 28 yard FG's from excellent K Chris Boswell and led 13-7 at the half with a 233-153 yard edge. Jake Heaps hit 13-28-157 for KU. KU led Rice by 10 points in the 4Q last year, but missed a 37 yard FG this year with 3:26 left in the 3Q. After a 31 yard IR, KU drove 16/4pl for a td and led 14-13 after 3Q's. Rice was intercepted on its next drive at the KU6 but got a 56 yard FG with 8:05 left for a 16-14 lead. Rice went 50/6pl and got a td with 3:28 left to go up by 9. The Jayhawks were SOD on each of their last 2 drives, both times in their own territory. The Owls did finish with a 370-270 yard edge.
The situation against Syracuse greatly favored Army. The game kicked off at 9:00 am PT and SU had a huge game vs Arizona St on deck and was a 30 pt fav vs a service academy. Army actually recovered a fumble to set up a 39 yard FG then went 38/12pl and got a 48 yard FG for a 6-0 lead. SU had a pass from the Army26 that should have been intercepted but bounced off the DB's hands and was caught for a td and they were able to take the lead, 7-6. Army was SOD at the SU35 with 7:27 left in the half and SU led 20-13 at the half with only a 218-175 yard edge. Down 7, Army fumbled at the SU43 in the 3Q and the Cardinal went 57/7pl for a td. SU's next drive ended on an interception in the endzone from the 24 but Army was SOD at its own 29 and SU went 29/5pl for a td to clinch it 34-13 with 9:59 left. Army went 58/11pl getting a td with :17 left for the 34-20 final and SU had a 408-333 yard edge with Army having an 18-17 FD edge.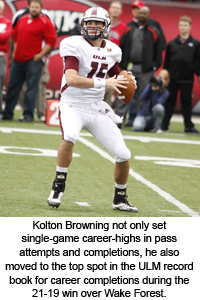 Kolton Browning hit 43-68-315 as ULM pulled the upset over an ACC team, Wake Forest. Tanner Price did hit 28-47-310 for WF. WF came into the season wanting to turn into a running team but only ran the ball 15 times while passing 48 times. They only gained 15 yards on those carries. ULM finished with 26-15 FD and 424-325 yard edges. ULM's opening drive went 69/18pl for a td. WF's 2nd drive got a 65 yard td pass, 7-7, then after an 18 yard punt, WF 37/10pl for a 28 yard FG to lead 10-7. ULM was intercepted on their next 2 possessions but then took over with 6:57 left in the half. They got 1 FD and punted but a key roughing the P penalty gave them a FD. They continued on an 81/14pl drive for a td with :41 left in the half, 14-10. The Demon Deacons went 54/8pl for a 38 yard FG on 2nd&3 to get within 1 at the half. ULM had a 238-188 yard edge. The Warhawks opened the 3Q with a 74/14pl drive for a td and a 21-13 lead. WF fumbled a punt at its own 6 but ULM was SOD on 4th&gl at the 9. ULM went 48/14pl but missed a 24 yard FG. WF punted on its next 3 possessions and took over with 1:59 left. They went 94/11pl getting a 23 yard td pass with :03 left but the 2 point attempt failed.
Fordham reinstated its football program in 1970 as an FCS team and their win over Temple was their first vs an FBS foe since. QB Michael Nebrich hit 23-36-320 including a 29 yard Hail Mary pass with :04 left on 3rd&2 to pull out the win. It wasn't a fluky win, however, as Fordham had a 520-385 yard edge in the game and led 20-7 in the 3Q. Connor Reilly came off the bench for an ineffective Clinton Granger who had hit 6-15-58. Reilly hit 7-8-69 guiding 3 td drives. At half Fordham had a 269-186 yard edge and a 13-7 lead. Temple's 3rd consecutive td drive came with 4:34 left for the 6 pt lead then Fordham drove 71/13pl for the win.
Arkansas lost starting QB Brandon Allen (2-5-33) in the 1Q vs Southern Miss and while he had his arm tightly held against his body in a sling in the 2H, Bielema says he will play this week vs Rutgers. AJ Derby replaced him and hit 4-6-36. SM lost its 15th straight game, the longest losing streak in the country, but this one was respectable as the Eagles were only outFD'd 17-16 and outgained 327-254. Jonathan Williams rushed for 116 yards and Alex Collins 115. Arkansas led 10-3 at the half with SM being intercepted at the UA8 with 1:28 left. The Hogs only had a 159-130 yard edge. SM missed a 49 yard FG to open to the 3Q and was SOD at the UA19 early in the 4Q. The Hogs then went 81/14pl for a td with 7:20 left to win it by 21.
Indiana's Nate Sudfeld likes to throw the ball down the field and he averaged 19.7 ypp vs Bowling Green hitting 17-26-335. IU's offense was dominant and could have easily piled up more points. They had 601 total yards vs a BG team that came in with a well respected D. Twice in the 1H IU had a 1st&gl and went for it on 4th down but was SOD, once at the 5 and the second time at the 1. That was after 67/11pl and 81/14pl drives. BG also scored when Senn basically took the ball off the foot of the punter and ran 50 yards for a blocked punt returned for a td. It was 21-10 at the half with IU having a 363-210 yard edge. The Falcons were SOD at the IU20 and fumbled at their own 32 on their second and third 4Q drives and on 4th&6 lost 5 yards to the IU20 with 8:44 left. BG took over with 6:00 left trailing 42-10 and went 52/11pl but was SOD at the IU15 which helped them get 409 yards offense for the game.
West Virginia's two-man QB battle has turned into a 3-man race. Ford Childress got the start vs Georgia St and hit 25-41-359 vs the overmatched Panthers. Childress was third string just one week ago, but was named the surprise starter over Paul Millard and Clint Trickett. WV scored on its first 2 drives going 28/5pl for a 42 yard FG and an 83/11pl for a td but then only scored once on the next 6. It was 17-0 at the half with WV having a 268-121 yard edge. WV was SOD at the GS35 and the Panthers got a 65 yard td run by Evans to pull within 17-7. WV punted on its next poss but then would go 62/11pl and settled for a 23 yard FG, 62/8pl for a td and 33/3pl (after fumble) for a td and a 34-7 lead. WV took over with 4:00 left in the game and would drive 68/8pl. On 4th&1 they got a 10 yard td run with :17 left for the 34 pt win. They did have 604-220 yard and 20-10 FD edges.
Pitt was off a bye with extra time to prep for New Mexico's option and it showed in the 1H as Pitt had a commanding 388-59 yard edge. The Panthers did catch a break at the end of the half as NM was SOD on 4th&18 at the Pitt44 with :23 left in the half and Pitt would get a 34 yard Hail Mary td pass 2pl later to go up 35-6. In the 2H, Pitt had just 139 yards and the Lobos, trailing 42-20, went 80/10pl and got a 3rd&10, 20 yard td run with :52 left to only lose by 22. Pitt had a 527-270 yard edge.
Michigan St had a moribund offense in the first 2 games with Connor Cook and Andrew Maxwell sharing the duties. Cook was given the start vs Youngstown St and hit 15-22-202. Tyler O'Connor was the other QB that played and he hit 7-10-68 as MSU piled up 55 points. The Spartans finished with 30-8 FD and 547-172 yard edges. Their opening drive was just 24/5pl for a td as they took advantage of a 23 yard PR and PF at the end of it. They did score td's on their first 3 possessions and led 35-10 at half with a 307-129 yard edge. The Spartans went 75/6pl, 59/11pl, and 77/16pl for td's on their first 3 drives of the 2H to build a 52-17 lead with 7:33 left.
Rutgers QB Gary Nova was sidelines with an apparent concussion after hitting 4-4-44 vs Eastern Mich. Chas Dodd hit 4-5-45. EMU QB Tyler Benz hit 24-40-335 vs a tough RU D. RU RB Paul James rushed for 192 yards on 21 carries. EMU finished with a 373-274 yard edge and a 21-12 FD edge. RU, for the first time in its 144 year history, retired the number of a player - #52, Eric LeGrand. RU, with Nova at QB, went 87/8pl for a td on its opening drive. EMU went 53/10pl for a td and RU then returned the KO 99 yards for a td. RU only led 14-10 at the half with EMU missing a 31 yard FG on the 1H's final play. At half EMU had a 220-121 yard edge. EMU was intercepted at the RU38 and missed a 42 yard FG and RU leading 21-10 got a 52 yard td run with 7:04 left. EMU went 64/15pl but fired incomplete from the RU25 with 1:11 left.
Michigan was off its big win over Notre Dame. Do you think there was a letdown? Well, they were a 37' point favorite over Akron and almost lost outright! In fact, they had to feel fortunate to walk away with the win against a lowly Akron team that had lost 28 straight road games but finished with a 21-19 FD edge in the Big House. UA's Kyle Pohl hit 25-49-311 while UM's Devin Gardner hit 16-30-248. UM took its opening drive 75/6pl and got a 48 yard td pass for a 7-0 lead but it was only 7-3 at the half with Michigan having a 185-125 yard edge. Each team missed a 45 yard FG and UA missed a 55 yard FG with :05 left in the half. UA trailed 21-10 when they got a 27 yard IR td with 14:46 left. UA's next drive was 59/5pl but they were intercepted in the endzone on 2nd&gl from the 2 with 11:06 left. UA got it back and went 67/11pl and got a 1 yard td pass for a shocking 24-21 lead with 4:10 left. UM went 70/4pl for a td with 2:49 left but UA came right back down. They had a FD at the 11 and appeared to get a FD on 2nd&15 to the 1 but after a review, it spotted it short. That forced UA to go for it on 4th&3 and their pass into the endzone, which could have been called for pass interference, was not.
USC used one QB for most of the game and Cody Kessler rewarded them by hitting 15-17-237 vs Boston College. Coach Kiffin, who had been very conservative in the first 2 games, actually allowed him to throw down field a little to take advantage of an excellent skill set of WR's and RB's and the result was a dominating 35-7 win. The Trojans had 521 total yards while holding BC to 184 with 68 of those coming on a BC drive when they trailed 28-0 in the 4Q. USC took its 2nd drive 86/14pl for a td, got an 80 yard td pass on its 4th drive and led 14-0 at the half with a commanding 253-63 yard edge. USC took its second 3Q poss 53/4pl and its third 94/8pl for td's to lead 28-0. After BC scored a td with 10:40 left, USC with Wittek at QB, went 75/11pl for a td with 4:22 left in the dominating win.
Against Duke, Georgia Tech QB Vad Lee threw for a career high 4 td's playing in his hometown. GT's DC Ted Roof was fired as the Duke HC and held them to 254 yards total offense as GT had a commanding 28-13 FD edge and a 469-254 yard edge. The last time Duke beat GT was under Roof back in 2003. Duke actually led 7-3 mid-1Q and on 4th&1 was SOD at the GT21. Leading 17-7, GT took over with 1:44 left in the half and went 74/5pl for a td, 24-7. At the half, GT did have a 271-175 yard edge. GT opened the 3Q with a 79/15pl drive for a td. After a 20 yard PR, Duke went 27/4pl for a td to pull within 17 and blocked a 30 yard FG with 9:29 left. However, GT took over with 8:29 left and went 74/16pl for a 19 yard td pass on 3rd&8 to ice it with 2:10 left.
Colorado St rolled up a 533-367 yard edge vs Cal Poly with a 24-19 FD edge. Garrett Grayson hit 21-30-297 yards. The game was played in an area that was just beginning to recover from the devastating flooding that postponed the Colorado/Fresno St game. The Rams went 75/7pl, 59/6pl, 45/8pl and 75/12pl for 2 td's and 2 FG's on their first 4 possessions to lead 20-0. Then, after blocking a 47 yard FG, went 70/6pl for a td and led 27-10 at the half with a 353-180 yard edge. Colorado St was SOD at the CP44 with 6:00 left 3Q and the Mustangs went 56/6pl for a 23 yard td pass, 27-17. Cal Poly had a 32 yard FG blocked with 8:11 left and the Rams went 68/10pl getting a 6 yard td pass with 4:03 left for the 34-17 final.
Jameis Winston continues to roll along for Florida St and is this year's hot redshirt QB. After just 2 incompletions in the opener, Winston hit 15-18-214 vs Nevada. UN was without Cody Fajardo, their starting QB, and Tyler Stewart hit 7-15-49 and Devin Combs 6-9-37. It's surprising that with the final score of 62-7, Florida St actually trailed 7-3 when they took over with 5:54 left in the 1H. UN had scored on a 28/4pl drive after a TO. The Noles went 92/8pl for a td with 3:21 left then 56/4pl and got a td with :38 left for a 17-7 lead. They then went 66/2pl with a 65 yard td run by Williams, and followed that up with 61/3pl, 45/5pl, 62/7pl, 69/9pl, 64/6pl for 6 td's and a FG on their seven 2H possessions. Florida St finished with 617-214 yard and 29-13 FD edges in the 62-7 rout. Winston has more td's (6) than incompletions (5) this year.
Syracuse started Drew Allen at QB but after 3 possessions had just 3 points vs Wagner. Coach Shafer said they'd be playing two QB's and Terrel Hunt came in and hit 15-18-265 basically taking over the position. Granted, the damage was done vs a 1-2 FCS team, but Hunt's first possession went 68/12pl for a td. Then he led them 64/2pl, 59/7pl, 49/6pl and 73/6pl all for td's and 'Cuse amassed a 338-30 yard edge at the half. They went 28/9pl for a 32 yard FG and got a 68 yard td pass from Hunt on his last drive which put them up 47-0 with 6:56 to go in the 3Q. Allen did lead a 34/4pl drive for a td after an interception, an 8 play drive for a 35 yard missed FG and Syracuse finished with 595-87 yard and 27-5 FD edges.
Johnny Manziel hit 28-39-464 yards with a couple of big plays late helping Texas A&M only lose by 7 to Alabama. AJ McCarron hit 20-29-334 yards. Things didn't look good for the defending National Champs as Manziel led A&M to two easy td drives of 84/7pl and 59/5pl for a 14-0 lead. A&M did finish with a 628-568 yard edge. Bama battled back, the key being a Manziel interception in the endzone with the score 14-14 and McCarron hit a 51 yard td pass 4pl later. Bama appeared in control in the 2H leading by 21 or 14 the entire half. Up 42-28, the Tide fumbled at the A&M2 and Manziel on 3rd&9, found Evans for a 95 yard td pass, the 2nd longest in A&M history to pull them within 7. Bama would go 65/9pl for a td with 2:28 left to go back up by 14 but A&M would go 75/10pl and got a 4 yard td pass with :15 left to "only" lose by a td.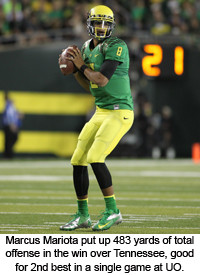 Tennessee jumped out to a 7-0 lead vs Oregon and it was even 7-3 after a couple of possessions but Marcus Mariota threw for a career-high 456 yards hitting 23-33 as the Ducks rolled up 687-316 yard and 29-14 FD edges. For the third straight game, UO did not put away its offense at the half like they did last year. They led 38-7 at the break, but outscored UT 21-0 in the 3Q before allowing a 73/12pl drive for a garbage td with 7:14 left. The fans chanted "SEC, SEC" after the game as they notched a big win over a conference which boasts the last seven National Champs. On the Ducks' 4th possession, they got a 40 yard PR to set up a 37/4pl td drive with 3:34 left in the 1Q then went 78/5pl, 80/4pl, 80/7pl, and 92/6pl all for td's to lead 38-7 at the half with a 458-166 yard edge. They went 73/9pl, 89/7pl, 63/9pl on their first three 3Q possessions to make it 59-7 and with the last drive led by backup QB Lockie.
Keith Price hit 28-35-342 and Bishop Sankey rushed for 208 yards. Washington had a 615-327 yard edge but Illinois actually got within 7 in the 4Q. After a scoreless 1Q, with UI missing a 31 yard FG, the Huskies led 10-3 at the half driving 86/13pl for a 23 yard FG with :21 left. At the half UW did have a 278-93 yard edge. The 3Q opened with 3 long td drives. UW got two to open it up to 24-10 and UW then went 78/5pl to make it 31-10. UI got a 72 yard td pass with 3:16 left in the 3Q and two possessions later, a 62/7pl drive and a 4th&1, 10 yard td pass to make it 31-24. UW got a 32 yard FG with 4:44 left and UI tried a throwback to Scheelhaase who was intercepted at the UW41 with 3:51 left.
UCF now looks like the biggest challenger to Louisville in the new AAC. Blake Bortles hit 20-27-288 and UCF went into Penn St and came out with a 34-31 win in a game they led 31-17 after 3Q's. Christian Hackenberg hit 21-28-262 for Penn St. It was teacher schooling pupil as Bill O'Brien was originally hired as a grad assistant under George O'Leary back in 1995 and was an assistant under him for six years. UCF had a 507-455 yard edge. Tied at 7, PSU was SOD at the UCF36 and UCF got a 58 yard td run 2pl later and would lead 21-10 at the half with a 289-220 yard edge. UCF went 82/5pl and 65/8pl for a td and a 22 yard FG to lead 31-17. Leading 34-24, UCF had a bad snap on a punt and the Lions took over at their 25. Hackenberg got a 5 yard td pass 3pl later to pull them within 34-31. They kicked off deep and UCF got 1 FD and was able to run out the clock.
The Iowa/Iowa St final score would indicate a close game but Iowa, after a scoreless 1Q, drove 71/10pl for a td, then went 55/15pl for a 27 yard FG and after a 27 yard IR to the IS25, added a 38 yard FG with :10 left in the half. Iowa led 13-0 with a 186-63 yard edge. The Hawkeyes were in complete control with 7:09 left in the game when Rudock's 1 yard td run made it 27-7. Iowa St got it back with 3:46 left at its own 41 and went 59/9pl and on 4th&4, a 17 yard td pass pulled them within 6 but Iowa recovered the onside kick and the Hawkeyes finished with a 378-319 yard edge with the Cyclones getting 149 yards on those last 2 drives.
Follow Phil Steele anywhere!

•

•

•
•

•

•

•

•
Phil Steele is a college football analyst who has been publishing his annual College Football Preview since 1995. His magazine is regarded as one of the best in the business.
Google+