| | |
| --- | --- |
| Daily Blog • July 19, 2014 | |
2014 Pro Football Magazine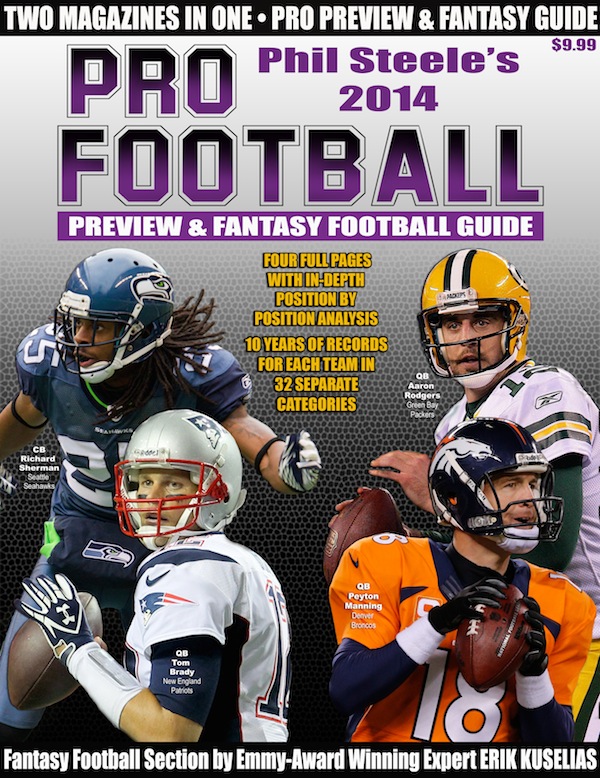 Four years ago, I decided to put out a full color NFL Preview Magazine and I could not have been more pleased with the results. I correctly predicted 7 out of 8 division winners which was more than any other preview magazine and I was the only magazine to predict the Super Bowl Champion New Orleans Saints to win the NFC South!

This year the NFL and Fantasy Football Preview Magazine was sent off to the press last week and it is available two different ways (will not be on the newsstands).
A digital copy of the magazine is NOW available on iTunes for $9.99.
We are also selling the Pro Football magazine thru our office for just $9.99 (plus $6.00 for priority shipping). Call 1-866-918-7711 or visit the PhilSteele.com Store to purchase it today and it will be shipped out within 24 hours.
This year's magazine is 256 pages, which is considerably thicker than most NFL magazines out there. Here on the blog today I thought I would put the five pages of the defending Super Bowl Champion Seattle Seahawks. Below you can see how the pages look and click here to download the pdf version from this year's magazine and this will show you all the information on each of the 32 teams that we produce. I will not go into great detail as to what is on the pages as you can see for yourself and I think you will agree that it is more information than any other NFL preview.

Unlike my College Football Preview, where I write all 128 teams myself, this year I relied solely on my staff particularly Brandon Pertner (@BrandonPertner), Sean Rhodes and Ron Spring who not only wrote all 32 teams, but also compiled the 5 different sets of Power Ratings and forecasted each division. Rolf Bertulies also deserves some special mention for coordinating the whole NFL magazine process.

We strive to provide the most up-to-date and accurate information available in both our college and pro previews. This year we again spent more time on getting the most accurate, informative and essential information to you, and we pushed the deadline back to ensure you were getting the best possible magazine on the market. All roster moves listed are as of July 1, 2014. Make sure you keep checking out PhilSteele.com throughout the season where we have the most current NFL information available.







The 2014 NFL Preview
is Available Now on iTunes for $9.99!