| | |
| --- | --- |
| Daily Blog • November 11, 2014 | |
Phil Steele's
Capital One Mascot Challenge
Week 12 Power Ratings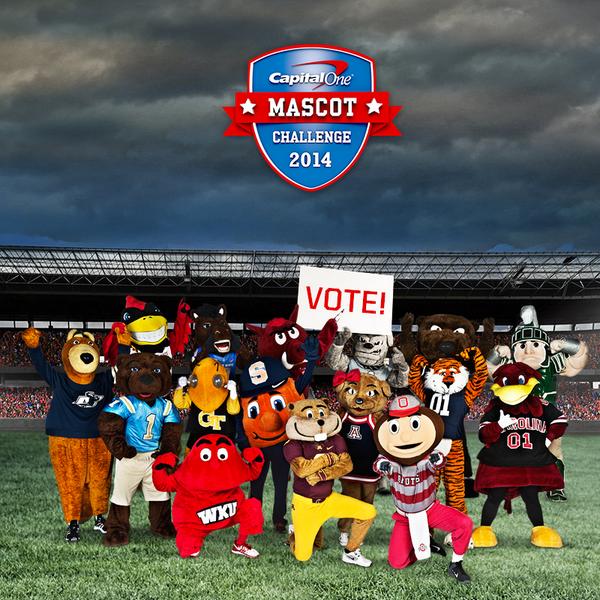 I have used many different factors in compiling my rankings from total social media following to alumni networks to the opinions of my 8-year-old daughter, 20-year-old daughter and 82-year-old mother.

The factors are all weighted differently. For example, I place more weight on current social media presence and school enrollment than the volume of alumni networks as the challenge relies heavily on fans voting online and through social media channels. This year's voting structure provides fans three ways to catapult their mascot to victory. By clicking "vote now," fans earn one (1) point for their mascot. To go even further in expressing their enthusiasm, fans can complete weekly 50-point and/or 100-point challenges by posting clever entries on Twitter or Facebook using their mascot's unique hashtag.

This year's contest actually has THREE mascots that have won the title. Cocky of South Carolina won it in 2005, Zippy of Akron won it all in 2007 and Cy the Cardinal from Iowa State was the 2008 champ.
Voting opens Monday, August 25, 2014 at 12:00AM EDT and will continue weekly through Sunday, December 7, 2014. Fans can visit www.CapitalOneMascots.com for all voting information as well as engage with the mascots and other fans at www.Facebook.com/CapitalOne and www.Twitter.com/CapitalOne.

Every year there have been underdog mascots that rise to the top and I will update the rankings weekly during the season with comments on each mascot's 2014 performance. Below are my Week 12 rankings for the 16 mascots in this year's challenge:

1. Aubie, Auburn 78.13 – Aubie faced another tough foe last week and passed with flying colors, winning 57-43% vs the formidable Zippy; Zippy's largest loss of the season. This week Aubie has to deal with fast climber Spike who moved up 2 more places and is now #4. If Aubie wants to keep his #1 seed, he needs to win.
2. Joe Bruin, UCLA 78.05 – I wondered how my computer was going to react to last week's results. Joe Bruin beat Cocky handily, 62-38%, by far Cocky's biggest loss of the season; his previous 2 losses were 52-48% vs Aubie and 51-49% vs Buzz. My computer relies heavily on margin of victory, however, and when facing the other top mascots, Aubie won by a bigger margin than Joe vs Benny Beaver, Buzz and Zippy. By the slimmest of margins, the mascot meter kept Joe Bruin #2, just percentage points off the #1 spot. This week he takes on #7 Big Red of Western Kentucky.
3. Buzz, Georgia Tech 75.01 – Buzz's only 2 losses this year have been to the top 2 mascots and last week he had no trouble with Buster Bronco, winning 78-22%. This week's battle is all about playoff seeding; Buzz has not quite locked up the #3 seed and Zippy could steal it by virtue of their upcoming head-to-head meeting, as they would finish with identical records.
4. Spike, Citadel 74.93 – Spike continues to climb the mascot rankings. After starting #16, Spike, the hardest working mascot in this year's contest, (as he tweets me numerous times during the week @philsteele042), won 87-13% over Wilma T. Wildcat. Spike moves from my #6 seed to my #4 as both my previously ranked #5 Zippy and #4 Cocky lost last week. This time he faces #1 Aubie in my most anticipated matchup of the week.
5. Cocky, South Carolina 73.07 – Cocky began the season #1 in my preseason mascot rankings and lived up to that billing, opening 6-1, but surprisingly the last 5 weeks have been tough; losing 3 times to top mascots Buzz, Aubie and last week, Joe Bruin. Cocky had a couple of close losses by 2 and 4 points but last week was drilled by Joe Bruin 62-38%. This week he takes on Arkansas' Big Red who is fighting for a playoff spot, which Cocky has already clinched; now it's just about seeding.

6. Zippy, Akron 71.88 – Zippy got as high as #2 in my rankings but after a couple of 51-49% losses to Joe Bruin and Cocky fell to #5, before facing #1 Aubie and coming up short, 57-43%, for a 3rd loss this year. Zippy has another huge test this week in #3 Buzz and the potential is there for that to be a 1st Round playoff preview as well. Regardless, I still think Zippy will be very dangerous once the playoffs start.

7. Big Red, WKU 63.26 – A few weeks ago it looked like Big Red was on the fringe of missing the playoffs but last week he rallied from a late deficit against Benny Beaver for a 56-44% win in the final hours, moving to 7-4 and virtually clinching a playoff spot. There is a chance there could be a 3-way tie for the 7th and 8th playoff spots at 7-5 but Big Red beat Benny Beaver last week and has not yet faced Arkansas' Big Red, so the mutual opponents are in his favor. This week he gets to tango with undefeated Joe Bruin and that could also end up a 1st Round playoff battle as well.
8. Benny Beaver, Oregon St 63.18 – So it's Sunday night, about 10:00pm and I check the latest scores in the mascot challenge -- Benny Beaver led Big Red of WKU 54-46% with the voting closing in 2 hours. I checked the score in the morning and Big Red must have had a Hail Mary touchdown pass, as he ended up wining 56-44%. Now Benny needs a win this week or another Big Red loss (Arkansas) to clinch a playoff berth as he still holds the tiebreaker over Arkansas' Big Red.
9. Big Red, Arkansas 61.38 – Big Red is one of the hottest mascots in the contest. After opening up 0-2 he is 6-3, including winning 4 of his last 5. Last week, taking on the tough Otto the Orange, he won 61-39%. Unfortunately for Big Red, on his resume is a week 4 loss to Benny Beaver 51-49%. That means if he finishes tied with Benny in the mascot standings, Benny would qualify for the 8th and final playoff spot. Big Red needs to upset Cocky this week with hopes that Benny losses to Sparty for him to get that 8th and final spot in the playoffs.
10. Otto the Orange, Syracuse 57.78 – I think Otto the Orange is definitely disappointed at being #10 right now in my mascot meter, but any hopes he had at finishing high went out the door with a loss to Arkansas' Big Red last week, 61-39%. Another loss this week may find Otto the Orange outside the top 10 as he battles 3-8 Buster Bronco, though one silver lining is that Otto the Orange did beat the other 4-7 mascot, Sparty (78-22%), earlier this year.
11. Sparty, Michigan St 54.62 – His football team did not do as well vs the Buckeyes as Sparty did against Brutus Buckeye last week. Sparty finished with a commanding 76-24% win and must have been looking ahead to that matchup when he lost to Aubie the previous week, 95-5%. Sparty's shot at getting into the top 10 this week hinges on beating Benny Beaver and having Otto the Orange lose to Buster Bronco.
12. Buster Bronco, Boise St 54.48 – It's no embarrassment losing to Buzz like Buster did last week and after his 1-0 start, he's now taken on 7 top 8 mascots in the last 9 weeks. There could be a potential log jam of three 4-win mascots if Buster gets an impressive win this week, possibly setting up a #10 finish in my mascot meter rankings this year. Who wouldn't want to finish in the top 10?
13. Cy, Iowa St 53.44 – A few weeks back I said that Cy, who was winless at the time, had a shot at winning 3 of his last 4 matchups and Cy is on pace to pull it off. After knocking off Brutus Buckeye 2 weeks ago 63-37%, he whipped Goldy Gopher last week 65-35% and now takes on 0-11 Wilma T. Wildcat. Cy had a tough start to the year, facing numerous tough foes, but he has a shot to get to 3-9, save face and potentially even move up in the rankings.
14. Wilma T. Wildcat, Arizona 46.61 – Wilma had shown signs of life at certain points in the year, but last week she ran into #4 mascot Spike, and got crushed 87-13%. Spike was Wilma's 4th straight Top 8 mascot that she took on, dropping her to 0-11, but at least this week she takes on 2-9 Cy the Cardinal, holding out hope of at least one win this season.
15. Brutus Buckeye, Ohio St 44.88 – Brutus had a lot of things going for him at the start of the year; the biggest Twitter following and the largest alumni base, among other advantages, that I pointed out when I made him my #2 rated mascot. Unfortunately, Brutus has not taken the competition seriously so far and last week's 76-24% loss to then 3-7 Sparty is a microcosm of his underwhelming season. I have Brutus at #15, but he will finish in the basement if he cannot get past #16 Goldy Gopher in each mascot's last shot at a W this week.
16. Goldy Gopher, Minnesota 44.57 – Goldy has lived up to his #16 rated mascot billing during the tail end of the season. Last week vs previous 1-9 Cy the Cardinal he was beaten badly, 65-35%. The best thing I can say about Goldy so far this year is that my daughter, Savannah, still has a Goldy Gopher stuffed animal and he is one of her favorite mascots. Last up is a battle of winless mascots this week. Can Goldy escape the basement with a win over Brutus Buckeye?