| | |
| --- | --- |
| Daily Blog • November 25, 2014 | |
Phil Steele's
Capital One Mascot Challenge
Playoff Round 1 Power Ratings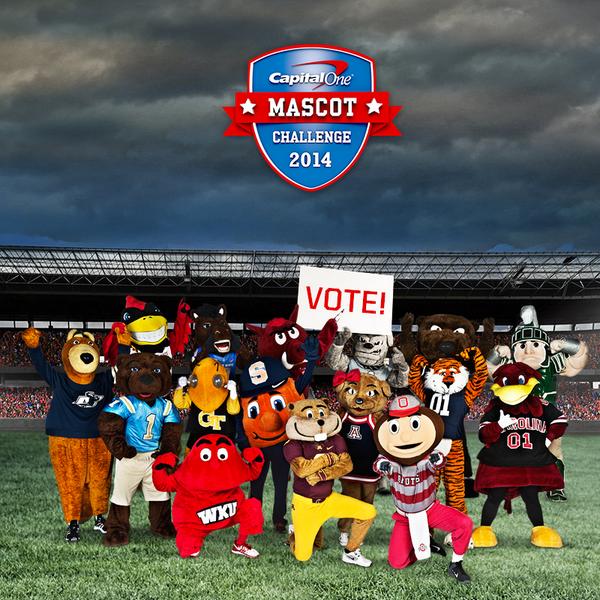 I have used many different factors in compiling my rankings from total social media following to alumni networks to the opinions of my 8-year-old daughter, 20-year-old daughter and 82-year-old mother.

The factors are all weighted differently. For example, I place more weight on current social media presence and school enrollment than the volume of alumni networks as the challenge relies heavily on fans voting online and through social media channels. This year's voting structure provides fans three ways to catapult their mascot to victory. By clicking "vote now," fans earn one (1) point for their mascot. To go even further in expressing their enthusiasm, fans can complete weekly 50-point and/or 100-point challenges by posting clever entries on Twitter or Facebook using their mascot's unique hashtag.

This year's contest actually has THREE mascots that have won the title. Cocky of South Carolina won it in 2005, Zippy of Akron won it all in 2007 and Cy the Cardinal from Iowa State was the 2008 champ.
Voting opens Monday, August 25, 2014 at 12:00AM EDT and will continue weekly through Sunday, December 7, 2014. Fans can visit www.CapitalOneMascots.com for all voting information as well as engage with the mascots and other fans at www.Facebook.com/CapitalOne and www.Twitter.com/CapitalOne.

Every year there have been underdog mascots that rise to the top and I will update the rankings weekly during the season with comments on each mascot's 2014 performance. Below are my Playoff Round 1 rankings.

Phil Steele's Capital One Mascot Challenge
PLAYOFFS


#1 Aubie, Auburn, 79.91 – Aubie lived up to my #1 ranking in the first round of the playoffs with the biggest margin of victory of any mascot, knocking out Big Red 83-17%. Aubie entered the year #4 in my mascot rankings, climbed to #2 then took over the #1 spot in week nine and has not looked back. In his five matches as the #1 mascot, he's defeated four playoff mascots; Cocky (52-48%), Zippy (57-43%), Spike (59-41%) and Big Red (83-17%). Interestingly, Aubie's toughest battle all year was vs Cocky with a 4% win. It will be interesting to watch the current #1 battle the preseason #1 here in the semifinals.
#2 Joe Bruin, UCLA 79.44 – Of the four mascots remaining in the semifinals, Joe Bruin was the lowest rated at the start of the year at #14. He moved past Zippy in week three with a 51-49% upset and then moved past Buzz, 53-47%. Since then, Joe has gained momentum (and followers), beating all of his foes by at least 14%. Last week Joe took care of business in the first round of the playoffs, knocking out Benny Beaver 67-33%. Joe even made it to #1 in my rankings in week eight and is just behind Aubie at the #2 spot. Will we get a matchup of undefeated mascots in the finals or will one be upset this week?
#3 Buzz, Georgia Tech 76.33 - Buzz started out #8 in my power rankings but made a steady climb throughout the year and has locked into the #3 spot of late. He only has two losses all year, both to the top two undefeated mascots in Joe Bruin and Aubie. Buzz has won his last five in a row including two vs playoff teams. In each of the last two weeks, he's taken on Zippy and come away with narrow wins at 52-48% and an even closer 51-49% last week. During the entire year, Joe Bruin's closest match came against Buzz as Buzz narrowly lost 53-47% and that makes this week's match that much more intriguing.
#4 Cocky, South Carolina 75.88 – Cocky figures to be one of the toughest #4 mascots in the country. Remember he was my preseason #1 mascot this year but then actually lost three games in a five week stretch with those losses being to #1, #2 and #3 mascots. Last week he took on a strong Spike the Bulldog and won solidly 59-41%. Cocky now battles another SEC mascot in my #1 rated Aubie. Cocky gave Aubie his toughest test of the entire season, only losing 52-48% in week nine vs the #1 rated mascot. Cocky was my preseason #1 mascot for a reason and I'm really looking forward to this week's battle with #1 Aubie.
#5 Spike, Citadel 73.98 – I'm going to miss all the tweets that I got from Spike weekly during the season although I'm sure my buddy will keep in touch @philsteele042. Spike took on my preseason #1 rated mascot Cocky, who actually had three losses in the year, but was ready for the playoffs. Spike gave it a go but came up short 59-41%. Spike did have wins over Big Red of Western Kentucky and Benny Beaver among playoff participants, and any time a mascot starts off at #16 and finishes all the way up at #5, you have to take a moment to tip your cap. One of the hardest working mascots out there, Spike has unfortunately been eliminated.
#6 Zippy, Akron 73.95 – In Zippy's first year of the contest, she went undefeated and won the title. They say football is a game of inches and in the mascot challenge, it's proven to be a game of inches as well for Zippy. She lost to #1 Joe Bruin during the season, 51-49%, and then #1 ranked Cocky by the same 51-49% margin. She did defeat Spike, 55-45%, but then had a narrow loss to Aubie and in the last two weeks lost to Buzz of Georgia Tech, 52-48%, in the final week of the regular season and an even closer, 51-49%, in the first round of the playoffs. Zippy is a mascot that could easily be 11-2 and still alive in the playoffs but the game of inches caught up to her and while she finished #6 in my rankings overall, she was much tougher than her final record would indicate.
#7 Big Red, Western Kentucky 65.25 – Big Red opened the season #9 in my preseason rankings and finishes #7. Big Red was my #8 rated mascot for most of the year but moved to #7 with a win over Benny Beaver in week 11. Last week Big Red unfortunately ran into #1 Aubie the Tiger and lost, 83-17%. Big Red finishes 1-5 vs Top five contestants but any year you make the playoffs it's a good year--especially in the mascot rankings--so congratulations to Big Red for a fine season.
#8 Benny Beaver, Oregon St 64.87 – Benny Beaver got the unfortunate task of taking on my #2 rated mascot, undefeated Joe Bruin, and lost 67-33% in the first round of the playoffs. It was a fine season for Benny Beaver but he did finish 0-6 taking on mascots that made the playoffs this year and that head-to-head loss to Big Red a couple weeks back has him finish #8 overall. An impressive season overall, I had Benny Beaver seeded #12 at the beginning of the year so just making the playoffs was an accomplishment. I congratulate Benny on a fine year.