| | |
| --- | --- |
| Daily Blog • October 7, 2014 | |
Phil Steele's
Capital One Mascot Challenge
Week 7 Power Ratings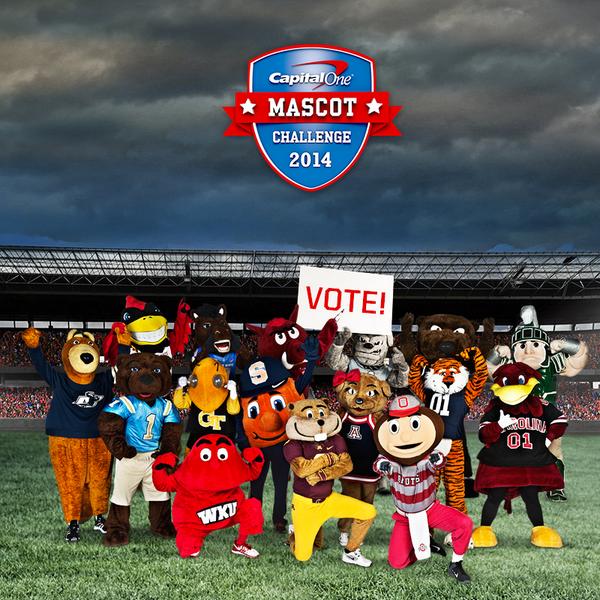 I have used many different factors in compiling my rankings from total social media following to alumni networks to the opinions of my 8-year-old daughter, 20-year-old daughter and 82-year-old mother.

The factors are all weighted differently. For example, I place more weight on current social media presence and school enrollment than the volume of alumni networks as the challenge relies heavily on fans voting online and through social media channels. This year's voting structure provides fans three ways to catapult their mascot to victory. By clicking "vote now," fans earn one (1) point for their mascot. To go even further in expressing their enthusiasm, fans can complete weekly 50-point and/or 100-point challenges by posting clever entries on Twitter or Facebook using their mascot's unique hashtag.

This year's contest actually has THREE mascots that have won the title. Cocky of South Carolina won it in 2005, Zippy of Akron won it all in 2007 and Cy the Cardinal from Iowa State was the 2008 champ.
Voting opens Monday, August 25, 2014 at 12:00AM EDT and will continue weekly through Sunday, December 7, 2014. Fans can visit www.CapitalOneMascots.com for all voting information as well as engage with the mascots and other fans at www.Facebook.com/CapitalOne and www.Twitter.com/CapitalOne.

Every year there have been underdog mascots that rise to the top and I will update the rankings weekly during the season with comments on each mascot's 2014 performance. Below are my Week 7 rankings for the 16 mascots in this year's challenge:

1. Cocky, South Carolina 75.98 – Last week Cocky took on 1-4 Buster Bronco and rolled to an easy 88-12% win, improving his mark to a perfect 6-0. My #1 preseason rated mascot has lived up to his billing but will be challenged this week when he takes on 5-1 Buzz.
2. Aubie, Auburn 73.96 – Aubie faced his first top 8 mascot last week and passed the test with flying colors, beating Benny Beaver 65-35%. After this week's matchup with Otto the Orange, Aubie has two big weeks with Buzz and Cocky on deck; we'll see if he can maintain his spot as my #2 rated mascot.
3. Joe Bruin, UCLA 72.38 – Joe Bruin also remained unbeaten with a tidy 60-40% win over Big Red of Arkansas, the #9 rated mascot this week. This week Joe takes on the beleaguered Brutus Buckeye (0-6), but already has wins over Zippy and Buzz and remains my #3 mascot.
4. Zippy, Akron 72.27 – Last week Zippy showed why despite her 4-2 record, I have her rated above a couple of 5-1 mascots. Zippy went undefeated in her first year of the contest and while she already has two losses, they've been by a small margin--51-49%-- vs my #1 and #3 rated mascots. Last week she took on #8 Big Red of Western Kentucky and rolled to a dominating 80-20% win. I'm looking forward to her matchup with Spike in 2 weeks.
5. Buzz, Georgia Tech 68.41 – Brutus Buckeye ran into a Buzz-saw last week as Buzz rolled to an 89-11% win, moving to 5-1. His only loss this year has been to Joe Bruin and that was by a small 53-47% margin. This week we'll see if Buzz can shake up the mascot rankings as he takes on #1 ranked Cocky.
6. Spike, Citadel 67.33 – Spike from The Citadel continues to be one of the hardest working mascots in the contest. Last week he took on Cy the Cardinal and dispatched him with a large 86-14% margin. His only loss this year was a tight one, losing 51-49% to Buzz in a matchup that went right down to the wire, but since that loss Spike has won all six of his matches by an average of 83-17%. Spike tweets me each week @philsteele042 and this week he is taking on his 2nd mascot from the upper half of the rankings in Big Red of Western Kentucky.
7. Benny Beaver, Oregon St 64.87 – Benny started 4-0, beating 4 mascots from the lower half of the rankings, but lost a close one to my #5 Buzz in week 5, 51-49%. Benny followed that with last week's matchup vs #2 Aubie, being beat badly, 65-35%. Benny still looks like one of the favorites to make the playoffs this year and should get back on track this week, taking on my #16 rated mascot Goldy Gopher.
8. Big Red, WKU 58.33 – Big Red came into last week 4-1 but all 5 of his opening matchups have been against mascots from the lower half of the rankings. Last week he took a step up in competition level vs Zippy and got whipped, 80-20%. This week the task doesn't get any easier with his matchup against Spike, as the bulldog from The Citadel has been dominating in his wins. If Big Red is going to make a move up the mascot meter, he's got to pull an upset this week.
9. Otto the Orange, Syracuse 58.30 – I very nearly had Otto the Orange #8 in my mascot rankings; despite his 3-3 record, he does own a win over #8 Big Red of Western Kentucky, but it was by a slim 51-49% margin. His 3 losses this year have been to Buzz (#5), Spike (#6) and Joe Bruin (#3), and unfortunately this week he runs into #2 Aubie. With a lighter schedule in coming weeks, though, I still consider Otto the Orange a definite playoff contender this year.
10. Big Red, Arkansas 58.13 – Big Red is the best 4 loss mascot out there. The quality of his losses is outstanding, with a 51-49% loss to a #7 Benny Beaver and only a 55-45% loss to #2 Aubie, along with losses to #4 Zippy and last week Joe Bruin (60-40%). This is a real test to see if Big Red or Sparty are legitimate contenders out of the 2-4 mascots as the loser will have a tough time making it in.
11. Sparty, Michigan St 54.32 – Sparty was one of the top mascots in last year's contest but got off to a slow start this year. Losses to Cocky, Spike and Big Red (Western Kentucky) were expected but he also came up short vs Otto the Orange. Taking on my #15 and #16 mascots the last 2 weeks, Sparty has picked up 2 wins and we'll find out if he's a legitimate playoff contender this week as he tangles with #10 Big Red of Arkansas, or if Sparty has just read too many of his own press clippings over the summer.
12. Buster Bronco, Boise St 54.21 – Buster Bronco got off to a great start this year, beating Cy the Cardinal 51-49%, but since then has lost 5 straight; although those have included losses to #1 Cocky, #2 Aubie, #3 Joe Bruin and #4 Zippy. While Buster lost by an 88-12% margin last week, his power rating does not change since it was to the #1 mascot. This week he should get back on track vs #14 Wilma T. Wildcat.
13. Cy, Iowa St 53.70 – Cy has taken on 5 of the top 8 mascots and has two close losses, losing to Big Red of Western Kentucky 51-49% and Buster Bronco 51-49%. After going 0-6 in the first half of the season, I could see Cy making a charge in the second half for that elusive playoff spot, but 0-7 might be around the corner as unfortunately Cy has to face #4 Zippy this week.
14. Wilma T. Wildcat, Arizona 47.99 – Of the four 0-6 mascots, Wilma T. Wildcat showed the most life last week, barely losing to Sparty 53-47%. That actually moved her up a tick in my power ratings and she jumps from #15 to #14, despite being 0-6.
15. Brutus Buckeye, Ohio St 47.21 Brutus Buckeye has really struggled this year. Despite having all of the best numbers behind him (enrollment, Twitter followers, etc.) Brutus continues to get rolled. Last week Buzz dealt him an 89-11% loss and in turn Brutus fell another notch in my rankings. Things don't figure to get much easier this week as he tangles with Joe Bruin.
16. Goldy Gopher, Minnesota 46.98
– On a trip to Minnesota when my daughter was one, we picked her up a Goldy Gopher stuffed animal, and he remains one of her favorite mascots. Unfortunately that's about the best I can say about Goldy so far in this mascot challenge. Last week, taking on then #10 Otto the Orange, he was steamrolled 82-18%. He seems to be living up to the #16 rankings. This week Goldy takes on Benny Beaver, another one of my daughter's favorite mascots.