| | |
| --- | --- |
| Daily Blog • October 14, 2014 | |
Phil Steele's
Capital One Mascot Challenge
Week 8 Power Ratings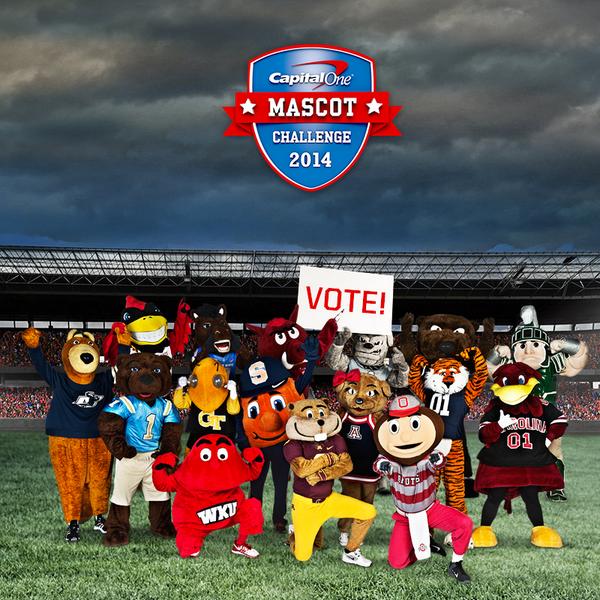 I have used many different factors in compiling my rankings from total social media following to alumni networks to the opinions of my 8-year-old daughter, 20-year-old daughter and 82-year-old mother.

The factors are all weighted differently. For example, I place more weight on current social media presence and school enrollment than the volume of alumni networks as the challenge relies heavily on fans voting online and through social media channels. This year's voting structure provides fans three ways to catapult their mascot to victory. By clicking "vote now," fans earn one (1) point for their mascot. To go even further in expressing their enthusiasm, fans can complete weekly 50-point and/or 100-point challenges by posting clever entries on Twitter or Facebook using their mascot's unique hashtag.

This year's contest actually has THREE mascots that have won the title. Cocky of South Carolina won it in 2005, Zippy of Akron won it all in 2007 and Cy the Cardinal from Iowa State was the 2008 champ.
Voting opens Monday, August 25, 2014 at 12:00AM EDT and will continue weekly through Sunday, December 7, 2014. Fans can visit www.CapitalOneMascots.com for all voting information as well as engage with the mascots and other fans at www.Facebook.com/CapitalOne and www.Twitter.com/CapitalOne.

Every year there have been underdog mascots that rise to the top and I will update the rankings weekly during the season with comments on each mascot's 2014 performance. Below are my Week 8 rankings for the 16 mascots in this year's challenge:

1. Joe Bruin, UCLA 74.48 – Joe Bruin started the contest at #14 and has risen rapidly. With last week's #1 mascot Cocky losing to Buzz, Joe Bruin now moves into the top spot. I have been impressed with a few of Joe Bruin's wins this year, including #5 Zippy and #3 Buzz, who Joe beat by a 53-47% margin. My computer factors in strength of opponent's wins, and as a result Joe Bruin has vaulted from #3 to #1.
2. Aubie, Auburn 74.46 – It's unusual that, paired with #1 Cocky losing last week, the #2 mascot wins impressively and yet does not move up to #1. That is the case this week though, as while Aubie won last week he has only competed against 1 top 8 mascot, while Joe Bruin has more impressive wins against #5 Zippy and #3 Buzz. All is not lost; however, as Aubie could move up to #1 this week if he pulls an impressive win over Buzz.
3. Buzz, Georgia Tech 73.77 – Huge win last week. Cocky came in as the #1 rated mascot and had disposed of his first 6 foes, but that didn't faze Buzz; he dealt Cocky his first loss in this year's challenge, knocking him off by a close margin (51-49%). Buzz's lone loss has been to #1 ranked Joe Bruin. If Buzz can win his matchup against #2 Aubie, he will move up in the ratings for Week 9.
4. Cocky, South Carolina 73.54 – It's been an impressive year for #1 Cocky, winning the first 6 matchups and living up to my preseason #1 ranking, but last week Cocky came up short vs Buzz by a 51-49% margin. Although Buzz moves ahead of Cocky in this week's power poll he is still one of the favorites to win the title this year.
5. Zippy, Akron 72.78 – While Zippy has 2 losses, I still rate her #5; her wins have been impressive and her losses have been to #1 Joe Bruin and then #1 Cocky, both by a slight 51-49% margin. I am really looking forward to a couple of big matchups this week and Zippy's matchup against #6 Spike, who is currently 6-1, will be one to watch.

6. Spike, Citadel 67.33 – 70.05 – Spike is one of my favorite mascots as we have a lot of exchanges on Twitter; you can find us @philsteele042 and @SpikeTBulldog. He's clearly the rising underdog and gives his best effort every week. Just last week he knocked off #8 Big Red of Western Kentucky, who came in 4-2, by a healthy 59-41% margin. However, Zippy knocked off Big Red of Western Kentucky in Week 6 by 80-20%, part of the reason Zippy is rated ahead of Spike despite having 1 more loss. Zippy vs. Spike is one of my most anticipated showdowns--a win this week could move Spike into the Top 4 or 5 mascots.
7. Benny Beaver, Oregon St 68.48 –My 8 year old daughter, Savannah, had two of her favorite mascots Benny Beaver and Goldy Gopher go head to head last week, but their showdown was no contest as Benny Beaver proved he deserves to be ranked in the Top 8, winning 89-11%. A close look at Benny's 2 losses this year shows they were against elite competition in #3 Buzz and #2 Aubie; we'll learn a lot about Benny Beaver's chances to be among the top mascots soon, as this week he lines up vs current #1 Joe Bruin in a Pac-12 showdown.
8. Big Red, WKU 58.39 – For all of the mascots rated in the lower half of the rankings aiming for a top 8 spot, Big Red is the one on the radar. While Big Red has a winning record at 4-3, Big Red has only faced two top 8 mascots and came up short in both matchups, including losing to Spike last week, 59-41%. Still, that loss was respectable and Big Red still deserves to be in the top 8. Looking ahead, I think Big Red has a great shot at being 6-3 when the mascot matches up against current #3 Buzz in Wk 10.
9. Otto the Orange, Syracuse 58.38 – I do take head to head matchups into account, but despite #9 Otto the Orange's week 1 win over #8 Big Red (51-49%), last week's 87-13% loss to Aubie keeps Otto in the #9 spot, as my power ratings account for overall record. Otto might be down but he's not out, and if he gets on a roll he clearly has a chance to move up into the top 8 with wins the next few weeks.
10. Big Red, Arkansas 58.33 – I said last week we would learn which lower half mascot is the true contender for the playoffs as #10 Big Red squared off vs #12 Sparty. Big Red's football team nearly knocked off Alabama with a 335-227 yard edge but came up just 1 point short on the scoreboard. Big Red left no such doubt in the mascot challenge, wiping out Sparty 82-18%. Despite his 3-4 record, his 4 losses have been to #1 Joe Bruin, #2 Aubie, #5 Zippy and #7 Benny Beaver. According to my mascot meter Big Red is only .06 points away from being the #8 mascot. Big Red still has Buzz and Cocky left on the schedule, so he needs to take care of business this week vs #16 Goldy Gopher if he wants to make a playoff run.
11. Buster Bronco, Boise St 57.48 – Among the mascots in the lower half of the rankings, I consider Buster Bronco a playoff contender despite his 2-5 record. Four of Buster Bronco's losses have been to #1 Joe Bruin, #2 Aubie, #5 Zippy and then #1 Cocky. Last week he rebounded big, wiping out Wilma T. Wildcat 72-28%. Despite the fact that Buster is just 2-5 and taking on a 4-3 Big Red from Western Kentucky, an upset this week wouldn't surprise me.
12. Sparty, Michigan St 52.68 – Sparty showed some signs of life in Week 5 and Week 6, after opening up 0-4, by beating Goldy Gopher 80-20% and Wilma T. Wildcat 53-47%. However, his playoff chances took a big blow last week with an 82-18% loss to Big Red of Arkansas and 3 of his final 5 foes are Top 7 mascots; including #1 Joe Bruin and #2 Aubie. Sparty had a great year in the mascot challenge last year but unless he pulls some late season magic, this year must be considered disappointing.
13. Cy, Iowa St 52.18 – Cy has had the misfortune of taking on top 7 mascots in each of the last 6 weeks and consequently his record has dropped to 0-7. While it might seem there is no hope, Cy is the one 0-7 mascot I still give a chance to make the playoffs. None of his final 5 mascot foes have a winning record this year, with a combined record of 5-30, and while he's 0-7 and ranked #13, I give Cy a shot at knocking off 2-5 Sparty this week.
14. Brutus Buckeye, Ohio St 47.24 – Brutus Buckeye came in #15 last week, lost another match and fell to 0-7; but he was up against #1 Joe Bruin and "only" lost 78-22%, respectable considering his past results and the competition below him.
15. Wilma T. Wildcat, Arizona 47.23 – I saw some signs of a turnaround from Wilma T. Wildcat when she had a close loss to Sparty 53-47% in week 6. Unfortunately, that momentum fell apart last week against a 1-5 Buster Bronco, losing badly 72-28%. Regrettably for Wilma, her next 4 mascots all reside in the top 8 with a combined record of 23-5.
16. Goldy Gopher, Minnesota 45.89 – I dropped Goldy to #16 in the mascot challenge 2 weeks ago and last week he showed he belonged there, losing to Benny Beaver 89-11%. On the bright side, Goldy Gopher can easily escape the basement as 4 of his final 5 foes have current losing records.