| | |
| --- | --- |
| Daily Blog • October 21, 2014 | |
Phil Steele's
Capital One Mascot Challenge
Week 9 Power Ratings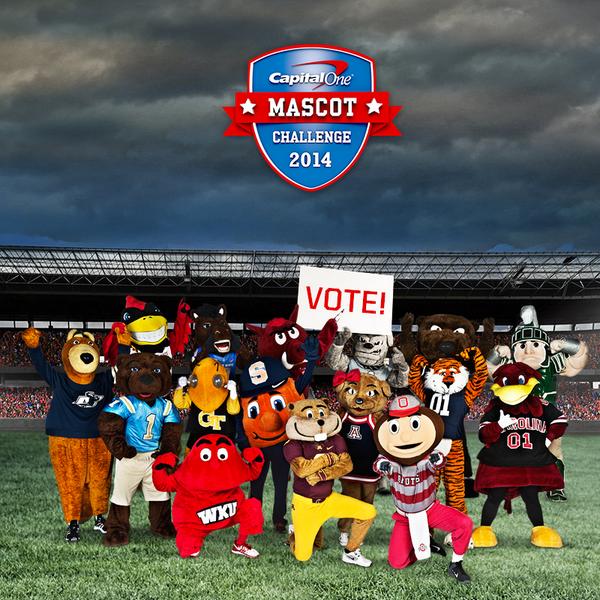 I have used many different factors in compiling my rankings from total social media following to alumni networks to the opinions of my 8-year-old daughter, 20-year-old daughter and 82-year-old mother.

The factors are all weighted differently. For example, I place more weight on current social media presence and school enrollment than the volume of alumni networks as the challenge relies heavily on fans voting online and through social media channels. This year's voting structure provides fans three ways to catapult their mascot to victory. By clicking "vote now," fans earn one (1) point for their mascot. To go even further in expressing their enthusiasm, fans can complete weekly 50-point and/or 100-point challenges by posting clever entries on Twitter or Facebook using their mascot's unique hashtag.

This year's contest actually has THREE mascots that have won the title. Cocky of South Carolina won it in 2005, Zippy of Akron won it all in 2007 and Cy the Cardinal from Iowa State was the 2008 champ.
Voting opens Monday, August 25, 2014 at 12:00AM EDT and will continue weekly through Sunday, December 7, 2014. Fans can visit www.CapitalOneMascots.com for all voting information as well as engage with the mascots and other fans at www.Facebook.com/CapitalOne and www.Twitter.com/CapitalOne.

Every year there have been underdog mascots that rise to the top and I will update the rankings weekly during the season with comments on each mascot's 2014 performance. Below are my Week 9 rankings for the 16 mascots in this year's challenge:

1. Aubie, Auburn 75.23 – There was only .02 points separating the two undefeated mascots last week but I was very impressed (as was my computer) with Aubie's blowout 63-37% win over #3 Buzz, who had just knocked off Cocky the previous week. While Joe Bruin had also beat Buzz earlier in the year, it was only by a 53-47% margin; Joe Bruin owns 3 wins over Top 8 mascots to Aubie's 2, but margin of victory goes to Aubie in five of their six matchups against mutual opponents. Add it all up and the computer moves Aubie up to #1 after last week's impressive win where he can solidify a spot by knocking off the dangerous Cocky this week. Interestingly, Auburn and South Carolina also square off on the football field—we'll see if one of the SEC teams can sweep the week.
2. Joe Bruin, UCLA 75.22 – The computer giveth and the computer taketh away. Last week Joe Bruin went from #3 to #1 despite the fact that #2 Aubie had won, doing so based on strength of schedule and margin of victory. While Joe Bruin was #1 and took care of business vs Benny Beaver 63-37%, Aubie was even more impressive, dismantling a previously 6-1 Buzz and holding a distinct margin of victory advantage, with Aubie coming out ahead in five of their six matchups against mutual opponents. While Joe's computer rating moved up, he goes from .02 points ahead of Aubie to .01 below.
3. Cocky, South Carolina 74.99 – Cocky, who was my #1 rated mascot coming into the year, didn't take kindly to the upset loss 2 weeks ago and bounced back big time beating Wilma T. Wildcat 94-6%. Cocky can get back up to at least #2 and perhaps #1 as he faces undefeated and #1 ranked Aubie this week.
4. Buzz, Georgia Tech 73.22 – Playing a 2nd straight tough match in a row, Buzz didn't have a lot left in the tank after upsetting Cocky the previous week, coming up short vs the undefeated and now #1 Aubie. I will note that Buzz's only two losses this year have been to the #1 and #2 mascots—while Buzz drops to #4, any mascot that beats Cocky is a big time threat for this year's title.
5. Zippy, Akron 73.21 – As I have mentioned many times, Zippy was in the contest once before, going undefeated and winning the title in 2007 . While she already has 2 losses this year, they've come against powerhouse mascots Joe Bruin and Cocky, and both by a tight 51-49% margin. Last week she battled with #6 Spike, who came in 6-1, and while it was back and forth all week, Zippy pulled out the win 55-45%, solidifying her spot at #5. Zippy will have her chance to move up in the mascot ratings as she doesn't face Aubie or Buzz until the last two weeks of the season.

6. Spike, Citadel 70.18 – If it was a 4-team playoff format like the FBS has currently, Spike's loss last week to Zippy would have been a devastating blow as he fell to 6-2. Spike's in luck, however; the mascot challenge is more like the FCS playoffs as it includes 8 teams, so Spike is virtually a shoo-in to make the post season, proving to be very dangerous week in and week out. His only losses have been to Buzz and Zippy and I look for Spike to bounce back this week.
7. Benny Beaver, Oregon St 66.18 – While Benny Beaver did lose last week, it was to my #1 rated mascot (at the time), Joe Bruin. Interestingly, Benny's only other losses this year have been to current #1 mascot Aubie and #4 Buzz. Benny does not face any more top 4 mascots this year and while Big Red of Western Kentucky is now tied with him at 5-3, their showdown in Wk 11 will probably determine who enters the playoffs.
8. Big Red, WKU 59.01 – Of the top 8 mascots, Big Red has had the fewest matchups vs top 8 foes with two, and he's failed both, losing to Zippy and Spike. Last week Big Red bounced back with a 53-47% win over Buster Bronco to maintain the #8 spot, but with showdown matchups coming up vs Buzz, Benny Beaver and Joe Bruin, there are a lot of mascots in the bottom half of the standings that are eyeing the #8 spot.
9. Otto the Orange, Syracuse 58.90 – Otto continues to be in the thick of the chase to make this year's playoffs. Otto has taken on 5 of the top 8 mascots, even beating Big Red of Western Kentucky, and after a 1-2 start Otto has moved up to 4-4 after last week's 62-38% win over Brutus Buckeye. Otto will look to prove he's a playoff caliber mascot as he takes on #7 Benny Beaver this week, and with that head-to-head win over Big Red, don't be surprised if he moves up to #8 with another good week, despite having 1 less win than Big Red of WKU.
10. Big Red, Arkansas 58.78 – This is Big Red's first year in the contest. With a tough early schedule, it took him a while to get up to speed, opening up at just 1-3 but his losses were to Aubie, Zippy and a slim 2 point loss to Benny Beaver. In Week 6, Big Red also lost to former #1 mascot Joe Bruin, but it was again fairly close, losing only by a 60-40% margin. Since then Big Red has rebounded big, delivering 2 blowout wins in the past 2 weeks, moving his record to 4-4. Big Red can make a big case for moving up in the mascot rankings this week if he defeats #4 Buzz and goes above .500.
11. Sparty, Michigan St 56.21 – Sparty was one of the top mascots in the contest last year. He's had his ups and downs this season, but as he's just 2 games back with 4 to go, he's still very much alive for a playoff spot. The schedule is not easy, though; Sparty opened up the year with 3 top 8 mascots and lost to all 3, and with 4 weeks to play in the regular season, he will have to face Joe Bruin, Aubie and Benny Beaver. That's the bad news, but the good news is if Sparty wins out, I think he has a high probability of making the playoffs.
12. Buster Bronco, Boise St 56.08 – Buster Bronco had his shot to become a playoff contender last week but lost a close one to #8 Big Red of Western Kentucky by a 53-47%margin. A win in that contest would have left him just 1 game out of that #8 playoff spot but last week's loss has him on life support for that final playoff berth, sitting at #12 this week with a 2-6 record. Despite Buster Bronco's subpar season, he has had his moments of glory, but needs to get on track to the playoffs with an upset over #6 Spike this week.
13. Cy, Iowa St 51.99 – Cy was my top rated winless mascot last week and lived up to that billing, narrowly losing to Sparty, 56-44%. Among Cy's final 4 matches, 3 are against the other winless mascots so the schedule definitely gets easier after facing 6 of the top 8 mascots in the first 8 weeks. I expect Cy to finish off the contest strong.
14. Brutus Buckeye, Ohio St 46.19 – Brutus Buckeye is officially eliminated from playoff contention. One of the most surprising stories of the year was that Brutus; with the highest number of total alumni and Twitter followers in the contest— has gone winless this year. Last week, he finally gave a decent effort but still lost to Otto the Orange 62-38%. He has faced 7 of the top 8 mascots in the first 8 weeks and only has 1 left on the schedule.
15. Wilma T. Wildcat, Arizona 46.04 – Wilma T. Wildcat has had a couple of competitive games this year, including a 53-47% loss to Sparty, but last week she picked the wrong week to take on Cocky. Cocky was angry, coming off a rare loss in the contest and took apart Wilma T. Wildcat 94-6%. Of the 4 remaining winless mascots, Wilma T. Wildcat has the toughest remaining schedule, facing 3 of the top 8 in the final 4 weeks; she'll need to get some serious support to stay out of the basement and #16 spot.
16. Goldy Gopher, Minnesota 45.72 – At least Goldy Gopher's football team is 6-1 this year. After this week's battle with Zippy, Goldy will have 3 opportunities to escape the basement, facing 2 of the winless mascots, but if last week is any indication of how Goldy will finish out the season, it doesn't look good; he lost to #10 Big Red of Arkansas by a whopping 88-12% margin.