| | |
| --- | --- |
| Daily Blog • October 28, 2014 | |
Phil Steele's
Capital One Mascot Challenge
Week 10 Power Ratings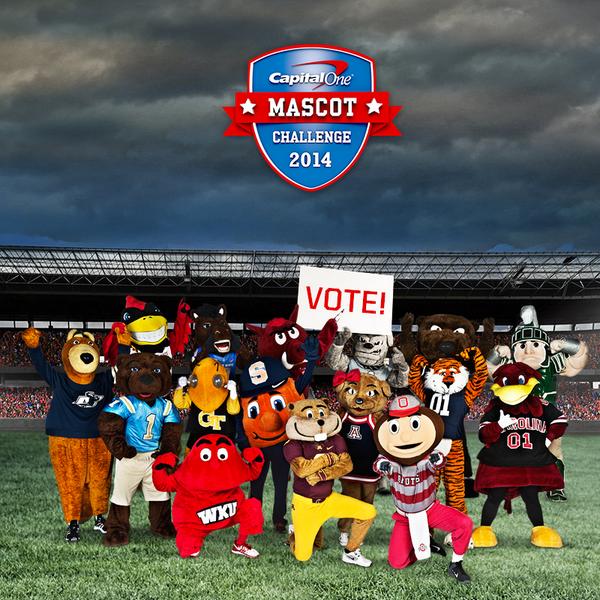 I have used many different factors in compiling my rankings from total social media following to alumni networks to the opinions of my 8-year-old daughter, 20-year-old daughter and 82-year-old mother.

The factors are all weighted differently. For example, I place more weight on current social media presence and school enrollment than the volume of alumni networks as the challenge relies heavily on fans voting online and through social media channels. This year's voting structure provides fans three ways to catapult their mascot to victory. By clicking "vote now," fans earn one (1) point for their mascot. To go even further in expressing their enthusiasm, fans can complete weekly 50-point and/or 100-point challenges by posting clever entries on Twitter or Facebook using their mascot's unique hashtag.

This year's contest actually has THREE mascots that have won the title. Cocky of South Carolina won it in 2005, Zippy of Akron won it all in 2007 and Cy the Cardinal from Iowa State was the 2008 champ.
Voting opens Monday, August 25, 2014 at 12:00AM EDT and will continue weekly through Sunday, December 7, 2014. Fans can visit www.CapitalOneMascots.com for all voting information as well as engage with the mascots and other fans at www.Facebook.com/CapitalOne and www.Twitter.com/CapitalOne.

Every year there have been underdog mascots that rise to the top and I will update the rankings weekly during the season with comments on each mascot's 2014 performance. Below are my Week 10 rankings for the 16 mascots in this year's challenge:

1. Aubie, Auburn 76.24 – My computer moved Aubie up to #1 last week. That move proved to be accurate as Aubie took on preseason #1 Cocky and dealt him a 2nd loss of the year, 52-48%. With wins over the #3 and #4 rated mascots the last two weeks, Aubie gets a little gap on his #1 ranking.
2. Joe Bruin, UCLA 75.68 – Joe Bruin is coming off an impressive win last week over Sparty and continues to be one of only two undefeated mascots. Additionally, he already owns wins over #3 Buzz, #5 Zippy and #7 Benny Beaver. I am already anticipating his matchup next week vs Cocky.
3. Buzz, Georgia Tech 74.47 – Buzz's two losses this year are to the #1 and #2 mascots and he already owns wins over #4 Cocky, #6 Spike and #7 Benny Beaver. He beat Big Red of Arkansas, 62-38%, last week and moved back up to the #3 mascot spot.
4. Cocky, South Carolina 73.58 – Cocky has now lost for the 2nd time in three weeks but still remains one of the elite mascots this year. He has previously lost to Buzz (51-49%) and #1 Aubie the Tiger (52-48%). Cocky dropped to #4 but has a chance to move back up in the rankings.

5. Zippy, Akron 73.33 – As expected, Zippy took care of business against #16 Goldy Gopher, by a dominating 94-6% win. Zippy may not be among the top four mascots right now, but keep in mind, in her only other year in the challenge she went undefeated and finished #1. The two losses this year were both by margins of 51-49% to Cocky and Joe Bruin. In the final two weeks, she faces #1 Aubie and #3 Buzz and could easily move into the top four with impressive showings.

6. Spike, Citadel 71.77 – Spike bounced back from his loss to Zippy in Week 8 with a solid 79-21% win over Buster Bronco last week. Spike remains #6 in the rankings for a 5th consecutive week but needs to beat #7 Benny Beaver this week to remain in that spot.
7. Benny Beaver, Oregon St 65.18 – I checked the scoreboard numerous times last week and Benny Beaver did trail a good portion of the game to Otto the Orange but rallied at the end and pulled off the win, 51-49%. That gives him a two game lead on #9 Otto the Orange with three weeks to go in the regular season but he does have a tough test this week vs Spike.
8. Big Red, WKU 59.49 – As expected, Big Red took care of business vs #15 Wilma T. Wildcat last week 70-30%. Big Red was probably doing a little scoreboard watching of the Otto the Orange contest and surely came away relieved. A check of Big Red's final three opponents show Buzz, Benny Beaver and Joe Bruin and he'll be an underdog in all three matchups as he clings to the #8 playoff spot.
9. Otto the Orange, Syracuse 59.18 – I was watching the scoreboard all last week and Otto the Orange led Benny Beaver for most of the time. I was ready to bump Otto into the top eight as he already owns a win over #8 Big Red of Western Kentucky and would have knocked off #7 Benny Beaver. Unfortunately, Otto lost at the last minute and is now 4-5 with a lot of work to do to make it to the playoffs. He'll have to start this week by upsetting Cocky but will need to rely on the help of others. Interestingly, if he was to go 2-1 and Big Red of WKU 0-3, they would tie at 6-6 with Otto having the Head-to-Head so despite last week's loss, he's still alive in the playoff chase.
10. Big Red, Arkansas 58.51 – Big Red ran into a Buzz-saw last week losing 62-38% to fall to 4-5. He's still just two games out of a playoff spot and should get ahead this week taking on 1-8 Cy the Cardinal.
11. Sparty, Michigan St 55.27 – Sparty is now three games out of a playoff spot with three games left and this week has to face #1 Aubie. Sparty was one of the top mascots in last year's contest and will have to pull the upset to remain alive and make it to the playoffs after his 67-33% loss to #2 Joe Bruin last week.
12. Buster Bronco, Boise St 54.97 – Buster's mathematical chances of making the playoffs ended last week with his 79-21% loss to Spike. However, he has a chance to improve his spot before the end of the season when he takes on #16 Goldy Gopher this week.
13. Cy, Iowa St 53.94 – I mentioned last week that of all the winless mascots, Cy looked to be the strongest and had a great shot at finishing with the best record of the four. Cy picked up his first win last week against #15 Brutus Buckeye by winning 63-37%. Cy has two more winless mascots on the schedule in the final three matchups and could prove his worth this week by upsetting Big Red of Arkansas with a finish as strong as 4-8 in the rankings.
14. Wilma T. Wildcat, Arizona 46.04 – Wilma put up a decent showing vs #8 Big Red of Western Kentucky last week only losing 70-30% but unfortunately her next two games are vs #2 Joe Bruin and #6 Spike. My computer was so impressed with Wilma's performance last week that the power ratings did not drop her any and she actually moved past Brutus Buckeye for the #14 mascot spot.
15. Brutus Buckeye, Ohio St 45.83 – Brutus lost to previous 0-8 Cy the Cardinal last week by a 63-37% margin and things probably won't be pretty this week as he takes on powerful Zippy, his instate rival. It looks like Brutus' best chance of avoiding a winless season would be Wk 12 vs #16 Goldy Gopher. Since he lost to a previously winless mascot, my computer dropped him to #15.
16. Goldy Gopher, Minnesota 45.43 – Goldy didn't put up much of a fight vs Zippy last week losing 94-6% but Goldy can easily escape the basement in the next three weeks. The combined record of his final three opponents is 2-25. Goldy has occupied the #16 spot now for a 4th straight week but clearly will have opportunities to change that.