| | |
| --- | --- |
| Daily Blog • September 3, 2014 | |
Phil Steele's
Capital One Mascot Challenge
Week 2 Power Ratings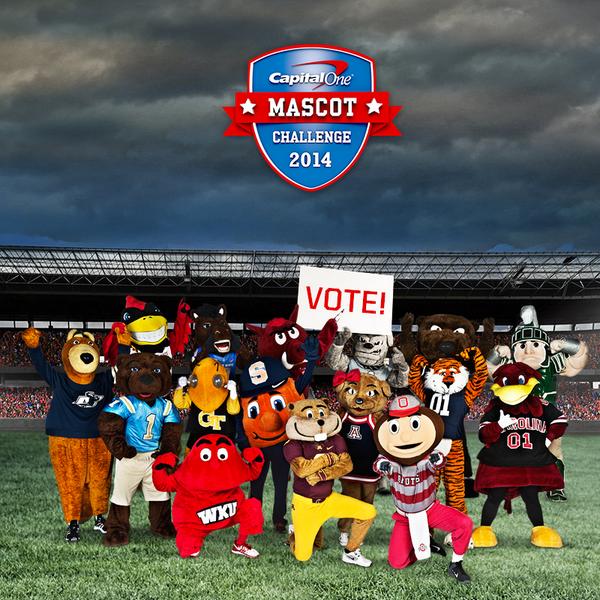 I have used many different factors in compiling my rankings from total social media following to alumni networks to the opinions of my 8-year-old daughter, 20-year-old daughter and 82-year-old mother.

The factors are all weighted differently. For example, I place more weight on current social media presence and school enrollment than the volume of alumni networks as the challenge relies heavily on fans voting online and through social media channels. This year's voting structure provides fans three ways to catapult their mascot to victory. By clicking "vote now," fans earn one (1) point for their mascot. To go even further in expressing their enthusiasm, fans can complete weekly 50-point and/or 100-point challenges by posting clever entries on Twitter or Facebook using their mascot's unique hashtag.

This year's contest actually has THREE mascots that have won the title. Cocky of South Carolina won it in 2005, Zippy of Akron won it all in 2007 and Cy the Cardinal from Iowa State was the 2008 champ.
Voting opens Monday, August 25, 2014 at 12:00AM EDT and will continue weekly through Sunday, December 7, 2014. Fans can visit www.CapitalOneMascots.com for all voting information as well as engage with the mascots and other fans at www.Facebook.com/CapitalOne and www.Twitter.com/CapitalOne.

Every year there have been underdog mascots that rise to the top and I will update the rankings weekly during the season with comments on each mascot's 2014 performance. Below are my Week 2 rankings for the 16 mascots in this year's challenge:

1. Cocky South Carolina 70.79 – Cocky was my #1 rated mascot coming out of the gate and took on my #3 rated mascot, Sparty. Cocky lived up to his #1 rating with an 80%-20% rout.
2. Zippy, Akron 66.87 – As I mentioned previously, Zippy had done well with a #2 finish. As I mentioned in my original power ratings, Zippy was the only mascot that entered with an undefeated career record, running the table in her only year of the challenge. Zippy destroyed Wilma Wildcat 85-15% in the opening week and made a large jump in my rankings from #5 to #2.
3. Aubie, Auburn 61.73 – Aubie had an even closer contest than expected vs Big Red as I was expecting him to win by 15 percentage points and he won by 10 (55-45%). Still with the #2 and #3 mascots going down, Aubie moved up from #4 to #3.
4. Sparty, Michigan St 61.64 – Sparty was 11-2 last year and eliminated in the semifinals finishing as the #3 rated mascot. I was surprised of his no show vs Cocky in the opener losing 80-20% but I followed him all of last year and still must be considered a contender.
5. Brutus Buckeye, Ohio St 61.49 – It was a disappointing opening week with Brutus getting trounced by Benny Beaver 74%-26%. Brutus has the largest enrollment and alumni behind him and the most Twitter followers but if he doesn't produce this week, he'll take an even larger drop in the rankings.
6. Benny Beaver, Oregon St 56.94 - Benny was the mascot I knew the least about having been in the contest before. Well, he opened against the mighty Brutus Buckeye and crushed him 74-26%!
7. Buster Bronco, Boise St 56.34 - Buster was the #3 seed in the playoffs in 2008 the last year he was in the contest so you figure he would be solid. He took on Cy from Iowa St last week, who won the contest in 2008. Those two had a battle down to the wire and Buster edged him out 51-49%. Since Buster won head to head he vaults past Cy and moves into the upper half of the mascot rankings.
8. Cy, Iowa St 56.33 - Cy won the title in 2008 so a force to be reckoned with. My power ratings had him favored by 3% pts over Buster Bronco in the opener and as expected it was close but Cy lost 49-51%. That loss drops Cy two notches in the Mascot Meter but he remains in the upper half despite an 0-1 record.
9. Otto Orange, Syracuse 55.13 - I had Otto just .43 behind Big Red in the Mascot Meter so as you would expect their contest came down to the wire. Otto jumps from #11 to #9 as he prevailed by the slimmest of margins 51-49%. Expect another tight one this week as only .29 separates Otto and Buzz.
10. Buzz, Georgia Tech 54.84 - How does a mascot win yet drop in the rankings. Last week my power ratings had Buzz favored by 10% pts and he only won 51-49%. That result was enough to drop him to #11 but he faces #10 Otto the Orange this week and a win could have him back in the upper half.
11. Joe Bruin, UCLA 54.83 - While Joe's football team struggled on the East Coast against Virginia, Joe had one of the week's top performances. I had Goldy Gopher in the upper half of the rankings and favored but Joe rolled to a 71-29% margin. Should be a great match with Buster this week.
12. Wilma T. Wildcat, Arizona, 54.44 - The two female mascots battled last week but Zippy has never lost and kept her perfect record with a convincing 85-15% margin. Wilma falls from #12 to #15 and now faces Benny Beaver in a matchup of Pac 12 mascots.
13. Big Red, WKU 53.69 – Big Red opened 5-1 last year and was in the top 5 but has now gone 1-6 in his last 7 contests. Last week I had him as a slight favorite against Buster Bronco and he had a tight loss 51-49%. Big Red is a slight favorite this week to end that losing streak.
14. Goldy Gopher, Minnesota 52.18 - The BCS computers took out margin of victory but my Mascot Meter factors it in and that is why Goldy had the largest drop of any mascot. He was favored over Joe Bruin by 8% pts but lost big 71-29% and he falls from #7 to #14. He needs to beat Big Red this week as with Cocky on deck he would be facing a probable 0-3 start if he does not.
15. Big Red, Arkansas 49.28 – Big Red had a decent debut .He kept it closer than expected LW vs Aubie. Despite the loss he rose in my power ratings but remains in the #15 spot.
16. Spike, Citadel 48.25 - Spike was impressive and went down to the wire tweeting me @philsteele042 on Sunday in a 50-50 tie with Buzz. He ended up just short (51-49%) but impressed my computer enough to rise up 3 pts in the Meter. Sparty may be powerful but I think Spike has a shot at the upset.