| | |
| --- | --- |
| Phil Steele Blog • August 20, 2015 | |
College Fantasy Football: 2015 Preseason Player Rankings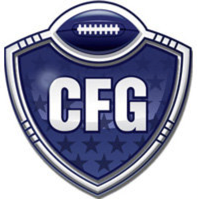 For the fifth straight year, CollegeFootballGeek.com is teaming up with PhilSteele.com to help you navigate the College Fantasy Football waters and prepare for the 2015 season.

Whether you play Daily or Season-Long College Fantasy Football, CollegeFootballGeek.com has you covered for all 128 FBS schools. They've been doing it since 2008! Click here to learn how you can subscribe to CFG for FREE! Follow @CFFGeek

Today, we'll be releasing our college fantasy football preseason player rankings. See our Top 30 QB, RB, WR and Top 10 TE, DEF, K below. To dig deeper into 800+ ranked players, as well as their complete statistical projections, check out CollegeFootballGeek.com!


Scoring system used for rankings:

Passing Yards, 25 yards = 1 point
Passing TD = 4 points
Rushing Yards, 10 yards = 1 point
Rushing TDs = 6 points
Receptions = 0.5 points per reception
Receiving Yards, 10 yards = 1 point
Receiving TDs = 6 points
CollegeFootballGeek.com's
Top 30 Fantasy Quarterbacks for 2015: Click Here for Top 30 QB's
Top 30 Fantasy Running Backs for 2015: Click Here for Top 30 RB's
Top 30 Fantasy Wide Receivers for 2015: Click Here for Top 30 WR's
Top 10 Fantasy Tight Ends for 2015: Click Here for Top 10 TE's
Top 10 Fantasy Defenses, Special Teams & Kickers for 2015: Click Here for Top 10 Def & K
2015 College & Pro Football Previews
available right now on iTunes & Google Play!


Also Printed Versions available thru office 1-866-918-7711
Click HERE: Phil Steele Store
1). it will save you wear and tear on your printed magazine. If you get both you can use it as your mobile version of the magazine and that will keep your actual magazine from getting dog eared and torn up early in the year. The NFL version is also available right now.

2). It's easy to use and works perfectly for both the iPhone, iPad and Android Devices. The download process may take up to 10-15 minutes but that's because we have over 350 pages with jam-packed with information!

3). Non-U.S. Customers: The magazine will not be on the newsstands internationally, the only way to get the 2015 College Football Preview is to order through our offices and pay at least $35 (includes S&H) or get it on iTunes or Google Play for just $9.99.

4). It's only $9.99! On the newsstand, the magazine will cost you $12.99.
5) The NFL magazine has 4 pages on each team and very limited distribution around the country. It is available at Drug Marts in Ohio. You can download it right now to you iPad or iPhone thru iTunes or your Android device thru Google Play. The College magazine is sold out at most spots around the country and you can download it as well.
Please note: after downloading and purchasing the App, please make sure you search for 2015 if the old 2014 cover/edition comes up on your screen.
NFL and College Magazines are available in PRINTED form thru our offices!
Call 1-866-918-7711. Or order online at the Phil Steele Store. If you order a 2015 Phil Steele College Preview and a Pro Preview together to the same address you only pay for one shipping charge. The first magazine is $12.99 plus $6 for Priority Mail service. Add a second for $10 if delivered to the same address at the same time. OR, take advantage of our 7-6-5 special. Seven 2015 College FB Previews delivered to one address just $65 (and that includes postage! The NFL magazine is just $9.99 plus shipping.
Also the FCS Magazine is 220 pages and available right now for $9.99 Here is what the FCS Magazine looks like and how to order it right now and you can download that to your computer. Click Link for Preview of FCS Magazine: Here