| | |
| --- | --- |
| Daily Blog •February 4, 2015 | |
PS#'s from High School to the NFL.
As National Singing Day is upon us I wanted to take a look at how my PS numbers translate into last seasons Freshman All-American Team as well as how they relate to the NFL Draft.
The PS#'s are invaluable for me to rank a teams specific unit, be it the OL or LB's, the overall offense, defense and special teams and most importantly the combined ranking for each program.
For those of you new to PhilSteele.com, I have included "What is a PS Number?" as taken from the 2014 Phil Steele College Football Preview with a few updates. Click image below for larger view of article.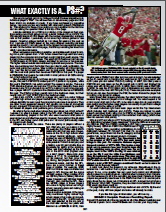 When analyzing the data from my 2014 Freshman All-American team I had to say I was even surprised by the results. You will see below that of the 12 players on offense, 9 were VHT's and 11 of the 12 were HT's or VHT's. The only exception was BYU's Tejan Koroma who was "only" a PS#272 as he came out of high school at 250 lbs but a few months later played as a true freshman at 280 lbs!
On defense I also named 12 players to my list with 6 of them having VHT rankings out of high school and 10 of the 12 being HT's or higher. The only 2 players that were ranked slightly lower each red-shirted in 2013 giving them valuable experience and another year of muscle building.
The special teams were no different and in fact all 4 that I named to my list were HT's or higher. Here again is my 2014 Phil Steele Freshman All-American Team.
PHIL STEELE'S FRESHMAN ALL-AMERICAN TEAM
(Range for Postion)
OFFENSE (13)
• = True Frosh
VHT
PS#
Pos.
Player, School
YES (1-30)
#11 ('13)
QB
J.T. Barrett, Ohio State
YES (1-40)
#9
RB
• Nick Chubb, Georgia
YES (1-40)
#22
RB
• Samaje Perine, Oklahoma
HT (61-150)
#123 IFS
WR
• Mike Dudek, Illinois
YES (1-60)
#4
WR
• KD Cannon, Baylor
YES (1-60)
#12 IFS
WR
• Artavis Scott, Clemson
YES (1-30)
#19QB ('13)
TE
Bucky Hodges, Virginia Tech
HT (76-250)
#120DL
OL
• Jashon Robertson, Tennessee
#272
OL
• Tejan Koroma, BYU
YES (1-100)
#26 IFS
OL
• Toa Lobendahn, USC
YES (1-100)
#30 ('13)
OL
Billy Price, Ohio St
YES (1-100)
#1 IFS
OL
• Cam Robinson, Alabama
(Range for Postion)
DEFENSE (13)
VHT
PS#
Pos.
Player, School
YES (1-75)
#42
DL
• Derek Barnett, Tennessee
YES (1-75)
#3
DL
• Myles Garrett, Texas A&M
HT (76-250)
#126
DL
• Marquis Haynes, Ole Miss
HT (76-250)
#95 IFS
DL
• KeShun Freeman, Georgia Tech
HT (76-200)
#87 ('13)
LB
Darron Lee, Ohio St
YES (1-75)
#57 ('13)
LB
Nigel Bowden, Vanderbilt
HT (76-200)
#167 ('13)
LB
Jerod Fernandez, NC St
#261 ('13)
LB
Taylor Young, Baylor
#348 ('13)
DB
Parry Nickerson, Tulane
YES (1-75)
#14
DB
• Budda Baker, Washington
YES (1-75)
#4
CB
• Adoree' Jackson, USC
YES (1-75)
#3
S
• Quin Blanding, Virginia
(Range for Postion)
SPECIALISTS (4)
VHT
PS#
Pos.
Player, School
VHT (1-10)
#4
P
• JK Scott, Alabama
HT (11-35)
#28 ('13)
K
Matthew McCrane, Kansas State
HT (61-150)
#129WR
PR
• De'Mornay Pierson-El, Nebraska
YES (1-40)
#27RB
KR
• Stanley Williams, Kentucky
Lastly, I wanted to look ahead to this years NFL Draft and compare how a players PS# may translate into a successful college football career with NFL potential.
I used my friend Todd McShay for his insight and below you will find his "Updated Top 32 NFL prospects" as listed on his ESPN Insider article dated January 28, 2015.
This time the results blew me away. Of the 32 players he has projected to be first-rounders EVERYONE was an HT or higher! Among the 32 players were 24 VHT's and among those two dozen players 14 were "Uber-VHT's" meaning they were in the top 25% of my VHT rankings.
Todd McShay's TOP 32
PS#
Rank
Player
Proj pick
College
Class
Height
Weight
Position
#17
UBER VHT
Leonard Williams
1
USC
Jr
6-5
290
DE
#2
UBER VHT
Jameis Winston
2
Florida State
Soph
6-4
235
QB
#67
VHT
Shane Ray
3
Missouri
Jr
6-2
240
DE
#5JC
UBER VHT
Randy Gregory
4
Nebraska
Jr
6-6
245
DE
#33
VHT
Amari Cooper
5
Alabama
Jr
6-1
205
WR
#31
HT (-1)
Marcus Mariota
6
Oregon
Jr
6-4
211
QB
#59
VHT
Danny Shelton
7
Washington
Sr
6-1
332
DT
#64
HT (-4)
Devante Parker
8
Louisville
Sr
6-2
207
WR
#7
UBER VHT
Arik Armstead
9
Oregon
Jr
6-7
285
DE
#80
VHT
Brandon Scherff
10
Iowa
Sr
6-4
320
OT
#2
UBER VHT
Andrus Peat
11
Stanford
Jr
6-6
315
OT
#126JC
HT
Kevin White
12
West Virginia
Sr
6-2
211
WR
#2
UBER VHT
Dante Fowler Jr.
13
Florida
Jr
6-2
271
DE
#1
UBER VHT
Landon Collins
14
Alabama
Jr
6-0
212
S
#26
VHT
Melvin Gordon
15
Wisconsin
Jr
6-0
207
RB
#44
VHT
Ereck Flowers
16
Miami (FL)
Jr
6-6
325
OT
#3
UBER VHT
Eddie Goldman
17
Florida State
Jr
6-3
315
DT
#185
HT
Marcus Peters
18
Washington
Jr
5-11
193
CB
#22
UBER VHT
T J Clemmings
19
Pittsburgh
Sr
6-4
313
OT
#118
HT
Trae Waynes
20
Michigan State
Jr
6-1
182
CB
#31TE
HT
Vic Beasley
21
Clemson
Sr
6-2
220
DE
#10
UBER VHT
Devin Funchess
22
Michigan
Jr
6-4
235
WR
#19
VHT
Todd Gurley
23
Georgia
Jr
6-0
230
RB
#36
VHT
Devin Smith
24
Ohio State
Sr
6-0
199
WR
#2
UBER VHT
La'El Collins
25
LSU
Sr
6-4
324
OT
#58
VHT
Denzel Perryman
26
Miami (FL)
Sr
5-11
248
ILB
#46
HT
Maxx Williams
27
Minnesota
Soph
6-4
250
TE
#80
HT (-5)
Carl Davis
28
Iowa
Sr
6-4
318
DT
#19JC
UBER VHT
Jaelen Strong
29
Arizona State
Jr
6-3
212
WR
#4
UBER VHT
Malcom Brown
30
Texas
Sr
6-3
317
DT
#1
UBER VHT
Dorial Green-Beckham
31
Oklahoma
Jr
6-4
225
WR
#49
VHT
Phillip Dorsett
32
Miami (FL)
Sr
5-10
182
WR
Keep checking the blog daily as I will be releasing all my "UBER-VHT'S" later in February