| | |
| --- | --- |
| Spring Blog • June 6, 2015 | |
BE THE FIRST TO GET YOUR HANDS ON…
The 2015 Phil Steele College Football Preview
SATURDAY JUNE 13th
The NFL Hall of Fame Game, just down I-77, in Canton is just 65 days away and North Carolina faces South Carolina on ESPN Thursday, September 3rd. With football that close you know the 2015 Phil Steele College Football Preview is ready to hit the shelves. The official on sale date for the 2015 magazine is July 1st but you can be the first in the country to get a copy in your hands on June 13th!
I sent the final page of the magazine to the press on May 28th and while I am fully aware that printing and binding a 352-page magazine is a big project, patience is not one of my virtues. The wait to get them back from the printer is unbearable to me. I also know from the calls into the office and via twitter (@PhilSteele042) that many of you want to be one of the first to have it. Those that live in Northeast Ohio have that opportunity.
The office will receive the magazines from the press this week and we will start to ship them out immediately in the same order that they were purchased. However, if you are from or visiting the Cleveland area and haven't ordered you magazines yet or would just like to say hello I will be making an appearance at the Cleveland Pizza Fest. This popular event will be held at the Cuyahoga County Fairgrounds in Berea, Ohio. I will be in the PHILSTEELE.COM SPORTS PAVILION on Saturday, June 13th from 1:00 to 6:00 ET and you can purchase my 2015 College Football Preview Magazine for just $12.99. Make sure to say hello, and if you'd like, I'd be happy to sign your copy.
The magazines will be available throughout the entire event starting on Friday, June 12th at 5pm and finishing on Sunday, June 14th at 9pm. There is free parking and admission at the gate will be just $5 for Adults, $1 for Tweeners, & 12 and under are FREE! CBS Radio stations will also offer four-pack promotions for discounted admission-and-pizza deals. Sunday, June 14 is Flag Day. All current and former military personnel will receive free admission by showing their military ID.
READ the Plain Dealer article from March 10th or check out their website, http://clevelandpizzafest.com/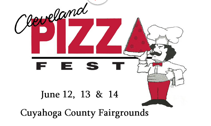 I'll see you next Saturday!