| | |
| --- | --- |
| Spring Blog • March 31, 2015 | |
I WANT MY 2015 PHIL STEELE COLLEGE FOOTBALL PREVIEW!
WHO? WHAT? WHERE? WHEN? HOW?
THE COUNTDOWN CLOCK HAS STARTED!
Most of you purchase my College Preview year in and year out. However, as the Magazine's fan base continues to explode, I get many of the same questions asked multiple times. Let me hopefully answer your questions now, and if I missed one, feel free to ask it on Twitter @PhilSteele042.
WHEN DOES IT COME OUT? WHY NOT UNTIL JUNE?
Both of these questions are really the same. I know that most Phil Steele fans are college football junkies and would love my magazine to come out in April or May. First off there are several teams that don't finalize their spring practices until the first week in May, and this season the NFL Draft is also the first week of May. I am aware that I lose sales not being among the first on the newsstands, but it is much more important to me to again be the "Most Accurate Preseason Magazine the Last 17 Years!" Check out the link with last year's final rankings: http://preseason.stassen.com/prediction-accuracy/2014.html. In May once all the spring camps have ended, I read all the spring notes, make my projected lineup changes and send it off to the press. You may be surprised at how many changes occur with injuries, transfers and unfortunately disciplinary measures.
WHEN DOES IT COME OUT? That is really a 3 part question.
FIRST – The 2015 Magazine should be on newsstands by July 1st, 2015. PLEASE NOTE: Many newsstands only take 5 or 10 magazines and sell out the FIRST DAY! We can not make them reorder and they rarely do reorder. The newsstand cost is $12.99, BUT IS THE RISK OF WAITING WORTH IT?
SECOND – By ordering through our office at 866-918-7711. We will start shipping out our orders THE DAY WE RECEIVE THEM from the printer which may be as early at JUNE 8th, 2015. The cost is $12.99 for each magazine plus $6 USPS Priority Shipping (note: absolutely no handling cost; our Priority shipping cost is actually $6.10) OR, take advantage of my 2 mag special. If you call the office and order a pair of the 2015 PS College Football Previews shipped to the same address at the same time save $2.99 with the 2 magazine special and pay just $28.99.
THIRD BUT THE EARLIEST – To be the earliest to get your hands on the 2015 information, you can download the APP for the 2015 Phil Steele College Football Preview from either the App Store or Google Play for ONLY $9.99 with an expected availability of JUNE 3rd, 2015.
WHERE CAN I FIND IT?
Unfortunately, that's a tough question for even me to answer. I will list the stores once the final contracts are signed. However, we do not yet know how many magazines will be ordered by each store or by a particular store location.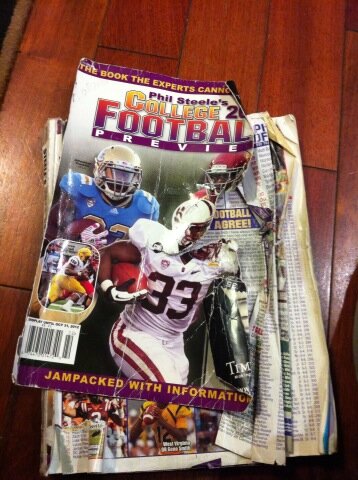 WHY BUY 2? FOR A FRIEND, A GIFT, OR FOR WHEN YOUR FIRST ONE FALLS APART FROM OVERUSE!