| | |
| --- | --- |
| Phil Steele Blog • January 13, 2016 | |
1st Write thru Process for the 2016 Magazine.
Just to give you an idea of how the magazine writing process works I thought I would use today's blog to show you the three different write thru's I do for each team and answer some FAQ. I am currently on the first write thru process which is post season. The second write thru process begins at the start of March and it is a PRE spring write thru. The 3rd write thru is the POST spring write thru that I do on every team, usually after I have watched each teams spring game. Today I will take you into the first write thru process and then detail the 2nd write thru as March draws nearer.
FIRST WRITE THRU - This process starts the Sunday after Thanksgiving each year so this year it was November 29th when I officially started working on the 2016 magazine. Naturally I write the teams one at a time and there are 128 to go thru. The first question is how do I choose the order. Well, each write thru has a different order. For the first write thru I do all of this years bowl teams first. In December I am writing the teams before they have played a bowl game, before I know what players have left early for the NFL, late transfers, etc. I know there will be changes but that is why there is a 3-step process. After the bowl game is over, a member of my staff goes in and proofs my original write up and updates the stats to post bowl final stats. If someone has a huge bowl game I usually go into the text and change some wording. I usually have a pretty good idea of players leaving early but for those that surprised me, I will catch that in the second write thru process which I will talk about in March. Also if I find out something interesting about the team after I did the first write thru, I just open up the page and modify it.
This FIRST write thru consists of me going thru each teams season day-by-day. We have a news media service, which sends us articles from all the newspapers that cover each team out there. The staff underlines all the important info and it gets typed into a file for that team. At the end of the year, every meaningful story is in there and I get ready to just submerge myself on that team for the next 3 to 6 hours. The reading will be anywhere from 50 (Sun Belt team) to 250 pages (SEC team) depending on how much media coverage a team had. The pages I am talking about are 8' x 11 with somewhat small type and can fit 3-5 stories per page. Here is a picture of what one of those pages looks like.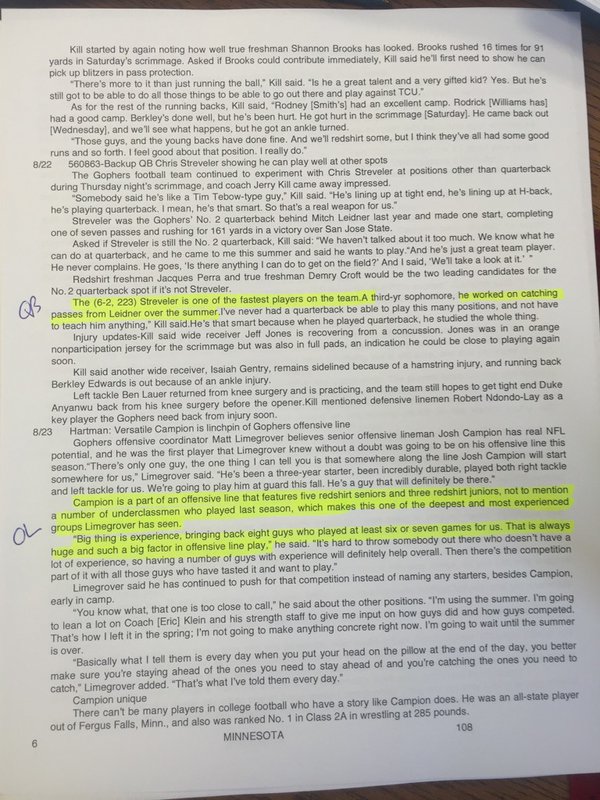 As I read thru the report I get a glimpse of the team from every day during the season. I see all the ups and downs at each position and the highs and lows for a team during the year. I do the bowl teams first because when I am analyzing the bowl matchups I like to have reacquainted myself with the team to know it inside and out just like when I wrote the magazine the previous year.
During the reading process I have a yellow highlighter and highlight all notes I want made on my Phil's Notebook pages under each position. These then get typed into my personal (Phil's) note page. This allows me to drill into each team on a individual position basis at any time with a complete recap of the position, injuries, breakout players, etc during the year. I refer to these often.
After the stack of reading is gone thru and all the notes are made, I write 4 different positions for the magazine. I write the Quarterbacks, Running Backs, Receivers and Special Teams. I had been doing these into a tape recorder each year but this year I am typing them in myself. It takes a little longer but I read thru each one when I am done and I will not have as much to chop out when it is time for the 2nd write thru. At this time I write the position, I look at my computers grade for each team for this year and compare my ranking to it. I then do my up/downs which I grade each position from a -5 to a +5 as to whether it is improved or weaker than last year. I also put my preliminary grade on each of the 4 positions in my power rating for 2016.
After this process is complete I then have my power ratings updated for 2016 in my computer. This accounts for returning starters, 2015 production, talent grades, etc. I then have the computer open and go thru all the offensive lines in the country over a 3-day period. I look at last year's writeup and all the notes I made when I did my reading, what they have coming back and do each writeup. When I do all the offensive lines I am comparing apples to apples and have my original grades on all the top offensive lines in the country and in each league. I then do the same thing for the defensive line, linebackers and defensive backs. At this point it is the end of January and I have the entire first write thru done for each team. I also have all the base sets for my 9 sets of power ratings done and can do a pre spring run thru of each teams games for the upcoming season during the month of February.
If you think that means I coast during the months of February, March, April and May you would be mistaken as each of those months are even more intense, as I have to do my 2nd write thru's, 3rd write thru's and All Conference Forecasts, etc during that span. I will have a blog on all of those procedures at a later time.
Now, whenever I refer to a first write thru, you know exactly what I am talking about. Let me clear up another question that pops up frequently this time of year and that is "Where are you picking XXXX?" I will answer that with one word, BLINDERS.
They put blinders on a horse so it just sees forward with no distractions from the sides. This time of year I am not thinking final records, upcoming rankings, schedules, matchups with other teams, etc. I am thinking positions. When I write the Utah QB position I am thinking three thoughts. What kind of shape was that unit in heading into last year, what happened in 2015 and what will the unit do in 2016. I am not thinking about opponents or rankings, just that individual unit. This helps me get an unbiased grade of each position during this process. Now, once I have all the units graded individually at the end of January, then I start to look at all those other factors. I have NO IDEA where I am picking any teams right now, I am just focusing on each team UNIT by UNIT.