Bronko Nagurski Trophy

Phil Steele is a proud
voter on the Nagurski Award
2015 BRONKO NAGURSKI TROPHY CANDIDATES
LB Dominique Alexander, Oklahoma
DT Adam Gotsis, Georgia Tech
DE Shawn Oakman, Baylor
DE Jonathan Allen, Alabama
DB Vernon Hargreaves III, Florida
DE Pat O'Connor, Eastern Michigan
DB Budda Baker, Washington
LB Myles Jack, UCLA
DE Emmanuel Ogbah, Oklahoma State
DB Dante Barnett, Kansas State
DB William Jackson, Houston
DE Drew Ott, Iowa
DE Derek Barnett, Tennessee
DB Adoreé Jackson, USC
LB Joshua Perry, Ohio State
LB Kendell Beckwith, LSU
DE Jordan Jenkins, Georgia
LB Reggie Ragland, Alabama
DB Vonn Bell, Ohio State
DT Gerrand Johnson, ULM
DB Jalen Ramsey, Florida State
LB Vince Biegel, Wisconsin
DB Jonathan Jones, Auburn
DE Sheldon Rankins, Louisville
DT Andrew Billings, Baylor
DT Chris Jones, Mississippi State
DB Will Redmond, Mississippi State
DB Quin Blanding, Virginia
DB Karl Joseph, West Virginia
DE Pete Robertson, Texas Tech
DB Briean Boddy-Calhoun, Minnesota
DE Bronson Kaufusi, BYU
DT A'Shawn Robinson, Alabama
DE Joey Bosa, Ohio State
DE Carl Lawson Auburn
DB KeiVarae Russell, Notre Dame
LB Kentrell Brothers, Missouri
LB Darron Lee, Ohio State
DB Zack Sanchez, Oklahoma
DE DeForest Buckner, Oregon
DB William Likely, Maryland
LB Jovan Santos-Knox, Massachusetts
LB James Burgess, Louisville
DB Jordan Lucas, Penn State
LB Joe Schmidt, Notre Dame
DE Shilique Calhoun, Michigan State
DT Luther Maddy, Virginia Tech
DE Ian Seau, Nevada
DB Maurice Canady, Virginia
LB Curt Maggitt, Tennessee
LB Terrance Smith, Florida State
DB Michael Caputo, Wisconsin
DT Corey Marshall, Virginia Tech
LB Jaylon Smith, Notre Dame
DB Jeremy Cash, Duke
LB Blake Martinez, Stanford
LB Eric Striker, Oklahoma
DT Kenny Clark, UCLA
LB Tyler Matakevich, Temple
DE Charles Tapper, Oklahoma
DT Maliek Collins, Nebraska
DB Danzel McDaniel, Kansas State
DB Darian Thompson, Boise State
DB Tony Conner, Ole Miss
DB Adrian McDonald, Houston
LB Jeremy Timpf, Army
DE Kamalei Correa, Boise State
LB Cassanova McKinzy, Auburn
DT Travis Tuiloma, BYU
LB Su'a Cravens, USC
DB Jalen Mills, LSU
DT Adolphus Washington, Ohio State
DT Sheldon Day, Notre Dame
DB Fabian Moreau, UCLA
DB Xavier Woods, Louisiana Tech
DE Ken Ekanem, Virginia Tech
LB Antonio Morrison, Florida
LB Scooby Wright III, Arizona
LB Kyler Fackrell, Utah State
DB Eric Murray, Minnesota
DB Ronald Zamort, Western Michigan
LB Leonard Floyd, Georgia
DE Dadi Nicolas, Virginia Tech
DT Anthony Zettel, Penn State
DB Kendall Fuller, Virginia Tech
DT Robert Nkemdiche, Ole Miss
DE Myles Garrett, Texas A&M
LB Jared Norris, Utah
CONGRATULATIONS

2014 NAGURSKI AWARD WINNER:


Scooby Wright of Arizona


––––––––––––––––––––
2014 BRONKO NAGURSKI FINALISTS:
Malcom Brown, Texas
Landon Collins, Alabama
Senquez Golson, Ole Miss
Gerod Holliman, Louisville
TROPHY HISTORY

Created in 1993 by the Football Writers Association of America, the Bronko Nagurski Trophy is awarded to the best defensive player incollege football and is presented by the Charlotte Touchdown Club. The award was established to compliment the Heisman Trophy Award which never been presented to a defensive player. The Bronko Nagurski Trophy Awards Banquet not only recognizes the best college defensive player, but also helps to raise money to recognize the recipients of our regional high school and college scholarships. All proceeds benefit the Charlotte Touchdown Club Scholarship Fund.
PAST WINNERS

1993 Rob Waldrop, Arizona
1994 Warren Sapp, Miami (Fla.)
1995 Pat Fitzgerald, Northwestern
1996 Pat Fitzgerald, Northwestern
1997 Charles Woodson, Michigan
1998 Champ Bailey, Georgia
1999 Corey Moore, Virginia Tech
2000 Dan Morgan, Miami (Fla.)


2001 Roy Williams, Oklahoma

2002 Terrell Suggs, Arizona State
2003 Derrick Strait, Oklahoma
2004 Derrick Johnson, Texas 2005 Elvis Dumervil, Louisville
2006 James Laurinaitis, Ohio St
2007 Glenn Dorsey, LSU

2008 Brian Orakpo, Texas

2009 Ndamukong Suh, Nebraska
2010 Da'Quan Bowers, Clemson
2011 Luke Kuechly, Boston Coll
2012 Manti Te'o, Notre Dame
2013 Aaron Donald, Pittsburgh


ABOUT THE CLUB
The Charlotte Touchdown Club is a 501(c)3 non-profit organization founded in 1990 for the purpose of promoting high school, collegiate and professional football in the Charlotte, North Carolina region. Since its inception, the club has grown as well as diversified, boasting a sponsor team of more than seventy companies.
The Club's activities and services focus community attention on the outstanding Citizenship, Scholarship, Sportsmanship and Leadership of area athletes and coaches. In recognition of superior achievement on the field, in the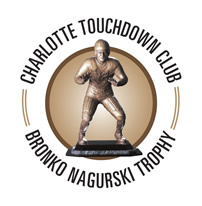 classroom and in the community, the Touchdown Club awards five annual scholarships to athletes from Catawba College, Davidson College, Gardner-Webb University, Johnson C. Smith University and Wingate University. The Club also provides financial support to more than 80 regional high school athletic programs annually.
The highlight of the club's year comes in December with the presentation of college football's most prestigious defensive award, The Bronko Nagurski Trophy. This award, created to honor the most outstanding defensive college football player in America, is voted on by the Football Writers Association of America (FWAA), of which Phil Steele is a proud member.
The 2014 Bronko Nagurski Trophy was presented in Charlotte, North Carolina. The banquet presentation was held at The Westin Hotel and again honored the nation's best all-around defensive player.
WHO IS BRONKO NAGURSKI?

A tackle, and a fullback, a defensive end and an offensive end, linebacker and a passer, Bronislau "Bronko" Nagurski's talents were legendary. He was a consensus all-American defensive tackle in 1929,and also made all-America teams that year as a fullback, the only man ever picked at two positions. Ballots were found with the 11 (one-platoon) positions listed and only 10 names, Nagurski in two of the spots.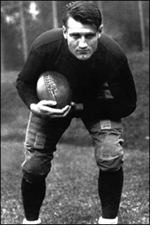 Born in Canada, Nagurski grew up in International Falls, Minnesota, barely across the border. Legend says a Minnesota coach, Clarence "Doc" Spears, discovered him when he stopped by a farm field to ask directions from a young man plowing a field, without a horse. A combination Yogi Berra / Paul Bunyan, there were many such legends about this man who was massive for his day: 6-2, 235, size 19 neck, size 19 and a half ring finger.
Nagurski played at the University of Minnesota from 1927-1929. He then joined the NFL with the Chicago Bears. He was a charter member of the National Football Foundation Hall of Fame (college) and the NFL Hall of Fame, and in college football's centennial year, 1969, he was elected to the Football Writers Association of America's all-time team. In 1995, the FWAA named their College Football Defensive Player of the Year award in his honor. Nagurski died at the age of 81 in January of 1980.
It was in 1928, a rivalry game between Minnesota and Wisconsin that Bronko Nagurski remembered as "the greatest day I had in college football." Wisconsin needed just a tie to win the Big Ten championship. Nagurski entered the game wearing a steel corset to protect a vertebra cracked four weeks earlier. Tackle Nagurski recovered a Wisconsin fumble at the Badgers 17, and fullback Nagurski carried six straight times to bang home the touchdown. Then he caught a Wisconsin receiver from behind to protect the lead. Late in the game he intercepted a desperation pass.
"He is the only player I ever saw who could have played every position" -- Knute Rockne --